Obituaries
Lawrence E. Walsh '32, '35L, Trustee Emeritus, Renowned Litigator
Lawrence E. Walsh '32, '35L, a University trustee emeritus, the special prosecutor in the Iran-Contra scandal and a former corporate litigator at Davis Polk & Wardwell, died on March 19, 2014, in Nichols Hills, Okla. He was 102.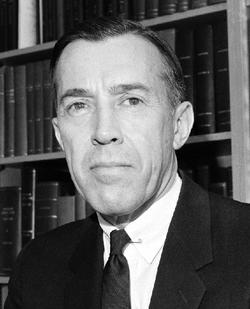 PHOTO: AP/JACOB HARRISIn 1986, Walsh, 75 and retired from Davis Polk, was appointed special prosecutor in the Iran-Contra scandal by Attorney General Edwin Meese III. Walsh pursued allegations that the White House had been secretly supplying weapons to Iran in the Middle East and to Contra Rebels in Central America. Seven years and $37 million later, the case fell apart even though Walsh had won significant convictions. Six key figures were pardoned by George H.W. Bush and two more were granted immunity by Congress. In his 1997 memoir, Firewall: The Iran-Contra Conspiracy and Cover-Up, Walsh condemned Bush and Congress for preventing "the rule of law being applied to perpetrators of criminal activity of constitutional dimension."
Walsh was born on January 8, 1912, in the fishing hamlet of Port Maitland, Nova Scotia. He and his family moved to Queens when he was 2 and he became a naturalized citizen eight years later. Walsh graduated from Flushing H.S. and worked his way through the College and the Law School clerking in a bookstore, working at the Post Office on Christmas and working daily at a Columbia cafeteria. During summer breaks he went to sea on steamships in the United States Merchant Marine.
At 24, Walsh was asked to join a special state investigation of corrupt Brooklyn prosecutors, and in 1937, Manhattan D.A. Thomas E. Dewey '25L appointed Walsh to a staff of 70 prosecutors to go after racketeers and corrupt Tammany Hall politicians.
Walsh joined Davis Polk in 1941. He left a year later when Dewey was elected governor of New York and requested Walsh as his assistant; Walsh later became Dewey's chief counsel. In 1954, President Eisenhower appointed Walsh to the federal bench in Manhattan, where he earned a reputation for harsh sentencing. In 1957, when William P. Rogers became U.S. attorney general, he appointed Walsh chief deputy to oversee the selection of federal judges and the integration of public schools in Little Rock, Ark.
Walsh returned to Davis Polk in 1960 as a senior partner and corporate litigator representing companies such as General Mills, AT&T and ITT. In 1969, he served as deputy to chief negotiator Henry Cabot Lodge Jr. as a part of the U.S. delegation to the Paris peace talks with North Vietnam. That same year, he led the American Bar Association committee that found President Nixon's nominees, Clement F. Haynsworth Jr. and G. Harrold Carswell, qualified for the U.S. Supreme Court, though both were rejected by the Senate. Walsh was ABA president 1975–76.
A 1967 Alumni Medalist, Walsh was a University trustee 1968–81, after which he became a trustee emeritus. In 1989, he was presented a John Jay Award for distinguished professional achievement.
Walsh's obituary in The Washington Post quoted a lawyer who worked on the Iran-Contra investigation and delivered papers to Walsh, who was always "still working — in a coat and tie, at the little hotel desk, as though this was what everybody does at 11 o'clock at night when they're 75 years old."
Walsh is survived by daughters Barbara and Janet Larson, from his marriage to Maxine Winton, who died in 1964; daughter Elizabeth, from his second marriage to Mary Porter; stepchildren, Sara and Dale; four grandchildren; and two great-grandchildren.
Karl Daum '15