Roar, Lion, Roar
Men's Tennis Wins Ivies, Reaches NCAA Sweet 16
I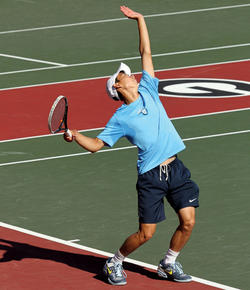 Playing at No. 1 singles, Winston Lin '15, the Ivy League Player of the Year, compiled a 31–3 record and won 20 consecutive matches. PHOTO: Bill Kallenbergn a season coach Bid Goswami called "pretty historic," Columbia's men's tennis won the national indoor doubles title, compiled a 22–2 overall record, swept the Ivy League championship while losing only one point in seven matches and recorded the first two NCAA tournament victories in program history.
Columbia's only losses of the season both came at Athens, Ga., to then third-ranked Georgia early in the season and to top-ranked Southern Cal in the NCAA Tournament's Sweet 16. Columbia's two losses were the fewest in the NCAA. USC went on to win its fifth national title in six years.
Columbia got an early taste of success at the ITA/USTA National Indoor Championships in November when Ashok Narayana '15 and Max Schnur '15 stunned the top-seeded and No. 1 nationally ranked pair of Mikelis Libietis and Hunter Reese from Tennessee 6–3, 6–2 to win the doubles crown at the Billie Jean King National Tennis Center.
After beating Marist and Monmouth to open their regular season, the Lions headed south to Athens for the ITA Kickoff Classic, where they were beaten by the Bulldogs 4–2 before they bounced back to defeat Washington 4–0. That began an 18-match winning streak for the Lions, capped by a sweep of their Ivy opponents for their first league title since 2010 and their 11th Ivy crown overall.
"All the things that we wanted to accomplish since September, we have now," Goswami said after Columbia blanked Princeton 4–0 on April 20. "This was the last, to win the Ivy League outright." Well, not quite the last. "This feels good," Narayana said before quickly adding, "This wasn't our biggest goal. We want to make a dent at the NCAAs, and we feel confident."
Traveling to Nashville for the NCAA Regionals, the Lions beat East Tennessee State 4–0 for their first NCAA tournament win. Then they surprised host Vanderbilt 4–3 as Winston Lin '15, the Ivy League Player of the Year, fought off cramps and defeated Austin Gonzales 2–6, 6–3, 6–4 in No. 1 singles, the last match of the day. That earned Columbia a return trip to Athens, site of the NCAA Championships, where the Lions were defeated by Southern Cal 5–0.
"It has been a remarkable, remarkable year for us. We could not be any prouder of what this team has accomplished," associate head coach Howard Endelman said. "If you would have told us in the beginning of the year that we'd play the entire 2014 season with just two losses, one to No. 3 Georgia and the other No. 1 USC, both in national tournaments? I think we'd take it. It is easy to be disappointed because our mentality is we don't want to back down from anyone, but that being said, when we reflect on this year, we know how special it was and how blessed we are to have such a unique group of players."