Alumni News
Building a Vibrant CCAA Community
Message from CCAA President Douglas R. Wolf '88
Summer greetings from the Columbia College Alumni Association. In my hometown of Boston, the warm weather could not have come soon enough. I hope everyone has a wonderful season.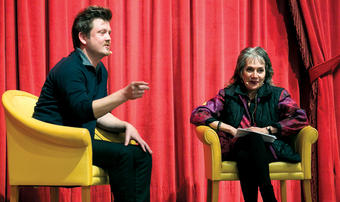 House of Cards creator Beau Willimon '99, SOA'03 in conversation with Professor Annette Insdorf.PHOTO: DAVID DINI SIPA'14As I look back on the school year, we at the CCAA accomplished much to be proud of, and we look forward to continued success this fall when the newest students arrive and embark upon their Columbia College adventure. I hope you were able to be a part of some of the past year's activity:
the Alexander Hamilton Award Dinner, which honored Phillip M. Satow '63, and the John Jay Awards Dinner, which honored Kyra Tirana Barry '87; Abigail Black Elbaum '92, BUS'94; Ira Katznelson '66; Nicholas P. Leone '88; and Andrew W. Marlowe '88 — both had incredible attendance and successful fundraising;

Columbia College Women (CCW)'s exciting relaunch, featuring Claire Shipman '86, SIPA'94 and CNN's Poppy Harlow '05 in conversation with an energized group of alumnae and women students;


the CCAA's new brand launch, which showcased

our noble lion as well as our redesigned website;


more programing outside the Tri-State area, including

a Columbia filmmakers panel in Los Angeles;

a reception with young alumni and Louis

Rossetto '71, BUS'73, founder of

Wired

magazine, in San Francisco; and

a reception for alumni in the Miami region, hosted by Eric Mendelson '87, BUS'89; and


two student events featuring entertainment heavy hitters Beau Willimon '99, SOA'03 (creator of

House of Cards

) and Dede Gardner '90 (a producer

of

12 Years a Slave

).
Let's keep this momentum going. The energy is building, and I hope even more of you will step up in the year ahead to join this community endeavor to support the College, its students and one another. Consider the following volunteer opportunities:
Interviewing high school seniors as an Alumni Representative Committee member was my entry into becoming an active alumnus. It only takes about one hour of time per student, including interview and write-up. Many of our peer institutions are interviewing close to 100 percent of their candidates. Help us raise our number to at least 50 percent so we can get closer to ensuring all top-notch candidates hear more about Columbia in their application process.

Serving as a Class Agent is a great way to keep in touch with classmates and to generate energy and commitment while raising peer-to-peer gifts for the Columbia College Fund, which assists many students who might not otherwise be able to attend the College (Columbia is a leader in first-in-family collegians).


Being a Reunion Committee member is essential to building a memorable program that brings classmates and friends back to campus to celebrate their Columbia experience and see what the College is like now. Options include helping to design programming, reaching out to classmates for support of the Class Gift and helping with outreach to build enthusiasm among classmates through targeted communications.
Grace Kim '15, Senior Fund chair, and Jackson Tse '15, Columbia College Student Ambassadors president, beautifully articulated the student perspective when they spoke to the CCAA Board of Directors at our final meeting of the school year. Their message: Students at Columbia today view alumni as an important part of their college experience; they crave interaction with alumni, and seek opportunities for mentoring and guidance as well as a sense of community.
To address this need, the CCAA will work to improve its communications with students so that they are better aware of the many student-alumni programs offered.
Check out the CCAA website to learn more about the many ways to get involved and let me or the Alumni Office (ccalumni@columbia.edu) know of other ways you want to show your pride and love of our school and our people. I welcome your ideas so we can continue to build a vibrant CCAA community.
Roar!