Alumni Profiles
Turning Former NFL Players into Weight Loss Role Models
By Ethan Rouen JRN'04, BUS'17
To have the body of a professional athlete might seem unattainable to the average couch potato, but once jocks retire from the playing field, they can become obese, too.
Hearing about their weight loss through diet, exercise and even surgery can be inspiring for fans, on par with hearing about the game-winning catch. Former Columbia athletes Dr. Henry Buchwald '54, PS'57 and Dr. Archie Roberts '65 are working with retired National Football League players to create these inspiring health stories and then have the athletes share them with people in inner cities and other areas plagued by obesity.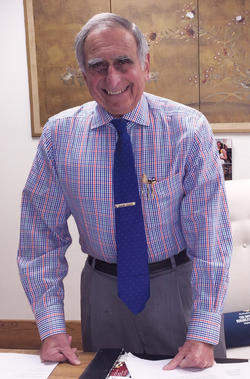 Dr. Henry Buchwald '54, PS'57, co-founder of LHF HOPE, in his office.PHOTO: Courtesy Dr. Henry Buchwald '54, PS'57"In our country, we are living in a pandemic of obesity," says Buchwald, a bariatric surgeon at the University of Minnesota and former varsity swimmer for the Lions. "Nobody really listens to doctors about obesity, about diabetes, about lifestyle changes. Who do people look up to? Their sports heroes. Who are the sports heroes in our country who have a tendency to get obese? NFL players."
In 2011, Buchwald gave a talk on obesity in Japan, and as he finished, the "white coats" filed out and thousands of people moved in to hear a former professional sumo wrestler tell his story of losing 300 lbs. This insight into fandom led Buchwald to reach out through mutual friends to Roberts, a cardiovascular surgeon who played quarterback for Columbia before going pro and earning his medical degree while playing for the Cleveland Browns.
Roberts had founded the Living Heart Foundation (LHF), which had already been working with NFL players suffering from obesity-related illnesses, more than a decade ago. (NFL players are at a significantly higher risk of these diseases than the general population.)
"That I was one of them in my youth helps," Roberts says. "We have a shared experience. They now know they can trust me and that I have their best interest at heart."
Buchwald went to Roberts with the idea for the Heart, Obesity, Prevention, Education (HOPE) program, which would build on LHF's work by sharing the athletes' weight-loss success stories with those suffering from and at risk for obesity-related diseases. By 2012, the organizations were merged into LHF HOPE.
The mission of LHF HOPE's more than 20 volunteers is to work with local chapters of the NFL Players Association to treat former players who need to lose weight and then recruit them to work as emissaries, traveling the country to talk to people about the importance of health and the options for weight loss. Already, more than 3,500 former players have been screened at 80 hospitals, and 65 have participated in full studies geared toward improving health. Among them are offensive tackle Corey Louchiey, who played on conference-winning teams with the Bills and the Falcons, and tight end James Thornton, whose physique during his playing days earned him the nickname "Robocop."
For the past 2½ years, LHF HOPE has been an itinerant organization, with Buchwald and Roberts reaching out to academic institutions interested in hosting screenings. But thanks to successful fundraising, the organization now has a Center of Excellence (a brick-and-mortar facility) in Charlotte and will have one in Los Angeles within a year.
As players continue to complete the program, LHF HOPE's army of athlete-speakers continues to expand — and that is where the exponential impact of the program on communities at high risk for obesity-related illness can truly be seen. When Buchwald, Roberts and former players go to schools to talk to children, or host events at inner-city community centers (minorities and the poor suffer from obesity-related illnesses at higher rates than the general public), the audience patiently listens to the doctors, but only because they know what's to come.
"Archie gets up, makes a speech, and people listen," Buchwald says. "I get up, make a speech, people listen. Then two players get up, 6'10", 6'11". They played professionally at 320 lbs., then blew up to 500. One by diet, and one by bariatric surgery, they each lost 200 pounds and now are living successful, healthy lives. The audience doesn't let them leave. The program is supposed to end at 5. We don't get out until 8."
Ethan Rouen JRN'04, BUS'17 is a Ph.D. student in accounting at the Business School and former associate editor of CCT.