Alumni Profiles
Sara Just '88 Leads NewsHour Through Changing Times
By Kim Martineau JRN'97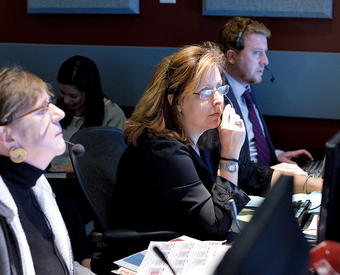 Sara Just '88 helms the control room as PBS NewsHour executive producer.PHOTO: DAN SAGALYN FOR PBS NEWSHOURDespite the high stakes and intense pressures that come with producing PBS' iconic NewsHour, Sara Just '88 leads the newsroom with a calm and deliberate air.
In late November, from a conference room at NewsHour's offices in Arlington, Va., Just sipped from a can of soda as she and her staff batted around headlines for the evening's show. Features on climate change in Alaska and the abuse of painkillers by players in the NFL were cued up, along with several shorter pieces. After, they brainstormed stories for the slow Thanksgiving weekend ahead. Notably absent: the yelling, object-throwing and off-color language of some newsrooms.
"Sara has always been remarkably mature and steady in a newsroom where everyone is always wrought up and often in a state of outrage," says Tom Bettag, executive producer at Nightline from 1991 to 2005 when Just worked there.
Just joined NewsHour as its executive producer in September during a time of historic upheaval for print and broadcast media. Though the program depends on a mix of public and private funding, it faces many of the harsh realities of its for-profit peers. The rise of the social web, where everyone is a publisher, has created heaps of content to compete against. Shrinking attention spans and declining ad revenues are only part of the fallout; professional journalists and established media no longer hold the authority they once did.
When NewsHour shuttered its last bureaus, in San Francisco and Denver, in 2013, critics charged that the quality of its journalism had been slipping for years. Now all eyes are on Just. Can she remake one of TV's premier newscasts for a digital age?
The last six months have brought a whirlwind of changes. With a $30 million budget and an 85-member news team, ranging from on-air talent to support staff, Just has worked hard to recruit new viewers. Content-sharing deals with The Atlantic, the Center for Investigative Reporting and Ozy, an online news site targeted to a younger audience, have added fresh reporting. She has shortened NewsHour's segments to fit more topics into the 60-minute broadcast and beefed up field reporting to give viewers a greater sense of immediacy.
Seizing opportunities brought by the mid-term elections last November, Just secured extra funding to expand NewsHour's coverage on election night, featuring on-the-road dispatches from co-anchors Judy Woodruff and Gwen Ifill. "There's a greater chance for audiences to sample you than any other night," Just says.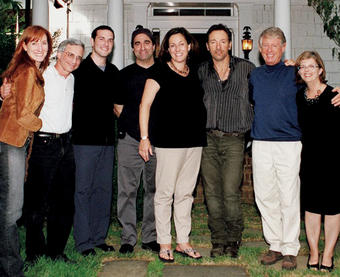 Just cites landing a Bruce Springsteen interview among her proudest moments. Second from right is Ted Koppel. PHOTO: COURTESY SARA JUST '88Perhaps most significantly, NewsHour has upped its game on social media, where even Just admits to getting her news first, via Twitter, when she awakens at 5 a.m. The show's director of audience engagement works with web and social media editors to aggressively push news out over social networks, with an emphasis on graphics and video.
The changes have started to bear fruit. In December 2014, 950,000 people watched the newscast — a 12 percent jump from the year before albeit still down from 1.2 million in 2011, according to the most recent Nielsen ratings. The number of 25–54-year-olds, a key demographic for advertisers, also saw an 11 percent gain, though NewsHour declined to give total numbers.
The biggest growth came online. The website drew 4.1 million users in January, up 70 percent from the same period in 2014, and its biggest audience ever.
On the web, radio and TV, NewsHour has improved substantially in a short time, says former NewsHour executive Lester Crystal. "It's still the traditional NewsHour and all that stands for," he says. "But it's also a faster-paced and more interesting program."
Journalism is not a career that Just stumbled upon. She came to Columbia knowing where she wanted to go. "I put my suitcase down and walked over to Spectator before I even unpacked," she says.
Growing up in the Boston suburb of Westwood, Mass., Just looked around at the adults she knew, including her uncle Max Frankel '52, GSAS'53, a former editor of The New York Times, and realized something important: The journalists were having the most fun. An avid reader of the sports pages, especially all things Celtics and Red Sox, Just figured she would become a sports writer.
Still, she never forgot her mother's advice to read the front page, too, because fascinating news also appeared there. After graduating from the Winsor School, a private all-girls day school in Boston, Just left for Columbia, where her father, Harold '56, her mother, Marion Brown BC'63, GSAS'69, and grandfather Harold Brown '25, LAW'27 had all gone.
There, Just audited a class with Fred Friendly, the legendary CBS News producer, and learned about America's culture wars from historian Eric Foner '63, GSAS'69. Like most of her classmates at Spectator, however, her defining college experiences unfolded in a shabby office on Amsterdam Avenue, where five days a week they reported, hand-assembled and published a daily newspaper. At the end of her junior year, Just was picked by the outgoing editorial board to become editor in chief — the first Columbia woman to hold that role.
Her classmates remember a tireless leader who was graceful under pressure. "She used her good humor and passion for journalism as motivation. It wasn't by cracking the whip," says former Spec colleague Stan Sagner '88, BUS'94, now executive editor of video at Rodale and a restaurant critic for the New York Daily News.
Just also showed a flair for management. Amid the football team's epic losing streak, she had the paper pull back on its disparaging coverage after realizing the players were constituents, too. To boost circulation, she and publisher Alison Hockenberry BC'88 expanded coverage of local events and businesses to attract readers beyond Columbia. "Even then she was thinking about building new audiences," says Hockenberry, now a freelance journalist in Brooklyn.
After graduation, Just moved to Boston to work for The Patriot Ledger; dozens of other papers had turned her down. "I hung rejection letters across my room in Furnald," she says. When the chance to return to New York for a job at ABC News came up a year later, in 1989, she grabbed it. She instantly took to TV, from the collaborative production process, to the power of images to tell stories — an appreciation she realized later she had developed in her art history classes at Columbia. From a desk-assistant job on Ted Koppel's Nightline, she advanced to researcher, producer, chief booker and senior producer in 2000.
Along the way, Just developed a reputation for championing controversial topics, from race to AIDS to America's booming prison population. If you couldn't talk about important issues on late-night television, she argued, when could you?
She and her colleagues went on to win numerous awards, among them Emmys for a 1995 Israeli-Palestinian town meeting in Jerusalem, after Israeli prime minister's Yitzhak Rabin's assassination, and a 1999 broadcast from Jonesboro, Ark., just after the school shootings in Columbine. They received a Peabody for ABC's coverage of the 9-11 terrorist attacks and an Emmy for a series profiling the Marines of Fox 2/5 Company, one of the first units to cross into Iraq during the Iraq War.
One of the proudest moments of Just's career is marked by another trophy of sorts: a harmonica played by Bruce Springsteen on Nightline in 2002, now hanging in her home office. Just had spent years trying to land the interview and finally, as Spring­steen's 9-11 inspired album, The Rising, was about to come out, he agreed. Against her doctor's orders, Just traveled to his home in New Jersey to produce the show three weeks before delivering her second son. Springsteen later sent the harmonica to Koppel as a gift, but Just intercepted it.
When she had arrived at Nightline, at 23, colleagues warned she would never hear a wedding march; burned out by the long hours, young journalists tended to leave after a few years. But Just stayed, married and upon becoming a manager, instituted a "date-night" policy to allow staff to leave at a reasonable hour with three days' advance notice. (Her husband, Ray Treacy, is a schoolteacher and coach.) As dates led to weddings, Nightline evolved into a family-friendly workplace. "Sara was a huge part of setting that tone — your personal life counts," says Bettag. "If you're stressed at home, you're not going to be good at work."
Just was sought out for advice and support, and her humility made her an uncommonly good colleague. "Unlike so many others in our business, Sara never had to make sure others knew she was smart and clever," says Mark Nelson, a former senior producer at Nightline.
In 2006, Just moved to ABCNews.com and led ABC's online and TV presidential campaign coverage through the 2008 and 2012 election cycles, culminating in the election of George W. Bush and Barack Obama '83. As the news business went into a tailspin after the financial crisis, Just also had a chance to reflect on the changing economics of journalism. In 2012, as a fellow with the Journalism School's Punch Sulzberger Program, she joined other media executives for a week each quarter to share survival strategies.
For the first time, she thought wistfully about getting an M.B.A. "Technology and innovation keep coming," she says. "Some companies will survive. Some won't. It's how nimble you are in responding to the challenges."
If anyone can raise NewsHour's visibility it is Just, say those who know her best. "NewsHour is a national treasure. They're lucky to have someone as gifted as Sara at the helm," says former Spec writer David Kansas '90, now chief operating officer for Minnesota Public Radio.
"Anyone who is paying attention to the way journalism has changed knows how essential it is to reach out to new audiences," echoes Ifill, the NewsHour co-anchor. "Sara gets that. But she also knows that there are plenty of other places to go for bite-sized information, and that NewsHour occupies a unique perch, with the responsibility to tell the stories no one else will, and to do it well. It's a sweet spot, and Sara has found it."
View some of Just's award-winning work.
Kim Martineau JRN'97 handles media relations at Columbia's Data Science Institute.