Alumni Profiles
Duo Shows Flair For Vintage Sounds
By Lauren Steussy
Fuller Condon '00 (left) and Andy Bean '01 bring humor and sophistication to the vintage folk revival group The Two Man Gentlemen Band. PHOTO: COURTESY THE TWO MAN GENTLEMEN BAND
Between them there are just eight strings, and sometimes a kazoo. But Andy Bean '01 and Fuller Condon '00, who make up the vintage folk revival group The Two Man Gentlemen Band, have a way with hooks and a knack for showing their listeners a good time.
The Gentlemen write songs about great beards of the Civil War, tikka masala and the agony and ecstasy of one's love being like "the square root of two." Their music, at once silly and sophisticated, tips its hat to the stringed music of the 1920s and '30s — hot jazz, early country and western swing.
For the last decade, their songs have been played everywhere from the walkways of Central Park to stadiums of people awaiting the music of Bob Dylan and Willie Nelson (the band opened for Dylan's and Nelson's dual summer tour in 2009). Nowadays, the band is mostly heard in living rooms across the country, punctuating Disney's animated show Wander Over Yonder. The Gentlemen wrote the theme song for the show, which follows best friends and intergalactic travelers as they battle the galaxy's many forces of evil. Bean, who studied mathematics and lives in Los Angeles with his wife and daughter, is also the composer for the series. Condon, a music major who lives in Folly Beach, S.C., performs with several other local bands when not touring with Bean.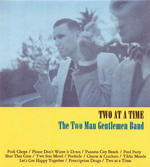 album cover: COURTESY THE TWO MAN GENTLEMEN BANDFrank Angones '05, SOA'11, Wander Over Yonder's co-writer, says the theme song and Bean's scoring have given the show depth in its musical storytelling.
"A lot of times, especially in kids' cartoons, music is an afterthought. Andy's work definitely feels like it's part of the show. As much as it could not exist without the creators, the writers, the artists, it definitely couldn't exist without Andy's work."
When The Two Man Gentlemen Band performs, showmanship is front and center. Condon's upright bass and Bean's tenor guitar are almost accessories to their bowties, suspenders and bowler hats. The pair's banter is its own brand of improvised comedy. Listeners might realize only later, humming an upbeat ditty about pork chops or Palm Springs, how memorable their music is.
Bean and Condon met in their early days at Columbia while auditioning for a different band. Both were heavily involved in the music scene, which was seeing the beginnings of the early millennium's indie rock movement in New York City. Condon spent much of his time performing in other bands, including several with Bean. Bean was active with WKCR, where his 1940s and '50s rhythm and blues show aired Saturday afternoons, right before Phil Schaap '73's Traditions in Swing show. Just in his short interactions with Schaap, the obsessively encyclopedic jazz historian, Bean says he learned more about jazz music than he ever could have on his own. Schaap's influence was among the reasons he and Condon began listening to records of the genres they now imitate.
Bean earned a master's in mathematics from Boston College and Condon continued performing in bands. The two remained friends, though, and formed the Gentlemen in 2004. Jaded by the rigmarole of landing spots in clubs and venues around the city, the two staked out a place in Central Park, often playing for several hours each day during the summer. Performing for donations may not be the typical path of an Ivy League duo, but Condon says his and Bean's education was helpful in their success.
"The reality is we could have just graduated from high school and done this, but there is a certain intelligence to the act and the songs," Condon says.
After about four years in the park, the band began touring. Between 2008 and 2012, they played as many as 200 shows a year, usually in small towns but often as the main act. More than 10,000 Facebook users track the band's goings-on. They've gained a following so loyal that once, when Bean's antique tenor banjo broke, a fan immediately offered his own as a replacement.
Bean says he likes to think of his and Condon's relationship, both on stage and off, as similar to the 1960s-era folk-comedy duo The Smothers Brothers — they build off each other's humor in a fraternal kind of way. Neither can describe it, nor script it; they once tried writing their dialogue before a show but the humor fell flat. "We're both terrible actors," Bean says.
The band has eight full-length albums, all of which channel the early and middle parts of the 20th century — bands like Milton Brown and His Musical Brownies or The Mills Brothers. In 2012, they produced Two At A Time, an album entirely free of any digital elements. From the analog recording to the hand-pressed album covers, it is a tribute to the aesthetic they aim to recreate.
Also in 2012, Bean and Condon were invited to submit a sample theme song for Wander Over Yonder, created by Craig McCracken, the same mind behind the shows The Powerpuff Girls and Foster's Home for Imaginary Friends. McCracken says he liked "the idea of this twangy, organic folk instrument set against the backdrop of an epic space adventure," and was looking not just for a sound effect, but for a "soundtrack [to] showcase the visual gags" of the show.
"Just by listening to their music you can hear how much fun they had writing and performing it," says Jay Stutler, Disney's television animation VP in charge of music. "If the musicians enjoy playing it, most likely our audience is going to enjoy absorbing it."
Bean scores Wander Over Yonder from his home studio, and though he and Condon live on opposite sides of the country, they perform together when the show's production schedule permits. It's a way for them to preserve the lighthearted spirit captured in their music, Condon says.
"Maybe the 'fun' element is more apparent in the live shows, as we have a great time playing the music," Condon says. "But that hopefully comes across just listening to it."
View a video of The Two Man Gentlemen Band in concert.
Lauren Steussy covers Staten Island art and culture on for the Staten Island Advance. Her work has appeared in San Diego Magazine and the Orange County Register, among other publications.