Around the Quads
Five Minutes with ... Brent Stockwell
Professor Brent Stockwell has joint appointments in the Department of Biological Sciences and the Department of Chemistry. Raised in Bayside, N.Y., Stockwell earned a B.A. in economics and chemistry from Cornell and a Ph.D. in chemistry from Harvard. His book, The Quest for the Cure: The Science and Stories Behind the Next Generation of Medicines, was published in 2011 and he received a 2014 Lenfest Distinguished Columbia Faculty Award. Among other roles at the University, he directs the Stockwell Laboratory, which uses small molecules and genomics tools to discover mechanisms underlying cellular processes.
Much of your research has focused on cell death. Can you explain in layman's terms what that is and why it's important?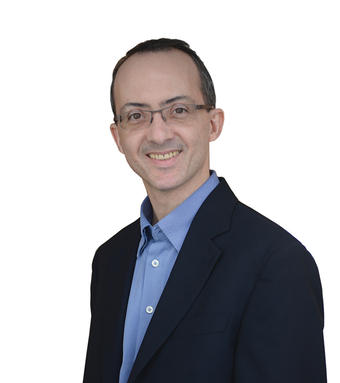 Living systems are made out of discrete units called cells. Cells can replicate; that's how a mouse or a human forms from a single fertilized egg. But it's also critical that certain cells die at particular times in development. As your fingers form, there's initially some webbing and then cells in the webbing have to die on schedule in order to sculpt your fingers. The same goes for all the tissues in the body, and for nearly every organ, so there's a regulation of cell death that's necessary for normal human development. We also see that these mechanisms that govern cell death go awry in different diseases and cancers, including some degenerative diseases. So that's the motivation to understand it.
How does that intersect with the work in your lab?
There had been a lot of work on one kind of regulated cell death called apoptosis. And my lab members and I thought there could be other cell death mechanisms that were not known … So we went looking, and in 2007 we found the first hints of this alternative mechanism of cell death. We discovered it and characterized how it worked; we call it ferroptosis, because it's dependent on iron. In recent years it's become increasingly appreciated to be involved in some cancers and degenerative diseases. And now we have various ways of activating it and inhibiting it, so we're looking to see if those can be developed as therapeutic strategies.
Does your lab focus on other things?
Yes, we are also interested in the problem of what I call protein druggability. About 2,000 drugs have been discovered in the history of humanity, and all work by interacting with specific proteins in cells. It turns out that all these known drugs work on only about 400 proteins, which is about 2 percent of all human proteins; there are about 20,000 proteins encoded in humans. So you say, 'That's fantastic; there are all these other proteins out there, which means there are huge numbers of therapeutics we could discover if we just started tapping into all of these other proteins.'
But proteins fall into different families, or classes, based on their shapes. The problem is that the proteins that have already been targeted with drugs are in the classes that are amenable to drug targeting, whereas almost all of the other ones look — and historically have been — much more difficult to target. So a lot of people have given up on these other proteins and said, 'We're just going to work on the 2 percent, because those are the ones we know we can make drugs against.' But we're running out of strategies for making new medicines based on this 2 percent. So we thought we should revisit the rest of these proteins and see if by trying new strategies, new tools, new technologies, maybe we can make inroads.
What's the most important thing a professor can do for students?
Try to change the way your students see a body of knowledge. It's not the details, but have they absorbed it in a way such that they are permanently altered and they will never go back to the other way of seeing things? And you have to ask yourself, what is the important thing in my course that I want them to do differently? Then you've got to really think about what you're doing in the course to achieve that. I teach biochemistry to 170–180 undergraduates, and I've made a lot of changes during the past few years, trying to bring in new technologies and more student-centered learning, and move away from the
classic lecture approach.
What's your favorite place to be?
I love spending time with my family. I've been fortunate to be invited to speak in interesting places. So once the kids got old enough to travel, my wife and I brought them along; they're 7 and 10 now. In recent years we've been to Italy, China and Japan. It's exciting to see different places through their eyes.
Any guilty pleasures?
My wife and I gave up cable and got an Apple TV, so we tend to find a new series and watch it all the way through. We recently watched Continuum, then Orphan Black. Now we're back to Downton Abbey.
Interview: Alexis Tonti SOA'11
Photo: Eileen Barroso