Bookshelf
Kelly Link '91 Creates Worlds of Trouble
It's an end-of-the-world sky, a snakes-and-ladders landscape: low emerald trees pulled lower by vines; chalk and apricot anthills (the demon lover imagines the bones of a nudist under every one); shallow water-filled declivities scummed with algae, lime and gold and black.
The Florida lakeside setting in "I Can See Right Through You," Kelly Link '91's favorite among the nine works in her short story collection Get in Trouble: Stories (Random House, $25), showcases her ability to create dreamy, extraordinary worlds. These stories defy easy categorization or summarization, each existing in its own carefully crafted universe that pushes against expected boundaries: a hotel convention center hosts simultaneous conferences for dentists and superheroes ("Secret Identity"); pocket universe travel is as casual a conversation topic as the latest diet ("Light"); a rural summer vacation destination attracts all sorts of guests, some of whom aren't entirely human ("The Summer People").
"When I started out writing, my aim was to write stories that could be published in pulp science fiction magazines," says Link. "I can't say that the way I write, and the kinds of things that I want to write, have shifted all that much."
Get in Trouble is Link's first book for adults in 10 years — previous works include Stranger Things Happen: Stories (2001), Magic for Beginners: Stories (2005) and a collection of young adult stories, Pretty Monsters: Stories (2008) — although the stories have been published individually during the last decade. In 2013, "The Summer People" won an O. Henry Award Juror's Favorite designation and was featured in The O. Henry Prize Stories, an annual collection of 20 top short stories published in U.S. and Canadian magazines. Other works in Get in Trouble have been featured in distinguished literary magazines such as McSweeney's and Tin House.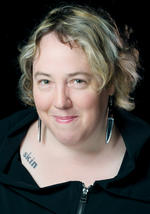 PHOTO: © 2014 SHARONA JACOBS PHOTOGRAPHYLink, along with her husband, Gavin Grant, is the cofounder of the independent publishing company Small Beer Press and lives in Northampton, Mass., with Grant and their daughter, Ursula (6). Link majored in English — she cites a series of writing workshops with Raymond Kennedy as being particularly influential — and earned an M.F.A. from UNC Greensboro. In 2006 she received a grant from the National Endowment for the Arts in the Creative Writing category and has won three Nebula Awards and a Hugo Award (the top prizes for writing in the sci-fi/fantasy genre).
Link says that she thinks about "how we assign meaning and, inevitably, build narrative or patterns even out of the most random elements of our lives, and what the stories that we make up tell us about ourselves" — a theme that is reflected throughout Get in Trouble. Events deftly jump from the mundane (in "The New Boyfriend," a high school girl becomes jealous when her best friend gets a boyfriend) to the fantastical (the "boyfriend" in question is a life-sized, animatronic Ghost Boyfriend doll, which might also be possessed by a real ghost), and the reader is brought along for the ride. Link has assembled a cast of complicated, emotionally damaged characters; the protagonists may not always be motivated by altruistic purposes but they are compelling.
"If the people in the story don't feel real, then there's no hope that the ghosts — or the spaceship A.I. or the vampires — will have any real weight to them. It's the characters who lend verisimilitude to the fantastic elements," says Link. "It's the intersection of the two things that I'm interested in exploring, which is to say: How do people behave when they encounter things that warp their lives out of shape? How do we deal with the things in our lives that we don't understand?"
While answering those questions, the characters usually find themselves facing unexpected dilemmas. The Ghost Boyfriend provides the teen girl with more than she bargained for in the relationship department, while a fad for building authentic Egyptian-style pyramids in "Valley of the Girls" becomes a little too historically accurate for the unnamed narrator. In "I Can See Right Through You," a middle-aged movie star, known for his portrayal of a vampire on the big screen, retreats to Florida to meet with an old flame (who now hosts a ghost-hunting reality TV show) in the wake of a sex tape scandal. Although the actor doesn't find the ghosts the reality show is searching for, neither does he escape the trip untouched by the supernatural as the story delves into the murky waters of guilt, love and aging — all wrapped up with a ghost story on top.
Each story in Get in Trouble is self-contained, yet taken together they create a larger picture. As Link points out, "[It was] hard not to notice, as I was assembling the stories and beginning to think about them as a body of work, that these characters were a bunch of people with poor impulse control and a tendency to drink to excess.
"Which, I suppose, is why they were fun to write about."
Anne-Ryan Heatwole JRN'09