Cover Story
Quiz: Class Day Speakers
How well do you know the distinguished speakers from recent Class Day ceremonies?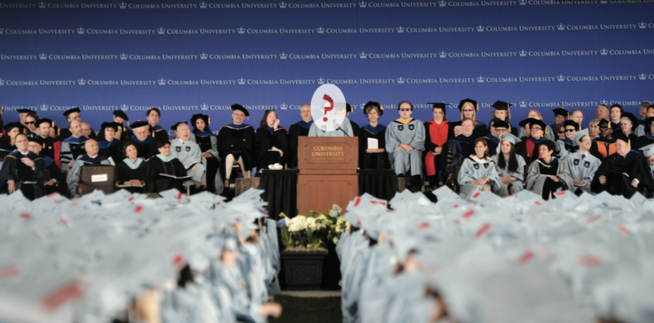 PHOTO: LIFETOUCH PHOTOGRAPHY
This U.S. Senator and Columbia parent was the most recent keynote speaker (2006) who was not a College alumnus/a.


Name the 2005 speaker who owns four Super Bowl championship rings.


He twice won Tony Awards for Best Lead Actor in a Play, in 1999 for Death of a Salesman and in 2003 for Long Day's Journey Into Night, and was the speaker in 2000.


Name the former NAACP president who spoke in 2010.


The 2009 speaker served as U.S. attorney general from 2009 to 2015.


This playwright won a Pulitzer Prize and two Tony Awards for Angels in America and spoke in 2004.


A book author as well as a senior contributor for ABC News' Good Morning America, this alumna was White House correspondent for rival network NBC when she spoke in 1999.


Name the four-time Tony Award-winning playwright who was inducted into the American Theatre Hall of Fame in 1996 and spoke in 2013.


A Law School alumnus, this 2002 speaker was the National Basketball Association commissioner from 1984 to 2014.


This Clinton administration Secretary of the Treasury spoke in 1996.
Bonus: This actor and screenwriter spoke one year ago.