Features
King of His Castle
From blockbuster movies to top-rated television, Andrew Marlowe '88 has built a career telling stories that channel pop culture as well as the classics
By Phil Wallace '04
It's 8 p.m. on a Friday at the Raleigh Studios lot in Hollywood, and Andrew Marlowe '88 is in the zone. The creator and showrunner of ABC's hit Castle is filming what may be the series' last episode.
"We as human beings need stories to contextualize our experiences," says Marlowe.
Despite the late hour it looks like broad daylight on Stage 12, which is the set for the show's NYPD Precinct 12. In the main area are four of its stars: Nathan Fillion, Stana Katic, Seamus Dever and Jon Huertas. The group has just shot a scene from a side that faces Fillion and Katic, who play the leads, novelist Richard Castle and detective Kate Beckett. Now it's time to shoot it all again from the other side.
In a corner of the set rests a movable area called "The Village" where Marlowe is clearly in charge, standing alongside his wife — and the show's executive producer — Terri Edda Miller, near a cluster of director's chairs. In front of them is this episode's director, Paul Holahan, a few crew members and several cameras and monitors. This particular scene will be shot nine times on each side.
Dever, who plays Detective Kevin Ryan, says a line on an early take that isn't quite right. He's providing information to Castle and Beckett about a woman whose murder is eerily similar to one they are investigating now. "He should know that's going to have an emotional impact on Castle," Marlowe says to Holahan.
They take a quick break and the director goes up to Dever, relaying what Marlowe has said. Another take is filmed, and Dever's delivery is more solemn and sympathetic. Marlowe puts two thumbs in the air and looks excited.
"That's great!" he shouts.
After the scene finishes shooting, Marlowe explains his thinking.
"In this case, Ryan gave information that was sensitive to Castle. So the actor made the adjustment. Hopefully that made the storyline more interesting," he says.
Marlowe would return to filming more scenes that night, and the crew would remain on set until nearly 1 a.m. Just a normal day's work for one of Hollywood's busiest showrunners.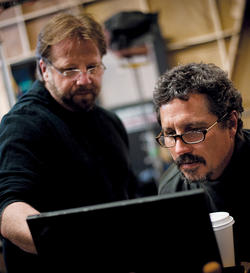 Marlowe (left) and producer-director Rob Bowman on the Castle set in 2012. Photo: Marta Evry
It's been a long but steady road to success for Marlowe, whose career has advanced from Columbia to writing blockbuster films to producing one of television's most popular shows.
Marlowe grew up in Silver Spring, Md., and had a love for film at an early age. His parents had a regular movie night and he devoured films on a 16 mm projector at the Prince George Library. Marlowe enrolled at Columbia in 1984 and soon took advantage of all the city had to offer cinematically.
"New York is such a great town for movies. It's not relevant to today's students because everything is digital on demand, but back in the day you couldn't see something unless someone was showing it," he says. "New York offered so many great screens and revival houses."
Marlowe took numerous film classes at the College, including one with Annette Insdorf, director of undergraduate film studies, who sees Marlowe every year when she moderates a panel at the Telluride Film Festival. Marlowe also upheld a long undergraduate student tradition of sneaking into legendary movie critic and film professor Andrew Sarris '51, GSAS'98's class.
An English literature major and a philosophy minor, Marlowe fenced foil on the Light Blue varsity team. He and friends Andy Rotman '88 and Matt Murabito '88 loved exploring New York and regularly hung out at jazz clubs in the West Village.
"He was a philosopher-in-training," Rotman says of Marlowe. "But if he wanted to do something, it was going to get done. He loved learning. We took philosophy classes together and he took great pleasure in thinking."
Recalls Murabito, "Even back in the day, Andrew was a rare combination of high-brow intellectual and popular culture/sci-fi aficionado. He could talk about the intricacies of Shakespeare or Joyce as easily as the minutiae of the Star Trek or Marvel universes — or combine the two ends to let you see how popular culture borrowed from the classics."
While Marlowe was a student, he interned at Lancit Media Entertainment, the company that produced the popular children's television program Reading Rainbow. After graduating, his first job was at the literary agency Rosenstone/Wender. There, he read numerous scripts that came through the office and realized that he might have the ability to write quality screenplays himself. When not working at the agency, Marlowe freelanced as an assistant on low-budget film projects in New York City, often arriving on location at 4 a.m. to prepare for a morning shoot.
Wanting a change of pace from the New York lifestyle, Marlowe relocated to Seattle in 1989. There, he took theater courses at the University of Washington and was accepted into the University of Southern California's graduate screenwriting program in 1990. He says that his Columbia education gave him a leg up on his peers.
"The Core Curriculum, in terms of its exposure to storytelling across 2,500 years of human history, allowed me to see the patterns emerge," Marlowe says. "It felt like it gave me a huge advantage walking through the door in terms of understanding story, having read Aristotle's Poetics, having seen the emergence of these patterns in things like The Iliad and The Odyssey."
Marlowe earned his M.F.A. in screenwriting in 1992 and later that year won a Nicholl Fellowship from the Academy of Motion Picture Arts and Sciences for his script The Lehigh Pirates. The fellowship provides a cash prize for up-and-coming screenwriters. Another of the five winners that year was Miller. The couple married in 1997.
"My stepdaughter says that Mommy won Andrew in a contest," Marlowe jokes.
The fellowship set Marlowe off on a successful screenwriting career that included blockbusters such as Air Force One (1997) starring Harrison Ford, End of Days (1999) starring Arnold Schwarzenegger and Hollow Man (2000) starring Kevin Bacon. Through it all, Marlowe's Columbia education manifested itself in his work.
"My biggest Hollywood movie, Air Force One, came out of what is called the 'Die Hard' genre, the guy in trouble trying to save his family," Marlowe says. "That is straight out of the end of The Odyssey, when Odysseus comes home and finds his house is overrun by suitors and has to strap on the bow and arrow to save his family."
"Marlowe has a powerful sense of story, a sense that, as I've witnessed, has no boundaries or specialization. He is a storyteller through and through," says Rob Bowman.
While on the Castle set, one of the show's producers, Armyan Bernstein, recounts how he met Marlowe in the mid-1990s. Bernstein was a successful Hollywood producer who oversaw Beacon Pictures; Marlowe was meeting with Beacon's development team about getting Air Force One produced.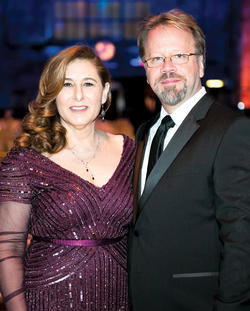 Marlowe, who was presented a 2015 John Jay Award for distinguished professional achievement in March, at the awards dinner with his wife, Terri Edda Miller. Photo: DAVID DINI SIPA'14
"I'm on the phone with Kevin Costner, and my head of development is trying to interrupt me. I say, 'What is it?'" Bernstein recalls. "He says to me: 'You've got to hear this: the President of the United States' plane gets hijacked ... and he fights back!'
"Costner overhears it and says, 'That's a good idea! Can I play the president?' I said, 'Maybe it would be better if it was the Vice President?' But Andrew says, 'No, it's gotta be my way or no way.'
"That's what it's like to work with Andrew. [Usually], when you're a young writer, you say 'OK' and you go along. But Andrew knew what he was and what he wanted, and I've found it's a wise thing to let him do what he wants."
Unfortunately for Costner, a scheduling conflict prevented him from making the movie. But Ford filled the role quite nicely. "Any time you're successful with an audience, it's amazing," Marlowe says. "Air Force One was a home run. Working with Harrison Ford was a dream, having grown up in the Star Wars era." Marlowe pitched Castle to ABC in 2007 and it debuted in 2009 as a midseason replacement. The show is founded on the premise that a mystery writer, Castle, has killed off his popular main character, Derrick Storm, and subsequently uses his friendship with the mayor of New York City to start shadowing NYPD homicide investigations for research. Beckett is the officer he's paired with.
Eventually Castle bases a new character, Nikki Heat, on Beckett. Rob Bowman, a longtime entertainment producer/director who was a producer for The X-Files, among other things, fell in love with Marlowe's script. He had been close with ABC executives and he insisted on directing the pilot. Bowman became a producer on Castle and he's been close friends with Marlowe since they started working together.
"Marlowe has a powerful sense of story, a sense that, as I've witnessed, has no boundaries or specialization," Bowman says. "He is a storyteller through and through, which has been quite helpful in making almost 150 hours of entertainment."
Marlowe knew right away that he wanted his wife to be involved with Castle. His experience had primarily been in action, but Miller's expertise was in writing romantic comedies.
"I was looking for the Moonlighting genre. When I wanted to have that spark of a romantic comedy, I know that I wanted her to be part of it. I trusted that voice. She is the heart of the show," Marlowe says.
Says Miller, "We have enormous respect for each other's talents. I love his work and he loves mine. All partners have points in their career where they're in sync, or where they're at loggerheads. We just do it more intimately."
Marlowe says that he was a fan of romantic comedy films in the 1930s and '40s with actors like Cary Grant and Katharine Hepburn, or The Thin Man with Myrna Loy and William Powell.
"I always liked that repartee, so I tried to build off of that. You have this fun-loving mystery writer who doesn't take death seriously. Who do you put him with? A female cop who takes death very seriously because she's personally affected by it [her mother's murder prompted her to join the force]. And I thought those two different world views colliding would be very interesting at the top of the show," Marlowe says.
The dramedy became an instant hit. Having completed its seventh season, Castle attracts more than 12 million viewers weekly and has won four consecutive People's Choice Awards for Favorite TV Crime Drama. The show's ratings increased in each of its first six years on the air, and it ended 2014 as ABC's highest-rated series.
Unlike many other crime procedurals, Castle is fun and light-hearted; the show thrives off the banter between Fillion's and Katic's characters.
"When I grew up, there were a lot of great character-based procedurals, like The Rockford Files or Columbo, where the character was at the heart of it. It felt like procedurals had moved away from that," Marlowe says. "I thought ... 'What about a mystery writer who came at the crime from the point of view of story? Would that person be of any value?'"
One thing that's clear with Castle is that there's always more to the show than what one initially sees. Marlowe says he's proud of the show's meta narratives.
Beckett's character is named for both Katharine Hepburn and the playwright Samuel Beckett. "Hepburn to me represents the pinnacle of the strong, smart woman in films," Marlowe says. "And 'Beckett' was a nod to the playwright, a favorite of mine. His gallows humor and often bleak, tragicomic outlook seemed worth a reference in a dramedy about murder."
As for the title character, his last name was partially a play on Stephen King's last name (both are chess pieces). When asked about the full name Richard Castle, Marlowe says, "It was a name that I thought was a lot of fun. Our guy is a bit of a wise-ass, and if you take the 'c' off his name, there's a bit of fun to be had."
"When I was at Columbia, I remember always wanting to be on The New York Times bestseller list. I didn't make it, but my fictional character did."
Castle also has spawned the successful Nikki Heat book series, which has appeared on The New York Times bestseller list. While Marlowe contributes to the books' storylines, he insists that he doesn't write them. He won't say who the true author is, though, apart from noting that Richard Castle has the official byline.
"When I was at Columbia, I remember always wanting to be on The New York Times bestseller list. I didn't make it, but my fictional character did."
Marlowe puts great consideration into every detail of the show, and cares deeply about how it is shot.
"Some shows have a flat feel, but we pride ourselves on our rich cinematic look," Marlowe says. "We like texture."
Marlowe has incorporated Columbia into the show in various ways. Although the show films in Los Angeles, the pilot had a scene that was shot in the SIPA library. He made Castle a fencer, in part based on his own experience on the Light Blue fencing team. And one episode started with a murder based on a reallife 1984 on-campus incident, when students found a rug on the street, brought it up for dorm room decoration and were shocked to find a dead body inside.
Additionally, Castle's daughter, Alexis, played by Molly Quinn, attends Columbia.
"We very much wanted to keep her a part of the show, so we didn't want her going to some school out of state. I considered having her go to NYU, but come on! It had to be Columbia, right? She's a smart cookie," Marlowe says.
Being a showrunner is quite grueling, and Marlowe's days can be long. When Castle is in the middle of a 24-episode season, Marlowe typically gets less than five hours of sleep a night. He might arrive on set as early as 6 a.m. to look at new cuts from the editing team. Then he will work with writers on creating storylines and on pre-production for episodes that are about to be filmed.
During the day, Marlowe deals with issues on the set. He answers questions about props and costumes and is alongside the crew while scenes are shot. He also works with the editors on upcoming episodes that have been shot. A typical episode takes eight days to film, five on set and three on location. (In addition, there are eight days of pre-production and eight days of post-production.) Marlowe often comes home at 11 p.m., only to review music cues and go over plans for upcoming shoots before going to sleep by 2 a.m.
"I need to have seven to eight episodes in my head on any given day," he says.
"Being a showrunner is one of the most difficult and complicated jobs in show business," Miller says. "Andrew is the boss of all these people — and there are more than 300 people. He's like a CEO."
Even while admitting he's "exhausted," Marlowe appears energized on set.
"Being able to do this is an amazing thing," Marlowe says. "You work for a really long time for a moment of grace, and when you have it, you want to ride it out as long as you can. It's a magical thing."
Marlowe's friends and colleagues all remark that he's one of the best people to know and work with.
"In my 30 years of doing TV, he is by far the most generous and creative executive producer I've worked with," says Penny Johnson, who plays Castle's Captain Victoria Gates. "He is really a wonderful man, and it's why the tone of the set is the way that it is."
"He has a clarity to his creative voice," Bowman says. "There's no shyness with Marlowe. He's tough as nails, which you have to be as long-term showrunner. The burden of duty is enormous."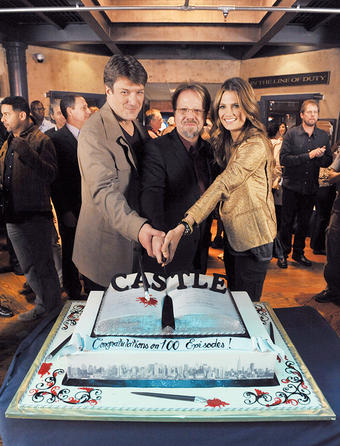 Castle's cast and crew, including Marlowe, flanked by Nathan Fillion and Stana Katic, celebrated the series' 100th episode in February 2013. The milestone show aired on April 1 of that year. Photo: ERIC McCANDLESS/ABC
Several weeks after the seventh season finale had been filmed, ABC announced that Castle would be renewed for an eighth season. Still, after careful consideration, Marlowe and Miller made the difficult decision to leave the show. While the couple will remain involved as consultants, ABC will hire a new showrunner.
"After seven years, Terri and I have decided to move on and focus on other projects," Marlowe said nearly a month after filming his last episode.
Through their company Milmar Pictures, Marlowe and Miller have been working on several new scripts that could find their way onto the screen. Marlowe has written a pilot script based on the Derrick Storm character from Castle's books, and he has a deal with Marvel to do a comic strip about Storm.
He's also working to revitalize the private detective character Philip Marlowe, created by author Raymond Chandler. Marlowe said that it was difficult to work on these new projects while simultaneously overseeing Castle, so that is why he has opted to step aside. But whatever Marlowe does next, his Columbia experience undoubtedly will come out.
"One of the big conversations that is going on in Hollywood right now is how technology will affect the future of storytelling. One thing that is clear to me is that storytelling isn't going away. We as human beings need these stories to contextualize our experiences," Marlowe says.
"There's a reason why Aristophanes still works today. There's a reason why Euripides still works today. Human beings haven't changed that much throughout our history. We're still obsessed with all the same things."
Phil Wallace '04 is the head of business development for Reigning Champs, a portfolio company of The Raine Group, and a freelance journalist in Los Angeles.