Features
Senior Snapshots
Members of the Class of 2015 traveled many paths to graduation. Here are seven of their stories.
By Nathalie Alonso '08; Photos: Char Smullyan GS'98
Allie Carieri '15 Stars Behind the Scenes
Allie Carieri '15
On the third day of her internship this past spring at Manhattan's landmark Public Theater, aspiring theater producer Alexandra "Allie" Carieri '15 had what she calls a "spiritual" moment when she found herself on the stage where Hair: The American Tribal Rock-Love Musical premiered in 1967. "This is my Notre-Dame cathedral," she recalls thinking.
Hair was the first show Carieri produced at the College, for the Columbia Musical Theater Society (CMTS) in fall 2012. Though she began acting in commercials at a young age and was cast in a few shows on campus, that producing experience made Carieri realize that she prefers being behind the scenes. "The things no one thinks about — schedules, contracts, budgets, making sure actors have everything they need and that everyone's happy — that's what I like," says Carieri, who also produced The Rocky Horror Picture Show for CMTS in fall 2013.
Carieri's other producer credits include two of the King's Crown Shakespeare Troupe's annual outdoor spring shows — Cymbeline in 2013 and Much Ado About Nothing this year — and the group's 2015 Egg & Peacock: A 24-Hour Play Festival, an anthology of student plays created, rehearsed and performed within a 24-period. After two years as a writer/lyricist for the extravaganza, this year she stepped into the more central role. "You're amped up on adrenaline and everyone is tired, but it's so much fun to see the audience laughing," says Carieri.
Carieri, who is from Southern California, considers it a dream fulfilled to have been twice part of the Varsity Show. (She was an ensemble member for V118 her first year and a producer for V120 her junior year.) During summer 2013, Carieri worked with other V118 alumni on Lydia & Tom: A New Musical, written by Solomon Hoffman '14 and Nick Parker '14, which was accepted at the New York International Fringe Festival. Her role as general manager and marketing director afforded her valuable exposure to New York City's entertainment scene, as did internships with Late Night with Jimmy Fallon, advertising agency Kirshenbaum Bond Senecal + Partners, and Roundabout Theater Company.
In her senior year, Carieri, an American studies major and a member of the sorority Kappa Alpha Theta, was president of the Columbia University Performing Arts League. An umbrella organization, CUPAL fosters cooperation among the groups that make up Columbia's performing arts community in order to ensure that each has the resources it needs. "It's an organization I was lucky to be a part of because I support what it stands for," says Carieri, who received a 2015 King's Crown Leadership Excellence Award for her work with CUPAL.
This summer, Carieri will continue interning at the Public Theater, where she will work on the famous Free Shakespeare in the Park program, which consists of free performances at an outdoor theater in Central Park. As was the case at Columbia, however, she hopes her professional career will be defined by diversity. "One of the things I loved most about my time at Columbia is that I got to try many different styles of shows," she says. "I really enjoy the variety and the challenges that each brings."
---
Hahn Chang '15 Values Service, Community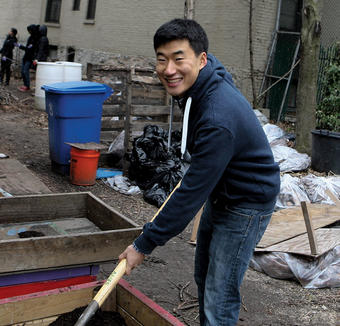 Hahn Chang '15
"Service has always been my passion," says Hahn Chang '15, who devoted himself the last few years to making a difference in ways large and small, from taking a gap year to volunteer at an underserved Los Angeles middle school to hosting a dinner for fellow Columbia students spending Thanksgiving on campus.
Chang, who grew up outside of Minneapolis, deferred admission to the College to join City Year, a national AmeriCorps initiative that places people ages 17–24 in high-need public schools, where they serve as tutors and mentors. For the past three years, he also was a summer teaching fellow with the Minneapolis affiliate of Breakthrough Collaborative, a national program that prepares low-income middle school students for college. In that role, he developed and taught computer science, physics and chemistry curricula.
At the College, Chang volunteered with Columbia-based nonprofit Community Impact (CI). In his first year, and again as a senior, he planned field trips for elementary school students from Harlem as a coordinator for the organization's Columbia Youth Adventurers program. In his sophomore and junior years, he was one of CI's student executives and played a key role in planning the organization's first two Not-for-Profit and Public Service Career Fairs. "Being a part of the community, building the community and then leveraging the community to make people's lives better — that's the big takeaway I got over the last few years," says Chang.
Chang's emphasis on community-building also has informed his work as an RA in East Campus the last two years, during which he became known for baking banana bread for his residents. As the RA-on-duty during Thanksgiving break last year, he organized a dinner in his suite (he was responsible for the turkey) and invited any student who was spending the holiday on campus to stop by; about 25 students did. "I figured I could do my part to give students who might not have a place to go a fun environment to celebrate," says Chang, who received a 2014 RA of the Year Award from the Columbia chapter of the National Residence Hall Honorary, an honor society that recognizes student leaders for contributions to their residential communities.
Chang, who was near Scholar's Lion on a campus visit when he realized the College was the right fit — "There's a special energy there," he says of that spot — majored in political science. Intrigued by the troubled launch of Healthcare.gov, he used his senior thesis to examine the factors that affect a state government's ability to make use of technology. "One of the conclusions I came to is that governments have had a difficult time leveraging technology to provide services," says Chang. "I tried to figure out which states have been more successful and why."
After graduation, Chang will return to Minneapolis to be an analyst for McKinsey & Co., a global management consulting firm. He hopes to one day run a nonprofit that works with youth, ideally in Minnesota. "It's a place that afforded my family and me many opportunities," says Chang.
---
Benjamin Gittelson '15 Is Hooked on Language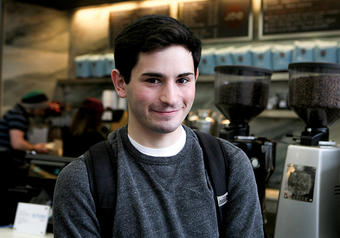 Benjamin Gittelson '15
An introductory course in linguistics was all it took to hook Benjamin Gittelson '15.
Having arrived at the College with a vague interest in "writing and words and languages" but intrigued by plenty of other fields, Gittelson was fascinated by linguistics' overlap with psychology, neuroscience, philosophy, education and computer science, and he saw an opportunity to explore all of them "through the common theme of language."
Ultimately, Gittelson designed an independent major in linguistics and pursued summer research to supplement his coursework. His most valuable research experience came last summer, as an intern at the Center for the Study of Language and Information at Stanford, where he led a 1,300-participant study that gauged how extraneous information affects a person's ability to make accurate inferences in conversation. It was the first time he designed and conducted a linguistics experiment from start to finish. "It was cool to formulate a research question, execute it and analyze the data," he says.
As a linguistics major, Gittelson was required to study a non-Germanic, non-Romance language. He chose Swahili and enjoyed it so much that he sought a U.S. Department of Education Foreign Language and Area Studies Fellowship, which allowed him to further study the language in Kenya during summer 2013. "[Swahili] developed more recently than English and is more structured and logical," says Gittelson. "English has a lot of exceptions. It was a very interesting point of comparison."
The previous summer, as a research assistant at the Polinsky Language Sciences Lab at Harvard, Gittelson traveled to Toulouse and Strasbourg in France, where he interviewed more than 30 children who learned English from Anglophone expatriate parents. The goal was to see how the grammar and pronunciation of these "heritage language learners" differed from native English speakers and those who acquire English as a second language.
At the College, Gittelson, who has played the violin since he was 5, took individual lessons and performed with the Columbia University Bach Society orchestra. From his first year, he also was involved with Spectator, where he rose through the ranks to become deputy news editor as a senior. "Spectator has been kind of a home base for me; it has a really strong community," says Gittelson.
Though not committed to one career path, Gittelson, who was inducted into Phi Beta Kappa in May, has envisioned himself as a professor since high school and will take a step in that direction this fall when he pursues the first of two successive master's degrees in linguistics at Cambridge. A Euretta J. Kellett Fellowship from the College will cover his tuition as well as travel and living expenses. "If I enjoy that, then I'll look into Ph.D. programs," he says.
---
Alyssa Menz '15 Dives into Global Sustainability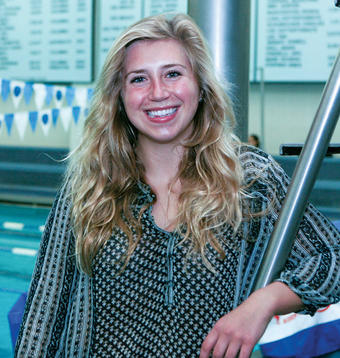 Alyssa Menz '15
Alyssa Menz '15 found sustainable development a fruitful avenue for exploring environmental issues and international relations, interests she honed beyond the classroom through fieldwork, conflict studies and language immersion.
A recipient of several fellowships from The Earth Institute, Menz initially adopted a scientific approach. In 2012, she spent five weeks in Jordan through a Summer Ecosystem Experiences for Undergraduates program, which involved hiking and snorkeling while learning about local ecology and sustainability challenges. "That was a region I wanted to get to know, especially in terms of water scarcity," says Menz, who spent the following Spring Break in Bermuda through a weeklong Earth Institute program that focused on coral reefs.
The most pivotal of Menz's experiences abroad, however, came during summer 2013, when she returned to Jordan and also visited Israel and the West Bank on an 18-day trip offered by The Earth Institute and the Porter School of Environmental Studies at Tel Aviv University. The program, which highlighted transboundary environmental issues vis-à-vis conflicts in the region, gave her a new focus and "helped me determine my professional aspirations," says Menz, who will begin master's studies in the Nature, Society and Environmental Governance program at Oxford in the fall, fully funded by a Jarvis and Constance
Doctorow Fellowship. She hopes to start a consulting firm that helps countries, regions and communities overcome discord by having the parties work together to address common environmental problems.
In the course of her travels, Menz became aware of Africa's bushmeat crisis — the unsustainable hunting of wildlife for food — and was inspired to spend the Spring 2014 semester learning about fauna and farming practices in Kenya through the Columbia-Princeton Tropical Biology and Sustainability Program. Afterward, she spent a week at home in Binghamton, N.Y., before traveling to Turkey, where a U.S. Department of State Critical Language Scholarship Program covered her expenses while she studied Turkish for two months during the summer.
Menz's only hesitation to spending a semester abroad was being away from the swimming and diving team, to which she devoted 30 hours a week. A diver since she was 7, Menz qualified for NCAA Zones each of her four years and was team captain as a senior. She says having been a college athlete improved her time management skills. "It ensured I was always on time with my work," she says.
Menz also was on the executive committee for Columbia College Student Ambassadors, created in 2013 to better connect alumni and students, and volunteered with the Undergraduate Recruiting Committee. "Every day I wake up thankful to have had the opportunity to come to Columbia," says Menz. "I really want other people to know how fantastic Columbia is and to share my experiences with them."
---
Ebe Ouattara '15 Seeks To Help Ivory Coast Youth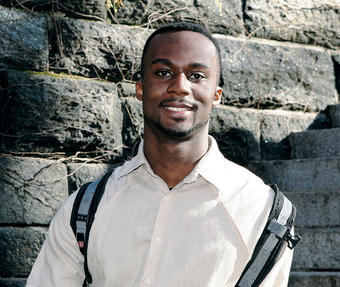 Ebe Ouattara '15
Shortly after a Columbia admissions officer visited Ebe Ouattara '15's high school in Abidjan, Ivory Coast, in 2010 and encouraged the then-aspiring aeronautical engineer to apply to Engineering, a violent power struggle broke out in the West African country for the second time in 10 years. Ouattara's senior year was disrupted and, with banks and agencies closed, he had a hard time gathering documents for college applications. "It was really difficult to think about college at the time," says Ouattara. "I wasn't sure I was going anywhere."
The turmoil prompted a shift in Ouattara's goals. He'd once envisioned returning to the Ivory Coast, degree in hand, and exploring ways to make commercial flights within Africa more affordable. But that dream, he realized, required political stability. "I started to think, 'Am I going to be able to do that if my country is fighting?'" says Ouattara. Seeing the value of majoring in political science, the SEAS admit transferred to the College before his first year even began.
Ouattara, who dreams of an Ivory Coast where "youth play a more constructive role in politics, economics and society," credits his College education with affording him a more critical understanding of the country's problems. "Coming to Columbia has given me the opportunity to look at things from international and regional perspectives, and to understand why different actors in the crisis made certain decisions," says Ouattara, who lists "Democratization and Regime Change in Developing Countries" with assistant professor Kimuli Kasara and "The Evolution of Civil War Mediation Strategy" with SIPA lecturer Thomas Hill among the courses that have most influenced him.
Born in Alabama, Ouattara was 9 months old when he moved to his parents' native Ivory Coast. His father passed away when he was 6, and he moved back to Alabama with his mother in 2003, when he was 10, at the beginning of the first Ivorian Civil War. The fighting had ended by the time they returned to Abidjan in 2007 and the situation remained stable until the post-electoral crisis that rattled the country from November 2010 to April 2011. Ouattara remembers that period as one of "fear and uncertainty"; it was unclear from one day to the next whether staples like bread or cooking gas would be available.
Empowered by a College education that has given him new perspectives, Ouattara wants to do the same for other Ivorian youth by "creating a platform within the next 10 years that enables students to think critically about the information they are getting." Looking to turn that vision into an actionable plan, he has deferred admission to the master's program in peace and conflict studies at the University of Manchester to spend a year at home; he hopes to find work during that time with an organization that promotes post-conflict development and make connections with youth leaders. "The coming year will help me determine which avenue I believe is more effective," he says.
---
Shondrea Thornton '15 Stays Committed to Social Justice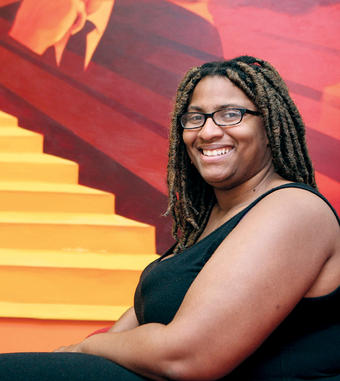 Shondrea Thornton '15
A commitment to social justice guided many of Shondrea Thornton '15's choices at the College, from her academic trajectory to where she lived on campus to the student organizations she joined.
An African-American studies major, Thornton received a Mellon Mays Undergraduate Fellowship (MMUF), awarded each spring to five sophomores from underrepresented minorities who demonstrate potential for doctoral study. Fellows receive support for research, meet weekly to discuss their work and learn about the graduate school application process. Citing race, gender and class among her research interests, Thornton says that through MMUF she "realized how important academia can be to activism," adding, "We talked about scholar activism — how can your paper on feminism change how young girls view themselves?"
For her MMUF research, Thornton looked at black political culture as reflected in and influenced by the careers of entertainers Diana Ross, Whitney Houston and Beyoncé. "My paper is about resituating the popular culture created by black women as having integral importance to political culture and the way we think about identity, race, gender and sexuality," Thornton says. Starting this fall, she intends to explore "contradictions between popular culture and political culture" more broadly at UCLA, where she will pursue a Ph.D. in gender studies.
Thornton began pondering that relationship following the December 2013 release of the album Beyoncé, which she discussed with her housemates at the Intercultural House, the residential component of the Intercultural Resource Center. The IRC, which occupies two brownstones on West 114th Street and also offers a library and meeting space for student groups, promotes dialogue about diversity and social justice. Residents receive training meant to foster understanding of societal oppression. "It's an intentional space for exploring questions about identity and it is a brownstone, so you get that homey feel," says Thornton, who lived in the IRC beginning with her sophomore year.
In 2014, Thornton, who hails from Durham, N.C., received a King's Crown Leadership Excellence Award for Civic Responsibility in recognition of her involvement with several student groups, including Columbia University Students Against Mass Incarceration, and Black History Month. Thornton also participated in rallies and protests with the Columbia University Black Students' Organization and, as the group's senior chair this past year, helped plan Black Graduation, one of several multicultural ceremonies organized by the Office of Multicultural Affairs. As a senior, she co-chaired the Black Family Tree, a component of OMA's Columbia Mentoring Initiative, which pairs first-years with upperclassmen mentors of their own ethnicity.
Though at times Thornton found herself at odds with the administration as a result of her activist work on campus, she is proud of all of her undergraduate pursuits, which she says were fueled by a desire to make the black community at Columbia stronger. "When you are doing the right thing for the right reasons, you will get the results you want," says Thornton. "My life and my trajectory have been helped by being brave and taking a stand. I'm leaving happy."
---
Djordje Vuckovic '15 Uses Chemistry To Do Good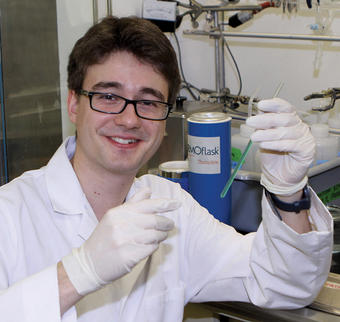 Djordje Vuckovic '15
A chemistry major with an interest in environmental science, Djordje Vuckovic '15's research at the College yielded a new material that he hopes will eventually be "used in factory and power plant filters to help clean the atmosphere."
Vuckovic worked in the lab of Jeffrey Koberstein, the Percy K. and Vida L.W. Hudson Professor of Chemical Engineering, where he investigated carbon sequestration — the capture and storage of carbon dioxide from the atmosphere as a way to mitigate climate change. There he designed a molecule that, depending on its temperature, has the ability to absorb and release carbon dioxide. "It has a fairly high absorption capacity," Vuckovic says.
Vuckovic was one of a handful of incoming students who are admitted to the College each year as Science Research Fellows, which guarantees two summer research opportunities, facilitation of research during the academic year, access to a $10,000 stipend across four years and other benefits. "I knew research interested me and that I wanted to major in a science," says Vuckovic, who was born in and spent his early years in New York City before moving to his parents' native Serbia, where he attended middle school and high school.
Last summer, through a National Science Foundation-funded program at the European Center for Research and Education in Geosciences and the Environment in France, Vuckovic studied the possibility of using elemental iron nanoparticles to purify groundwater. In his final semester at the College, he turned his attention to improving atom transfer radical polymerization, a technique used to synthesize small molecules to form long chains of repeating units, called polymers.
Vuckovic, who was inducted into Phi Beta Kappa in May, hopes to begin a Ph.D. program this fall to continue his research on polymers, which have potential applications across a range of scientific fields. "I'm interested in chemistry that has an environmental application but also possible biomedical applications, such as drug delivery and tumor imaging," says Vuckovic.
Throughout his time at Columbia, Vuckovic could often be found training with the Columbia University Ballroom Dance Team. Vuckovic, who first attempted ballroom dancing in high school but did not begin competing until he joined CUBDT, found that the hobby brought balance to his undergraduate years. "As soon as I'd hear that music and we'd start moving on the floor, I'd realize, 'Wow, this is amazing. Maybe research isn't the only thing. There are other things in life that are also important.'"
Vuckovic's favorite dances are the foxtrot and the quickstep, and he is particularly proud of a mentorship program he spearheaded as president of CUBDT his junior year, which pairs beginner dance couples with more advanced members of the club. "It's shown everyone that anyone can learn how to dance," says Vuckovic. "We noticed that dancers improved faster and team spirit grew."
Nathalie Alonso '08, from Queens, is a freelance journalist and an editorial producer for LasMayores.com, Major League Baseball's official Spanish language website. She writes "Student Spotlight" for CCT.