Features
Building a Lifeline
After the tragic loss of their son Jed, Phil and Donna Satow went on a mission to develop a long-term and comprehensive program to prevent young people from suicide and self-harm
By Shira Boss '93, JRN'97, SIPA'98
Sometimes, tragedies can lead to good works.
When Jed Satow died by suicide at the end of 1998, at 20, his parents, Phillip M. Satow '63 and Donna Satow GS'65, wanted to understand what went wrong in his life and what could have been done to save him. They met with the president of the University of Arizona, where Jed had been a sophomore. With more than 30,000 students on campus, the president asked earnestly, "What would you want me to do?"
"In those days there was little discussion about the risk of suicide among young adults," Donna says. "When we walked out we realized, here was a closed system — a college campus — and even they weren't sure how best to prevent this from happening."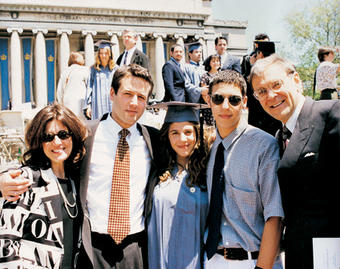 Donna Satow GS'65 and Phillip M. Satow '63 with their children (left to right) Michael '88; Julie '96, SIPA'01; and Jed.
The Satows went on a mission to obtain answers to the president's plea and find what could be done to prevent other families from enduring the same loss. It became clear that no organization existed that specialized in preventing suicide among college students, despite it being the second leading cause of death in that population. So in 2000, backed by the expertise of an extensive advisory board, the Satows established one themselves.
In the 15 years since, the Manhattan-based nonprofit The Jed Foundation has matured into the country's leading authority on the prevention of college student suicides. It has developed and honed its "Comprehensive Approach to Mental Health Promotion and Suicide Prevention on College and University Campuses," a set of recommendations that have influenced hundreds of schools. With a $3.8 million budget and a staff of 12, including CEO John MacPhee '89, PH'12, as well as a psychiatrist and two clinical psychologists, the foundation now partners with the nonprofit Bill, Hillary & Chelsea Clinton Foundation to influence changes in school policies and practices at colleges nationwide. It is also partnering with MTV and Facebook to extend a helping hand directly to college students in the form of media and social marketing campaigns.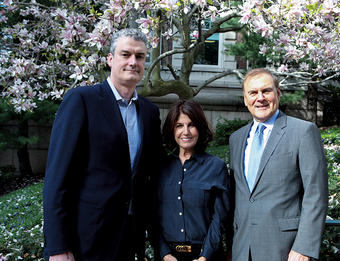 "We believe promoting emotional well-being is an important part of higher education and life readiness," says John MacPhee '89, PH'12 (left), The Jed Foundation CEO, with Donna Satow GS'65 and Phillip M. Satow '63 on campus this past spring. Photo: Char Smullyan GS'98"They went to the right places and asked all the right questions and took time to develop a long-term and comprehensive program to prevent young people from suicide and self-harm," says Rain Henderson, CEO of the Clinton Health Matters Initiative, part of the Clinton Foundation. "The Satows are incredible people. You know the minute you meet them these are people on a mission."
"It's a really sound, evolving, deep and meaningful model," says Joe Behen, executive director of counseling, health and disability services at the School of the Art Institute of Chicago. "The Jed Foundation has had an incredible impact in higher education. It's the best model out there to enhance student well-being and save lives."
The Satows met in 1962 in the main reading room of Butler Library. They married in 1964 and soon began moving around — including Boston, Brussels and Washington, D.C., as well as New York City, their eventual home — as Phil was a naval officer and then worked his way up in the pharmaceutical industry. Donna worked in publishing, including as co-founder and publisher of The Women's Newspaper of Princeton — "No diet or fashion!" she notes — in the '70s and '80s, and later as publisher of Columbia College Today. The couple raised three children: Jed and his older siblings, Michael '88 and Julie '96, SIPA'01.
The Satows describe their family as tight-knit and happy. Jed was outgoing, with many friends and a lively sense of humor, but in high school he sometimes was sullen, angry or impulsive, or wanted to be alone. His parents worried about his behavior but when they mentioned it to others, they were told he was being a typical teenager and not to worry. Jed also had a learning disability; he chose to attend Arizona in part because of its specialized program for such students.
What the Satows now know is that depression can look different in young people than in adults. Rather than withdrawing, young adults can appear outgoing. Sadness might come out as anger. And, Donna emphasizes, they are impulsive, which can lead them to a drastic response to problems they don't see as temporary at their inexperienced age.
The Satows also discovered that learning disabilities in young people often are accompanied by emotional and mental health issues. In Jed's case, they believe he might have had undiagnosed depression. At the time of Jed's death, Phil had just announced his retirement from Forest Laboratories, a move he says he made in part to spend more time with his youngest child.
"You think that your son or daughter is in college, everything is fine. You don't want to see certain problems," Phil says. "So you say, 'That's typical behavior, versus troubled behavior.' We'd rather say it's typical and hope and pray it is, versus saying it's troubled." He now cautions parents to err on the side of getting help. Phil adds that in their case, compounding his guilt — a feeling he says haunts all parents of children who die by suicide — is that he had worked with psychiatrists on products to treat depression. "I had learned something about it," he says, "and still I didn't save my son."
Before The Jed Foundation was created, campuses generally focused their mental health programming on services offered at the counseling center. Yet only a minority of college students (typically 10–15 percent, according to MacPhee) make their way to centers like that, even though emotional problems are widespread. According to the Spring 2014 report, the most recent available, of a twice-a-year survey by the American College Health Association, a quarter of college students said they were "very lonely" within the past two weeks and a quarter said they were "very sad" within the past two weeks. More than one in six reported being "so depressed that it was difficult to function" sometime in the past year, and 1 in 20 had "seriously considered suicide" in the past year.
"There's a large population of students on campus dealing with all kinds of issues that can become severe if not attended to," says Phil, who is also chairman of the board of the foundation.
To formulate a model of what should be done on college campuses to address the problem, the Satows began by researching what other closed systems were doing. They found a successful model in the Air Force, which uses a mental health and suicide prevention program that has reduced rates of suicide, homicide, domestic violence and accidental deaths, and set about adapting it to colleges.
Eventually, the Satows created the JedCampus program, a multi-point plan of action that could be applied to colleges nationwide. It takes mental health services and suicide prevention beyond the counseling center, helping college administrators put a safety net in place for students. The goals extend to seven areas: developing life skills, promoting social connectedness, identifying students at risk, increasing help-seeking behaviors, providing mental health services, following crisis management procedures and restricting access to potentially lethal means. They encompass a range of recommendations, from making sure students have access to healthful foods and a free gym to preventing easy access to roofs.
"We believe promoting emotional well-being is an important part of higher education and life readiness," says MacPhee, who joined The Jed Foundation in 2011 following 20 years in the pharmaceutical industry. "Sleep deprivation, anxiety and depression are among the top reasons contributing to academic failure and dropout."
One practice the foundation advocates is the creation of behavioral intervention teams, aka "campus care teams," comprising individuals in an array of positions — faculty, academic advisers, RAs, coaches, chaplains — trained to recognize students of concern and get them help. "They didn't exist widely a decade ago, and now it's the rare school that doesn't have a care team," Behen says. "The Jed Foundation has been a major influence on that."
Because so few students go to counseling centers, The Jed Foundation also has designed campus-based social marketing campaigns to reduce the feelings of isolation, despair, anxiety and helplessness that can lead to a suicide attempt. "We affect people suffering in silence, like my son was," Donna says. "We want to help students feel more connected and to know it's OK to speak up and get help for themselves or a friend, and we want them to know how to get that help."
The JedCampus Program is now run in conjunction with the Clinton Foundation as The Jed and Clinton Health Matters Campus Program, launched in 2014. The Clinton Foundation leaders initiated the partnership when they were working on a program to curtail prescription drug misuse and overdose on college campuses. "When we talked to people in the field — small nonprofits, large nonprofits, the White House — it came up again and again that there's one organization we should really look at: The Jed Foundation," Henderson says.
Colleges and universities pay $1,950 for a four-year process to implement the Campus Program. A team from The Jed Foundation and the Clinton Foundation visits the school to do an assessment and identify opportunities to improve. An interdisciplinary team at the school is formed to work on changes, with technical assistance and advice, as well as periodic evaluations, from the foundations.
Eighty-eight schools are in the program, with a goal of 1,500 by 2020. Schools that complete the four years and successfully implement the recommendations will receive a certification (some schools, including Columbia and Barnard, received this certification before the current program debuted). Phil hopes parents helping their children select schools during the application process will start to take the certification into account.
From its start, The Jed Foundation has also reached out directly to students, and continues to expand on those efforts. ULifeline, for example, has been in operation since the foundation's inception. The mental health and suicide prevention website (ULife line.org) is provided free of charge to all colleges by the foundation, which then helps schools customize it — for example, creating links to connect students with the resources available at their school. The website gets 440,000 individual visitors per year and 40,000 students take its confidential online quiz every year; the "self-evaluator" helps them recognize a problem in themselves or a friend and point them toward help at their school.
Satow, a past president of the Columbia College Alumni Association, received the 2014 Alexander Hamilton Medal in November; here, he is congratulated at the dinner by CCAA President Douglas R. Wolf '88. Photo: Eileen Barroso
Since 2006, The Jed Foundation has partnered with MTV on Half of Us (halfofus.com). The educational campaign uses video and other tools to raise awareness of the mental health problems, stresses and pressures common among college students (e.g., break-ups, anxiety, "digital drama," money problems) and to encourage them to seek help. The title refers to the more than half of all college students surveyed who report severe problems with anxiety or depression.
The videos, which have won Peabody Awards, feature celebrities such as Mary J. Blige, Pete Wentz and Brittany Snow discussing their own struggles with mental health issues. The videos have been aired at 900 colleges and universities on mtvU, the largest television network for college students. The videos are also free to use by schools during orientation and at other events and programs (some schools have aired them before the main feature on movie nights) for purposes of education and discussion. "Depression, alcohol, loneliness, social media — it covers wide ground," MacPhee says. A key message to students: You are not alone.
"The campaign reaches millions of students with information about how to recognize when someone is struggling and the actions you can take to help yourself or a friend," MacPhee says.
Last year, The Jed Foundation launched another outreach campaign, with Facebook and Instagram. The "Help a Friend in Need" guide helps 18–24-year-olds recognize posts of concern in social media and suggests what actions can be taken.
The extension of The Jed Foundation's programming to social media is an indication of how comprehensively it tries to reach college students in need. "Those at The Jed Foundation, including the Satows, are very in tune with the demographic they represent and really understand social media and how it's used," says Rita Fabi BUS'05, manager, Safety Operations, Facebook.
Since their work began, the Satows have inspired and witnessed real changes on college campuses. "In the past, senior officials have focused on academics, prestige and development," Phil says. "More and more, they are now focusing also on the quality of student life, with some emphasis on wellness and emotional wellbeing. That's been a great gift of The Jed Foundation: the recognition of this problem and the need for change so this problem is dealt with."
The Satows' goal is, by 2020, to see half of all college students in the United States attending a school that has implemented their model and been certified by The Jed Foundation.
"We work primarily with the university administration but it's for the kids," Phil says. "How many kids will be under our umbrella of protection? It's the kids we're protecting and they're what matter."
Shira Boss '93, JRN'97, SIPA'98 is an author and contributing writer to CCT. She lives on the Upper West Side with her husband, two sons and two whippets.