Letters to the Editor
Food, Glorious Food
The food issue of CCT [Spring 2015] was absolutely magnificent — and I ate up every word. (Bad pun, great magazine.)

Thanks so much. CCT is world-class.
David Andrusia '78
Los Angeles
You put together some really great Morningside eating reminiscences ["So Where Do You Want To Eat?", Spring 2015], which brought back many memories indeed.
My favorite daily eatery for dinner was the Campus Grill on Amsterdam for a reliable budget meal, and it was always packed. It was called by the un-PC abbreviation of "the Japanese" — which we can't repeat these days — but it was great. It was run by Toru, always pleasant, and his somewhat more irascible sidekick grillman, Tony, plus one or two other Japanese compatriots. And it was always crowded, with several stools and four booths in back.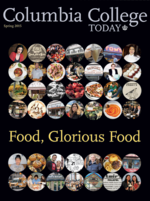 A regular dinner had a plate of meat/chicken, two veggies and side of bread/toast, all for (I think) around 90 cents. There were abbreviations for everything to speed things up: A veal cutlet was, naturally, a VC. Veggies were numbers: 1=mashed; 2=French fries, on through 3, 4 and 5 which were (unsure of the order) peas, string beans and corn. Bread was lettered: A=white, B=wheat and C=rye. Having it toasted was "down." So if you shouted upon entering, "Gimme a VC, 2, 5, C down," it would appear in a few minutes! Some desserts were cryptic, too. A "Torpedo" was strawberry ice cream with chocolate sauce. Then came the "Reverse Torpedo," which was (of course) chocolate ice cream with strawberries on top. Ah, youth!
Remember Riker's cafeteria on Broadway? Crossroads of all the schools for coffee and a toasted English.
Loved The West End, and friends here in the Boston area who are from that era or a little later recall the large oval bar and the camaraderie, plus the budget beers and pretty good food. Instructors and small organizations had ad hoc meetings there. Last year I found a place of the same name in Midtown, on Sixth Avenue.
Ta-Kome — of course! Great for a late-night sub (my Boston later life calls them subs, not heroes, which they were). I still crave the knockwurst sub, 55 years later! When at John Jay Hall on a late evening, the tall wrought iron gates to West 114th Street were locked, so to avoid the long walk up to West 116th and Broadway, we climbed the high spiky fence and got to Ta-Kome just in time.
The Hungarian Green Tree Restaurant on Amsterdam was a date night place, too, showing your elevated Continental awareness. And a fine kosher deli somewhere on Broadway toward West 107th introduced me to both Dr. Brown's Cel-Ray tonic (which I still love), pastrami on rye and no-nonsense middle-aged waiters who would correct your choices; example: I, a goy, once asked for a corned beef sandwich on rye with mayo (!).
Anyway, thank you for your terrific article, and keep up the great work!
Steve Kokkins '62, SEAS'63
Marion, Mass.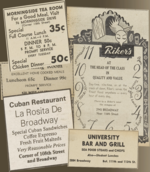 images: courtesy Columbia Daily Spectator Digital archivesThank you for the culinary trip down memory lane ["Food, Glorious Food," Spring 2015]. A favorite restaurant from my time at Columbia was the Hungarian Green Tree Restaurant at the corner of West 111th Street andAmsterdam. The menu included goulash, stuffed cabbage and (if Iremember right) brains with eggs. My friend Jamie Katz '72, BUS'80 and I got a chuckle out of the fact that a menu choice was "two eggs and style," which we ordered thinking that "style" was some little-known Hungarian specialty. We quickly learned that, corrected for the typo, the line would have read "two eggs any style."
On another note, I was lucky enough to take Art Humanities with the late David Rosand '59, GSAS'65 — great course, superb teacher ["Obituaries," Winter 2014–15 issue].
David Lehman '70, GSAS'78
New York City
I loved the "Food, Glorious Food" issue [Spring 2015]. Please, I want some more?
Two other places deserved mention, especially for those who lived south of West 110th Street. La Rosita De Broadway, a funky little Cuban restaurant on West 108th Street, had a big helping of yellow rice and black beans for a couple of bucks — unbeatable value for impoverished students. Szechuan West, on West 102nd, had cold sesame noodles that were to die for. They delivered hundreds, if not thousands, of orders to Cannon's Bar. My mouth is watering just thinking about them.
Tim Clune '80
Rheineck, Switzerland
Though the end of March had not yet brought spring to New York, your Spring 2015 issue tickled my nostalgia for days long gone by, when my wife and I used to enjoy local dinners until she left her lab at Chandler Hall to post-doc at P&S in January 1951. Tasty and inexpensive dinners during our early engaged and married years, from about the 1946 Spring term until then, were found at the Morningside Tea Room on its eponymous Drive near West 118th Street, for 99 cents each; a large bowl of spaghetti drowned in thick meat sauce nourished one for 65 cents at the University Bar and Grill on Broadway near West 112th Street; the Great Shanghai across Broadway charmed us with pressed duck with chopped walnuts at a very low price that I cannot recall, but matchless in its flavor and never since encountered anywhere; and in a pinch there was always Chock Full o' Nuts for a quick, tasty, cheap bite in a hurry. For a student on the GI Bill, married to a graduate student on scholarship plus, in her research years, a teaching assistantship, these were lifesavers.
Those are among my fondest memories of Columbia at the time, when cooking time at home was brief and commuting consumed more time than one liked. And I needn't remind you about the price of a glass of beer or a cup of coffee in those days. They were wonderful days indeed; thanks for stirring the memories!
Joe Russell '49, LAW'52
New York City
I read the article "So Where Do You Want to Eat?" in the Spring 2015 issue with a combination of nostalgia and righteous indignation. Nostalgia because it brought back so many fond memories of my favorite regular eateries during my Columbia years — The Gold Rail, Ta-Kome, Forlini's, Symposium, Moon Palace and, as a native New Yorker habituated to its charms, Chock Full o' Nuts. As Alex Sachare '71 noted, Butler Terrace [as it was known,] was reserved for occasions when my parents were picking up the tab, usually to meet a new girlfriend of mine.
But I was crestfallen to see three of my favorites overlooked, as they offered some of the best food in the neighborhood. First was the Inner Sunset, an organic macrobiotic restaurant on West 113th Street that evoked a weekend on a Vermont commune. Every meal involved a pot of weak green tea, brown rice and a mass of grains and vegetables. It was always an adventure to venture into this dimly lit, exotic retreat, but it usually took forever to get one's check, as the entire staff often gathered in the back for prolonged chanting and meditation. I believe it opened in 1969, spread its yin and yang hither and yon, and closed within a year.
Second was the Ideal, an excellent Cuban diner which opened on Broadway at West 109th Street in 1970, offering hearty and tasty Cuban homestyle cooking and was a beachhead on the UWS as Cuban restaurants started spreading north from Midtown.
But third was probably my all-time favorite, Oro de Pavo Real (the Golden Peacock), which opened on Broadway between West 110th and 111th Streets around 1971. It served 'comida criolla' (Creole cuisine), a combination of Cuban and Chinese dishes, brought to the United States by the many Chinese who'd settled in Cuba and then immigrated to New York when Castro came to power. Yes, it was a greasy spoon, but the food was robust and savory, and it was in the vanguard of such restaurants that soon blanketed the UWS and the rest of the city. The restaurant is long gone, but it's immortalized in the 1974 Paul Mazursky-Art Carney film Harry and Tonto (much of which was shot around the Columbia neighborhood) in a key scene in which Carney contemplates his future while sitting on a bench in the middle of Broadway.
Peter Levitan '72, LAW'84
Sherman Oaks, Calif.
"So Where Do You Want to Eat?" [Spring 2015] brought back memories of the old and sadly now gone The West End, featuring a counter sandwich man who wielded a scarily fast-moving knife.
My favorite was the earlier version of V&T on Amsterdam between West 113th and 114th. "Big George" moved in the crowded space with amazing speed, delivering pizzas deftly with good banter, and talked many of us into having his favorite dessert — hot apple pie Parmesan, a big improvement on New England's cold apple pie with Cheddar!
The fanciest restaurant with the best food (other than the expensive Butler Terrace) was the predecessor of the Greek restaurant Symposium, but in the '50s and '60s it was named Symphony, and wasn't Greek.
Martin S. Kaplan '61
New York City
Let me add a small memory to your panoply of Columbia dining spots of yore: Aki Dining Room, a Japanese American-run restaurant on West 119th Street, between Amsterdam and Morningside. Aki's claim to fame was dinner for less than a dollar (99 cents, actually). The object was to stay under a dollar so as to avoid the New York City restaurant tax, a relic of the Great Depression when it was felt that if you could afford a dinner that cost a dollar or more then you could afford to pay tax.
Cost increases being the way of the world, before I graduated the Aki dinner no longer included a scoop of ice cream, thus keeping the price still under a dollar.
Paul S. Frommer '57
Alexandria, Va.
The tiny Campus Dining Room, or CDR, off Amsterdam on West 119th Street, merits only half a sentence in the article, yet was the kitchen and social center of choice for me and other residents of the long-gone Columbia-owned apartment building at 400 W. 118th St. Among its many attractions, aside from large portions of chili served over rice, were inexpensive draft beer, the decent likelihood of running into and chatting with comedian George Carlin sitting at the small bar and the first Pac- Man machine I ever saw. I wish my memories of some classes was as vivid.
Mark Turco '73
McLean, Va.
Jack Greenberg '45, LAW'48's cookbook, Dean Cuisine: or The Liberated Man's Guide to Fine Cooking, published in 1989 during his tenure as dean of the College, may mark the beginning of the College's preeminence in the world of food.
Deborah M. Greenberg LAW'57
New York City
Editor's note: The author is the wife of former Dean Jack Greenberg '45, LAW'48.
Your food issue [Spring 2015] brought back wonderful memories of Jupiter-sized slices at Koronet Pizza and world-class dumplings at the now-defunct Shanghai Café.
But no food discussion should lack an examination of those who go hungry. Nationwide, 49 million Americans — including 16 million American children — live in food-insecure households, unable to afford enough food.
Even though New York City now has 53 billionaires, with a combined net worth of about $180 billion, fully 1.4 million city residents — and nearly half a million children — suffer from food insecurity. Because expenses outstrip wages for many, one in six New Yorkers, and one in four children, struggle against hunger. Despite the gentrification in Morningside Heights, there are still 15 soup kitchens and food pantries in the 10027 ZIP code alone, but most don't have enough resources to meet the immense need.
Meanwhile, federal cuts enacted by the President and Congress recently reduced the average household SNAP (food stamps) benefit in New York City from the paltry level of $1.70 per meal to an even smaller $1.60 per meal. Due to that reduction, as well as a declining caseload, low-income New York City residents received an estimated $426 million less in federal SNAP funding in 2014 than in 2013.
The most heartbreaking fact about hunger in New York and America is that it's entirely preventable by creating more jobs, raising wages and ensuring an adequate safety net. While our nation knows exactly how to end it, we are doing precisely the opposite.
Joel Berg '86
Brooklyn, N.Y.
Editor's note: The author is the executive director of the New York City Coalition Against Hunger.
Roar, Lion, Roar
I enjoyed the letter from CCAA President Douglas R. Wolf '88 [Spring 2015] on the Columbia lion. This reminds me of a portrait by Michael De Santis in the early 1930s of chemistry professor Henry C. Sherman, who was an expert in food and nutrition. As you can see in this photo, a striking feature of this portrait is the inclusion of a Columbia Lion sculpture on Professor Sherman's desk.
Arthur Thomas '50
Greenwich, Conn.

Eighty Years of Service
During the last four decades, there have been two important constants for Columbia Athletics: Associate Athletics Directors Ken Torrey and Al Carlson. Earlier this year, both of these tremendous Columbians announced their retirement, effective at the end of the 2015 academic year.
Together, they provided an incredible 80 years of service to Columbia. Al and Ken's wonderful contributions cannot be underestimated — and are not unnoticed.
As chair of the Physical Education program, Ken provided lifelong skills for thousands of alumni. Ken is also the greatest champion of Columbia squash, as the former coach of the club team and a huge proponent of the launch of our two varsity programs. Even better, his infectious enthusiasm has been vital for our department.
Under Al's leadership as head men's golf coach, Columbia won its first Ivy League championship, and he successfully launched our women's golf program, which despite being the newest team in the Ivy League, has become one of the top teams in the conference. As an athletics administrator, Al did it all, from fundraising and selling T-shirts, to managing the athletics program budget and ensuring our financial stability.
Most importantly, both are parents of Columbia College alumnae, ensuring that they and their families will forever be associated with Columbia.
I am proud to have worked with Al and Ken during the past 11 years. They have my admiration and respect. I am sure that generations of Columbians share my sentiment, and join me in saluting them on their retirement.
Roar, Lion, Roar!
M. Dianne Murphy
New York City
Editor's note: The author is Columbia's former director, Intercollegiate Athletics and Physical Education.
Dean Pollack
Thanks for the "Alumni Corner" by Robert Pollack '61 on Charles McKim's learned (yet quirky) architecture in Low Library [Winter 2014–15]. I will always remember the author of this piece not as Dr. or Professor or Bob, but as Dean Pollack, and I'm delighted the article has put us back in touch.
Dean Pollack recruited me to attend Columbia College during a Dean's Day visit to campus in 1986, and he put up with me during my years as a reporter and editor for Spectator. In fact, he always took calls (even at home, and late in the evening), did his best to explain complex issues and generally took me seriously as a student and journalist.
While my reporting days never made it past Spec, I did go to graduate school in history, embarked on an academic career and this past year became a dean myself, at Louisiana State University's Ogden Honors College. Bob Pollack and Columbia College have stood me in excellent stead as I recruit, teach, advise and plan curricula for my own students. And I try to take them just as seriously as Dean Pollack took the teenaged me.
Jonathan Earle '90
Baton Rouge, La.
Professor Zito
Thanks for the excerpt from Morris Dickstein '61's Why Not Say What Happened ["Columbia Forum," Spring 2015]. It brought back happy memories of Professors Chiappe, Taubes and Zito. After several odd experiences — the circus of Charles Van Doren GSAS'59's last class and an unfounded accusation of plagiarism by an ancient history professor who couldn't be bothered to check with the English Department — the abrupt cancellation of a long-advertised senior seminar seemed the last straw. Following our protest, Jim Zito stepped in and provided an exciting end to my undergraduate experience.
Gregory Howe '61
Provincetown, Mass.
I was delighted to see that my classmate Morris Dickstein '61, in the excerpt from his memoir about his junior year, paid tribute to his Shakespeare teacher, Jim Zito.
Professor Zito was my instructor for first-year English and I found him impressive in style and substance. His class was the only one where we could have been told that "short stories in The New Yorker have no beginning and no end — they're all middle."
So I was happy to sign up when he took over the Shakespeare class while Professor Andrew Chiappe '33, GSAS'39 was on sabbatical. That year the Barnard Shakespeare players performed Pericles, Prince of Tyre, the first time it had been staged in New York in half a century, and the editor of Spectator assigned me to review it. At intermission I spotted Zito and asked him what he thought. He declined to offer an opinion; I had to form my own judgment.
I panned the performance, and when class started the next morning, Zito wasted no time taking me apart. Pretending not to know me or notice that I was sitting right in front of him, he told the class that "the reviewer, a Mr. Lippman, has bitten the hand that overfed him." No one could match his tone of faux contempt.
Who else could have explained the significance of the fact that the first word of Antony and Cleopatra is "Nay?" Jim Zito was one of the best teachers I had at Columbia, and I have always regretted that he didn't get tenure and moved on to Sarah Lawrence.
Thomas W. Lippman '61
Washington, D.C.
Editor's note: Zito was on the literature faculty at Sarah Lawrence from 1965 until his death in 1981. He also was a guest lecturer at Oxford and the Royal University of Malta.