Alumni Corner
Hoard, Lion, Hoard
Obsessively collecting the King of Beasts
By Michael Garrett '66, '69L, '70 Business
The collector at home in Park Slope, Brooklyn, with a newel post.In the mid-1960s, the captain of the all-male cheerleaders had the option of be­ing the Lion mascot. I became captain in fall 1964, and at the first football game donned the fierce and lifelike — as con­trasted with the Disneyish "Roar-ee" of current years — Lion suit. As in the movie The Mask, a quiet English major was suddenly transformed into a wholly different aggressive leonine character with complete anonymity and unlimited license. I never looked back, and wore the suit for every football and bas­ketball game and alumni event until I graduat­ed. Among many other adventures in the Lion suit, I met and spoke with President Kennedy in the Harvard stands three weeks before his life was cut short; pawed the girl who became my wife, Sandra Lief Garrett (we're both Leos and were married in August) and began 45 years of collecting not wives but depictions of the spirit of Columbia — the King of Beasts.
Our collection of lions from every culture, country and century and in every style and medium, including jewelry and clothing, exceeds (perhaps by quite a bit) 4,000 items. Through the decades, in the course of our extensive travels around the world and virtual travels on the Internet, we have amassed leonine representations including a 14th-century (and a dozen other) inkwells; a 19-cen­tury carousel figure; an elaborately carved Victorian dining room set; six different meerschaum pipes; 100 or so lion boxes; a work­ing porcelain lion toilet; 16 door knockers; 22 pairs of cufflinks; 10 sets of earrings; 30 stickpins and tie tacks; 50 broaches, pins and pendants; 90 ties; seven belt buckles; six antique pocket watches; a dozen silk scarves; countless knobs, pulls, handles and hooks; 14 mugs and steins; hundreds of 18th- and 19th-century images on paper; four lamps; 20 bronzes; a sterling dinner service for 12; 40 Christmas ornaments; innumerable stuffed and other toys; an 18th-century pub sign; nine medallions; 17 military medals; and large prides of lions in base and precious metals, glass and crystal, all kinds of wood, simple and semi-precious stone, resin, plastic, cloth, paper and soap. The specific list­ing of objects within and beyond these catego­ries is a work in progress that currently runs to two volumes.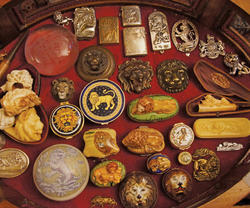 From top, a working porcelain toilet, or "Still Life with Water Feature"; the collector's kitchen, or "Lions on and over the Range"; and a special collection of small match safes, boxes, pipes and more. PHOTOS: MICHAEL GARRETT '66, '69L, '70 BUSINThere are myriad stories of the provenance and purchase of many of our lions. The car­ousel figure and dining room set came from scouring the merchandise listings in The New York Times. We found the silver service in part on eBay and in part in a most unlikely catalog. In Venice, we discovered a glass sculpture of the Lion of Venice undusted for 25 years in a dark corner of Salviati. In London, at Gray's Antique Stalls, a friend outbid a duke for an early 19th-century rampant lion silver inkwell. A dealer bought my favorite pocket watch for me in Paris moments before an auc­tion likely would have increased its price tenfold. In that vein, much of the jewelry, watches and art was carefully conjured away from folks who did not understand the value of what they had — a process that has become much rarer in its application since the universality of the Internet and other enemies of igno­rance such as Antiques Roadshow. When I paid a sculptor in Ja­maica with a large denomination bill, he tried to give me change in hashish. Leaving Egypt, we were stopped and surrounded by armed soldiers when a large marble head buried in our suitcase appeared on the security monitor to be a large bomb. Through the years, dealers have sworn with straight faces that the cows, dogs, cats, tigers and even one frog they had in stock were in fact lions. A few close friends with exquisite taste have spotted, and occasional­ly even bought for us, some of our favorite pieces, while other friends have had to be forcibly restrained from continuing to shower us with well-meant leonine kitsch.
Building and enjoying our lion collection has informed and inspired my active Columbia involvement at the College, the Business and Law Schools, the Libraries, the Society of Columbia Graduates, the 1754 Soci­ety, the Columbia University Club of New York and most recently, the Columbia Alumni Singers. I look for­ward to continuing both my service to alma mater and expanding and deepening the Lion Collection.
Tour Michael Garrett '66, '69L, '70 Business' leonine collection.
Michael Garrett '66, '69L, '70 Busi­ness has lived for decades in Park Slope, Brooklyn, and Shinnecock, Southamp­ton. He spent his legal career as general counsel of global financial services busi­nesses and has devoted himself to a mix of legal, consulting, coaching and board activities; Columbia; photography; piano; gardening; fine-woodworking; and family, which includes his son, Justin Graham Garrett '98, his son's wife and two grandchildren.