Alumni Profiles
Linda Appel Lipsius '93 Redefines Sustainable Business
By Laura Butchy '04 Arts
While many busi­nesses have been revising practices during the last several years to become more green and sustainable, Linda Appel Lipsius '93 has helped to launch a business that was sustainable from the start. Teatulia not only sells black, green, white and herbal infusion teas grown in a single garden and shipped directly to the store, but also aims to protect the environ­ment with everything from or­ganic production to eco-friendly packaging.
As co-founder and CEO of the international tea company, Lipsius believes in the com­pany's organic tea as well as all aspects of Teatulia's sustainable approach to business. Teatulia's teas are grown in a single garden in Northern Bangladesh, the only tea garden in Ban­gladesh to be USDA certified organic, according the com­pany's website. The garden was started in 2000 by Lipsius' busi­ness partner, Teatulia founder and president K. Anis Ahmed. "We wanted to create jobs in this remote and impoverished rural area," Ahmed says. "But we also wanted to do it in a socially responsible manner, hence organic tea."
Ahmed, a friend of Lipsius' husband, Adam, was discussing a possible move into the U.S. tea market with Lipsius during a visit to the United States in 2006. Lipsius had a background in marketing and had been G.M. of Orange Glo Europe, v.p. of international sales and manager of Western U.S. sales at Orange Glo International (OGI), where she launched products such as OxiClean, Kaboom and Orange Glo. Since OGI was about to be sold, and she was inter­ested in the mission of Teatulia (named for Tetulia, the region in Bangladesh where the tea is grown), she offered to analyze the potential U.S. tea market. Though she quickly discovered the most formidable chal­lenge — the average American doesn't know a lot about tea — Lipsius realized the company's unique focus on organic tea and corporate social responsi­bility had potential.
A partnership was born, and now Lipsius works from Teatulia's office in Denver, manag­ing sales and operational issues. In April, she visited the garden in Bangladesh to see firsthand the expanded operations. In addition to providing workers with a living wage, the Teatulia Cooperative also offers educa­tion, health and cattle-lending programs for the garden's workers and neighbors.
"Linda has been absolutely crucial to the growth of Teatulia in the U.S.," Ahmed says. "From ideas to the patient day-to-day nitty-gritties, she's given her heart and soul and all her exper­tise to it." Teatulia began selling to Whole Foods Rocky Mountain Region in 2009. Since then sales have increased 1,700 percent, and Teatulia products now are sold at specialty and health food stores in five regions in addi­tion to through the company's website and at its home store in Denver.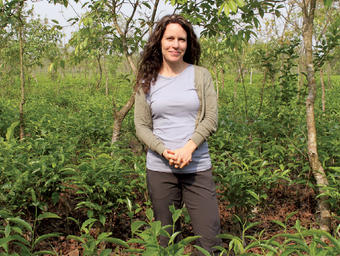 Linda Appel Lipsius '93 in April in the Teatulia organic tea garden in Northern Bangladesh.Although happy to be living in her hometown again, Lipsius appreciates her years spent in New York while attending the College. After being impressed by a Columbia recruiter and Days on Campus, Lipsius de­cided to attend the College and majored in political science. She also kept busy helping with Columbiafest as well as being an RA in Schapiro and a campus tour guide. She spent her junior year in Ireland.
After a few years in the nonprofit world, Lipsius worked for Roche Laboratories directing marketing campaigns. She then earned an M.B.A. at NYU in 2001 and joined OGI, her family's busi­ness, in 2000. While at OGI, she spent a few years setting up the European business in London, where she drank her fair share of tea. However, it was her first taste of Teatulia tea at home one day that really sold her on marking tea in the U.S.
"Now I am a pretty serious tea drinker," Lipsius says. "I love trying different teas prepared and packaged in different ways. And I find good tea refresh­ing — something that wouldn't have occurred to me."
In addition to working with Teatulia, Lipsius recently produced her first independent film, 16-Love, the story of a junior tennis champion who has to ad­just to normal teenage life after injuring her ankle. Released this year, the film was a partnership with her husband, a longtime filmmaker. Lipsius also is kept busy by their 4-year-old daughter and 2-year-old son, and she is involved in the local alumni club.
Leaving the day-to-day op­erations of the movie business to her husband, Lipsius con­tinues to focus on expanding Teatulia's presence in the U.S. "The product is exceptional," she says, "and the mission is spot-on and directly relevant to the Tetulia community. I hope that what we are doing at the garden will be able to positively impact how other companies run their business."
Laura Butchy '04 Arts is a writer, dramaturg and profes­sor of English and theatre based in Brooklyn.