Around the Quads
Five Accomplished Alumni To Receive 2012 John Jay Awards
By Karen Iorio
On Wednesday, March 7, five accomplished alumni will be presented with 2012 John Jay Awards for distinguished professional achievement at the annual John Jay Awards Dinner at Ciprani 42nd Street in New York City.
This year's honorees are Dede Gardner '90, Ellen Gustafson '02, Ben Horowitz '88, Daniel Loeb '83 and Li Lu '96, '96L, '96 Business.
Proceeds from the dinner benefit the John Jay Scholarship Program, which aims to enhance academic and extracurricular experiences for outstanding first-year College students. John Jay Scholars are invited to participate in panels, discussions and outings. A John Jay Scholar will speak at the dinner, along with President Lee C. Bollinger, Interim Dean James J. Valentini and the honorees.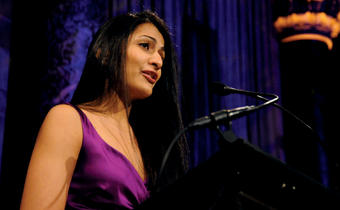 Leeza Mangaldas '11 spoke on behalf of John Jay Scholars at the 2011 dinner. A current John Jay Scholar will speak at the 2012 dinner. Photo: Eileen Barroso
As president and producer of Plan B Entertainment, Gardner oversees a wide range of the studio's films. Her recent productions include The Tree of Life; The Time Traveler's Wife; and the Academy Award-nominated drama The Assassination of Jesse James by the Coward Robert Ford. Previously, Gardner was e.v.p. of production at Paramount Pictures.
Dedicated to fighting hunger and malnutrition, Gustafson is founder and executive director of the 30 Project, which addresses the current crisis in the global food system that has led to both hunger and obesity. She also is co-founder and a board member of FEED Projects and the FEED Foundation, a nonprofit that raises money to benefit the United Nations' World Food Programme's School Feeding Program through the sale of its iconic "FEED" burlap bag and other products. Gustafson's work has provided more than 65 million meals to children around the world.
Horowitz is co-founder and general partner of the venture capital firm Andreessen Horowitz. He began his career as a software engineer after earning a master's in computer science from UCLA. Horowitz quickly rose to v.p. and general manager of Netscape and is credited for the company's revenues of more than $100 million. He founded the software company Opsware, which he sold in 2007 to Hewlett-Packard. In June 2009, Horowitz co-founded Andreessen Horowitz, which holds stock in high-valued tech companies including Facebook and Twitter.
Loeb is CEO of Third Point Management Co., an employee-owned hedge fund managing more than $7.5 billion in assets. Also an activist, Loeb is known for his public letters to other financial executives — and government leaders — denouncing their financial misconduct. Before founding Third Point, he worked at Citicorp.
Prior to simultaneously receiving three Columbia degrees, Li Lu was a leader of the 1989 Tiananmen Square demonstrations, organizing protestors to encourage political reform in the People's Republic of China. He is chairman and founder of Himalaya Capital, a fund focused on publicly traded securities and venture capital. Li Lu was named a global leader for tomorrow by the World Economic Forum in 2001.
For more information on the dinner, contact Robin Vanderputten, associate director, events and programs: robinv@columbia.edu or 212-851-7399, or go to the Columbia College Alumni Events calendar.