Around the Quads
Gergiev Speaks at Core Music Event
Renowned Russian conductor Valery Gergiev spoke to a group of Music Humanities students and other members of the College and University community at Miller Theatre on October 7. The World Leaders Forum event was sponsored by the Center for the Core Curriculum, PricewaterhouseCoopers and Miller Theatre.
Gergiev is the director of the Mariinsky Theater in St. Petersburg, home to the Kirov Opera and Ballet. Under his leadership, the Kirov Opera has come to be recognized as one of today's great opera companies. Gergiev is also principal conductor of the Rotterdam Philharmonic and principal guest conductor of the Metropolitan Opera. He was in New York to conduct the Mariinsky Orchestra at Carnegie Hall's Opening Night Gala.
Gergiev participated in an hour-long discussion with Elaine Sisman, the Anne Parsons Bender Professor of Music and chair of Music Humanities, followed by a question-and-answer session and a reception at Faculty House. Students from Saint Petersberg State University also took part in the discussion via video conference.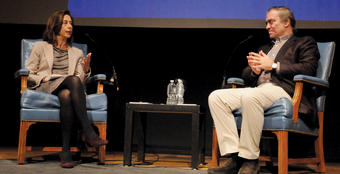 Elaine Sisman, the Anne Parsons Bender Professor of Music and chair of Music Humanities, hosted a one-hour discussion with noted Russian conductor Valery Gergiev for Music Humanities students and others at Miller Theatre on October 7. Photo: Eileen BarrosoGergiev spoke of the emotional qualities that draw audiences all over the world to the music of Tchaikovsky and of the emotional connections and happiness people feel when they hear the powerful voices and moving performances of opera singers. He also answered questions about getting along with opera directors, conducting different genres such as symphony and ballet, and pursuing a career as a conductor. He said he did not understand the concept of a "career" before he had one, but that he knew he wanted to be a conductor when he first heard a great orchestra as a teenager.
"For me, being 18 years old, 19 years old, it was a total shock to hear great orchestra, great conductor for the first time in a great hall … to hear great opera and ballet performances," he said. "So my destiny was clear. I knew even then, in 1972, that I will never change course. I will go and become a conductor.
"You learn and learn, and suddenly you have a career," he added. "Because I learned something, my destiny helped me. At some point I was standing in front of the Vienna Philharmonic saying good morning."
At Miller Theatre, Sisman said, Gergiev was "in his element" surrounded by attentive students. He asked many students their names and interests when they asked him a question. "He packed the house, with many hundreds in the audience, and it is clear that music excites him to his core," she said. "He is genuinely interested in communicating with and encouraging young people."
The event was geared toward students in Music Humanities, which has been a required part of the Core since 1947. "Concert and opera attendance is a rich part of the Music Humanities experience," said Sisman, "so for students to hear such a vivid musician and personality and to be able to ask him questions is an exceptional opportunity. He told wonderful stories and revealed details about the 'miracles' that can happen in a concert hall."
Sydney Schwartz Gross '05J