Around the Quads
Campus News
ON THE RISE: Columbia's endowment rose 23.6 percent, to $7.8 billion, in Fiscal Year 2010–11, the second year in a row that the University has achieved the largest percentage increase in the Ivy League. Harvard announced an increase of 21.4 percent, to $32 billion, while Yale and Princeton announced increases of 22 percent apiece to $19.4 billion and $17.1 billion, respectively. Columbia was the only Ivy to surpass the S&P 500's 22 percent gain for FY11. "For every measurable period, since the Investment Management Co. was established in 2002, Columbia has produced excellent returns," said Senior E.V.P. Robert Kasdin, who sits on the board of the company that manages the University's endowment. For example, during the past decade, Columbia has had annualized returns of 9.9 percent, just behind Yale's 10.1 percent but ahead of Harvard's 9.4 percent.
NO. 4, AGAIN: For the second consecutive year, Columbia placed fourth in U.S. News & World Report's annual ranking of national universities. Princeton moved up one spot from a year ago into a tie with Harvard for No. 1, with Yale remaining third. Five schools tied for fifth: Caltech, MIT, Stanford, Chicago and Penn. Duke completed the top 10. U.S. News' ratings are based on peer evaluations, graduation and freshman retention rates, faculty resources, student selectivity, financial resources, graduation rate performance and alumni giving rate. For more information, go to usnews.com and search for "best colleges."
---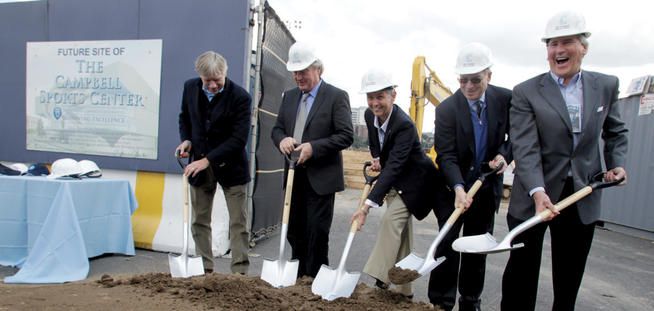 A ceremonial groundbreaking was held at Homecoming on October 15 for the 48,000-square-foot Campbell Sports Center at the Baker Athletics Complex. Wielding the shovels (left to right) are President Lee C. Bollinger, lead architect and faculty member Steven Holl, Athletics Director M. Dianne Murphy, Trustees Vice Chair Philip Milstein '71 and Trustees Chair Bill Campbell '62, '64 TC, the facility's lead benefactor. Photo: Gene Boyars
---
GLOBAL CENTERS: Columbia has opened two new Global Centers, in Santiago, Chile, and Istanbul, Turkey, and plans to open another center in Nairobi, Kenya, in early 2012. They join existing centers in Beijing, China; Amman, Jordan; Mumbai, India; and Paris, France. According to a University statement announcing the opening of the center in Istanbul on November 1, "Columbia Global Centers provide flexible regional hubs for a wide range of activities and resources intended to enhance the quality of research and learning at the University. They establish interactive partnerships across geographic boundaries and academic disciplines by bringing together scholars, students, public officials, private enterprise and innovators from many fields. … The centers also support a significant expansion of opportunities for Columbia students to do hands-on research and service-learning abroad, particularly those who may not want to spend a full semester or academic year off-campus."
REPRIEVE: A freak snowstorm blanketed the Northeast on October 29 and knocked out power for more than one million people in the region, among them many high school students who were facing November 1 deadlines for their early decision applications to many schools — including the College. As phrases such as "nervous breakdown" and "if the power doesn't come back I'll cry" began to appear on social media sites, Columbia and about 75 other schools responded by extending the deadline, in Columbia's case to November 4. Columbia also extended the deadline for early decision financial aid to November 18.
TRUSTEE: Rolando T. Acosta '79, '82L was elected to the Board of Trustees, the University's 24-member governing body, at the trustees' meeting last June. He began his six-year term at the start of the 2011–12 academic year in September. Previously, he was on the boards of the College and the Law School alumni associations.
Acosta was elected as a New York State Supreme Court justice in New York County in 2002. He was selected, along with Supreme Court Justice Sonia Sotomayor, as a 2004 Judge of the Year by the National Hispanic Bar Association. A star varsity baseball player at the College, Acosta has long been active in the community development of Upper Manhattan. He was a founding board member of the Upper Manhattan Empowerment Zone, where he spearheaded human capital and quality of life proposals.
---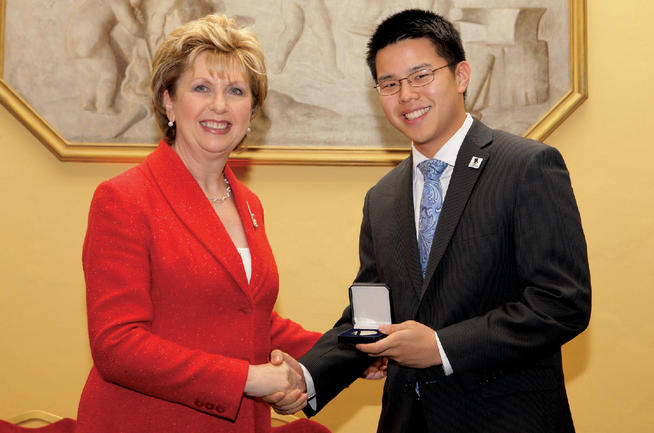 Richard Sun '13 has received Ireland's prestigious Undergraduate Award for academic excellence and innovation. The economics major's paper, Triple Bottom Analysis of Sustainable Urban Development, earned him a trip to Dublin, where President of Ireland Mary McAleese presented him with the Oscar Wilde Gold Medal in the sustainability category at Dublin Castle on October 28. As a recipient in the Undergraduate Awards' new international category, Sun was selected from students at top universities in the United States, the United Kingdom and Canada. He became interested in environmentalism when he served on the city council's recycling advisory committee in his hometown of Summit, N.J. in 2006–09; he also is a 2011 Morris K. Udall and Stewart L. Udall Scholar for excellence in national environmental policy. PHOTO: MARC O'SULLIVAN