Around the Quads
Alumni in the News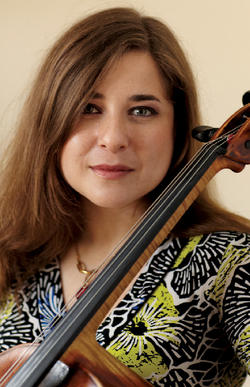 Alisa Weilerstein '04 Photo: Courtesy the John D. & Catherine T. MacArthur FoundationAlisa Weilerstein '04 has been named a 2011 MacArthur Fellow by the John D. and Catherine T. Mac­Arthur Foundation. The foundation's website calls the renowned cellist "a consummate performer, combining technical precision with impassioned musicianship." Chosen for her exceptional creativity and promise, Weilerstein will receive $500,000 across the next five years to pursue a project of her choice. Weilerstein made her professional debut at 13 and, as a student at the College, was both a soloist and chamber musician. She has performed with prestigious orchestras including the New York Philharmonic, the Orchestre National de France and the Boston Symphony. CCT profiled Weilerstein while she was a student. View a video of her performing today.
John Corigliano '59's One Sweet Morning, an orchestral song cycle that commemorates the 10th anniversary of the attacks of 9-11, had its world premiere on September 30, with Alan Gilbert conducting mezzo-soprano Stephanie Blythe and the New York Philharmonic. The work, jointly commissioned by the New York Philharmonic and the Shanghai Symphony Orchestra, presented a unique challenge for the Pulitzer Prize-winning composer. "So many in the audience of this piece will have images of the frightful day itself burned into their retinas," Corigliano wrote in the program notes. "How can one hear music of any dramatic surges without imagining these events accompanying the music? Obviously, then, I needed to write a piece with words. I needed other images both to refute and complement the all-too-vivid ones we'd bring with us into the concert hall."
For his words, Corigliano chose four poems, including a section of Homer's The Iliad chronicling a massacre led by the Greek prince Patroclus. "Each kill is described in detail; the music, too, strives for the brutal and unsparing," Corigliano wrote about that section. Edward A. Weinstein '57, who attended one of the debut performances, describes the music as "electric, powerful and intense" and suggests, "Apparently, John was affected by what he read as a freshman."
The College honored Corigliano in 2003 with a John Jay Award for distinguished professional achievement. CCT profiled him the same year.
---
Ed Schlossberg '67, '71 GSAS (far right) participated in a panel, "Innovation: Columbians Break Through," with (left to right) Kelly Golnoush Niknejad '06J, Charles Renfro '94 Arch. and Anna Lappé '01 SIPA at the Columbia Alumni Leaders Weekend on October 21–22. The Columbia Alumni Association event featured a lunch discussion between President Lee C. Bollinger and Trustees Chair Bill Campbell '62, '64 TC and the awarding of alumni medals to Mark Momjian '83, '86L; Neil Selinger '75 (in memoriam); and nine others at the Saturday gala. The event also included the an- nual Columbia College Fund Volunteer Leadership Conference featuring best-practices discussions on topics such as "Making the Ask for Young Alumni," "Peer-to-Peer Fundraising" and "The Power of Reunions," plus a lively talk on the state of the College with Interim Dean James J. Valentini. Photo: Eileen Barroso
---
Beau Willimon '99, '03 Arts' play Farragut North has been adapted for the screen as the film The Ides of March, starring George Clooney and Ryan Gosling. Originally an Off-Broadway hit, Willimon's show tells the story of a Presidential candidate and his press secretary on the eve of the Iowa caucus. Willimon was inspired by his own experience on the campaign trail — he volunteered for Charles Schumer's (D-N.Y.) senate run during his senior year and later worked for Hillary Clinton and Howard Dean.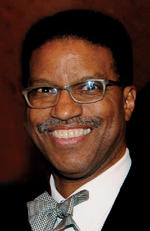 George L. Van Amson '74 Photo: Eileen BarrosoGeorge L. Van Amson '74 was confirmed on October 22 as the new chair of the Columbia Alumni Association. Van Amson is a trustee emeritus and a board member of the Columbia-based nonprofit Community Impact, which aids disadvantaged members of the Morningside Heights community. Formerly a financial analyst for Citibank and Goldman Sachs, Van Amson now is a managing director of Morgan Stanley. As chair of CAA, which serves nearly 300,000 alumni from all University schools, Van Amson succeeds James Harden '78 Business, '83 PH.
William H. Roach Jr. '66 is chairman of the American Heart Association for its 2011–12 fiscal year. He is responsible for the overall administration of business affairs, public relations and fundraising and presides over meetings of the Board of Directors and administrative cabinet. Roach is a retired partner with the law firm McDermott, Will & Emery in Chicago, having been named to 17 consecutive annual editions of The Best Lawyers in America, and has been a heart association volunteer since 2001. Roach has guided the association in governance and corporate affairs and has been a leading fundraiser for Chicago-area events including Heart Walk and Heart Ball.
Kai-Fu Lee '83, a v.p. at Google from 2005–09 and original head of Google China, founded Innovation Works, a firm dedicated to supporting China's next wave of high-tech companies. Lee, who earned a Ph.D. in computer science at Carnegie Mellon, hopes to encourage young Chinese entrepreneurs in Internet, mobile Internet and cloud computing start-ups. Thus far, Innovation Works has raised $180 million to support start-ups and also offers advising ranging from marketing strategies to legal assistance.
David Rakoff '86 Photo Paul RoosinDavid Rakoff '86 won the 2011 Thur­ber Prize for American Humor for his third collection of essays, Half Empty. Rakoff, a writer and humorist who was born in Montréal and now lives in New York, has described himself as a "New York writer" who also happens to be a "Canadian writer," a "Jewish writer," a "gay writer" and an "East Asian Studies major who has forgotten most of his Japanese" writer. The $5,000 prize is sponsored by the Thurber House, a nonprofit literary center housed in the boyhood home of author, humorist and New Yorker cartoonist James Thurber in Columbus, Ohio. It first was presented in 1997. Previous winners include Comedy Central host Jon Stewart and humorist David Sedaris.
Danielle Evans '04 has been named one of the National Book Foundation's "5 Under 35" outstanding fiction writers. Evans also is a co-winner of the 2011 PEN/Robert W. Bingham Prize for her debut story collection Before You Suffocate Your Own Fool Self. She earned a master's in creative writing from the Iowa Writers' Workshop and her stories have appeared in The Paris Review, A Public Space and The Best American Short Stories 2010.
Matt Weiland '92 has been named senior editor at W.W. Norton. He previously worked at the Ecco imprint of HarperCollins, where he edited books including Padgett Powell's conceptual novel The Interrogative Mood: A Novel? and Philip Connors' nature memoir Fire Season: Field Notes from a Wilderness Lookout. Weiland said of Norton in The New York Observer, "It's a firm I've hugely admired for 20 years and whose books line my shelves." The feeling was mutual and Norton's president W. Drake McFeely told the Observer, "Matt first captured everyone's attention here as the exceptionally talented young editor of an anthology we published in 1997. It's a thrill to bring him into the fold as an editor, at last."
Karen Iorio