Around the Quads
Food, Fun and Football at Homecoming 2011
More than 1,200 alumni, students, family members and friends of all ages gathered on October 15 at the Baker Athletics Complex for Homecoming 2011 under bright, sunny skies.
The Big Tent was livelier than ever with a gourmet barbecue and carnival, music and camaraderie. The Cleverest Band in the World, supported by the Columbia cheerleaders, got the group singing such Columbia favorites as "Roar, Lion, Roar" and "Who Owns New York?" and even a rousing non-Columbia tune, Guns N' Roses' "Sweet Child o' Mine."
Alumni had more time than usual to mingle with classmates and friends, as the football game against Penn at Robert K. Kraft Field started at 3:30 p.m. instead of the usual 1:30 p.m. because it was televised on the Versus channel. A boisterous crowd of 9,124 saw the Lions lead most of the way before succumbing to the Quakers 27–20 on a touchdown with just 25 seconds left to play.
View the Homecoming 2011 photo gallery.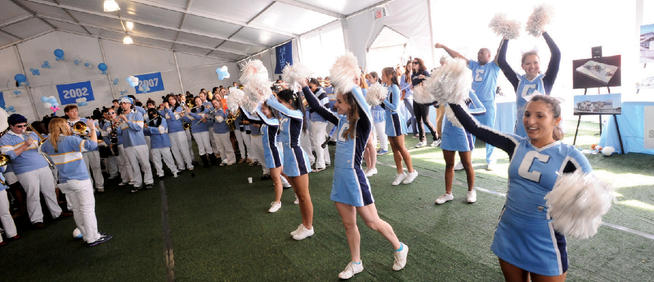 Photos: Eileen Barroso