Around the Quads
Five Minutes with … Courtney Bender
Courtney Bender is an associate professor and director of undergraduate studies in the Department of Religion. She is the author of several books, including The New Metaphysicals: Spirituality and the American Religious Imagination, which won a 2011 Association of American Publishers PROSE Book Award. She was co-chair of the Social Science Research Council's Initiative on Spirituality, Political Engagement and Public Life and will chair SSRC's new interdisciplinary research initiative on prayer. Bender earned a B.A. from Swarthmore and a Ph.D. from Princeton.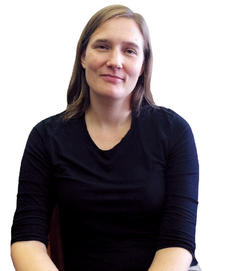 Where did you grow up?
Until I was 11 I lived in the Shenandoah Valley of Virginia, and then my family moved to Lancaster, Pa.
What did you want to be?
I wanted to be an architect or an archaeologist. I wanted to build things or dig things.
How did you become interested in studying religion?
By the time I went to college I had abandoned my architecture plans and thought I would be an English major, maybe write poetry. I needed a fourth course to fill out my first semester, so I took a course called "War and Peace" in the Department of Religion. The professor lectured standing on one leg, which kept our attention. He was a very brilliant, very odd man, and it was gripping material.
Religion also interested me personally. I grew up in a Mennonite community that went through a rather big schism when I was a teenager, which effectively split a community that had been tightly tied together by family and cultural traditions. "How could this happen?" I wondered. With encouragement from professors, I spent my senior year writing an ethnography of the split-off group. By then, I was hooked on both ethnographic method and religious studies.
How did you end up at Columbia?
I was living in New York and finishing my dissertation when I received a call from a friend in Columbia's sociology department who was going on leave. His department needed someone to teach his "Mass Media and Popular Culture" course. I had never taught a class, but I said I would do it, and they agreed to let me. One hundred undergraduates appeared on the first day — they thought they were getting him. Most of them stayed, and I learned how to teach pretty quickly. The year after that, a job opened up in religion.
What have you been working on?
I'm starting up some projects and finishing some others. My most recent book, The New Metaphysicals, asks how spiritual identities take shape in the United States. Scholars of all types have tended not to ask good questions about people who call themselves spiritual, or about the institutions — secular or religious — that support them. As the percentage of Americans in this category continues to grow, the questions about how spiritual identity comes to make sense, and how it comes to be connected to particular social and political aspirations, seem important to pursue. The questions that this research posed to me have subsequently led me in a number of directions, including explorations into the legal and political implications of American religious pluralism and the role of mid-century art museums in shaping certain secular-spiritual dispositions.
What are you teaching these days?
This fall, I'm teaching an undergraduate seminar on religion in urban life, "Religious Worlds of New York." Each student is conducting a study of a religious site or community; we are primarily concerned with investigating how the city shapes religious practice, and in some cases how religious action impacts city life. In the spring I will teach "Sociology of Religion" and a graduate field methods class.
What's your favorite food?
I will eat almost anything, as long as care and attention has gone into its preparation.
Where do you live?
Claremont Avenue.
Are you married? Do you have kids?
I am married. My husband is an associate professor in the microbiology and immunology department uptown. I have two kids, 13 and 7, who attend the School at Columbia.
What do you do to unwind?
I hang out with my kids in New York. We try to take one day a week out of the neighborhood and if possible out of Manhattan. I also garden in the corner outside my office on 120th and Claremont — I guess I haven't fully given up my interest in digging!
If you could be anywhere in the world right now, where would you be?
I'd be nowhere but here. I appreciate the opportunity to leave the city sometimes, but this place has such wonderful, challenging energy.
What's your favorite spot in New York?
This will be different in a few months, but right now, Governor Nelson A. Rockefeller Park on the Hudson, which is always cool and has a gorgeous vista.
What's the last book you read for pleasure that you really enjoyed?
Great Expectations, which I read for the first time this summer, and Teju Cole's novel Open City.
What are you most proud of on your resume?
My most recent book. It's won some awards, and it's being read in classrooms and discussed publicly, so I am glad that the ideas are getting out there. But more importantly, I felt truly alive when I was researching and writing it — I hope each of my students has that experience at least once, and hope I will again, soon.
Interview and photo: Ethan Rouen '04J, '11 Business
Professor Courtney Bender discusses her upcoming Mini-Core class.