Bookshelf
Christopher Bollen '98's Love-Hate Letter to New York City
By Ethan Rouen '04J, '11 Business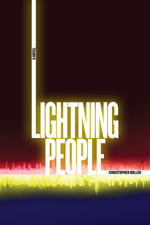 Young, smart, creative people continue to flock to New York City like the Lost Generation did to Paris, seeking the ex­hilarating success they fight each other for and often encountering the painful heartbreak that may inspire that success.
Photo: Danko SteinerIn his first novel, Lightning People (Soft Skull Press, $25), Christopher Bollen '98 captures that quest by populating his post–9-11 Manhattan with ambitious, jealous young adults who attempt to cling to their moral compasses while competing with their closest friends for what they most desire.
Lightning People is a love-hate letter to the city that shaped Bollen from his childhood, a city that remains a stranger yet is filled with so many coinci­dences that it sometimes seems almost caring.
"The city dominates the characters," Bollen says. "They are all trying to get free of this bigger beast prey­ing on them."
The novel follows Joseph Guiteau, a somewhat suc­cessful and handsome actor from Ohio who is dealing with a difficult marriage, an enraged best friend and his 31st birthday, the age at which every Guiteau male has died for generations.
He finds solace in conspiracy theory group meetings and spends long hours in a dark hotel room talking to a mysterious and paranoid older woman whose dead husband he resembles.
Joseph's wife, a Columbia College graduate, is trying to escape an unhappy job while dealing with the death of her best friend, who is one of two characters in the book who relish their lives and morality, even though her job saving the world has also made her rich.
"I didn't want it to be about the coolest people in New York," Bollen says. "I wanted it to be more honest. I wanted interesting characters that actually could exist."
As the characters encroach on adulthood, their successes and failure intermingle, often with violent and tragic results as they fall out of love, face failure and harm those who most care about them in fits of uncontrollable rage. As the characters fall deeper into despair, it becomes more difficult to find any redemption, but Bollen is able to successfully pull off an ending that leaves the reader satisfied even though many characters remain unsaved.
Writing a book about such morally ambivalent characters was a risk for Bollen, both professionally and personally. He shares similarities with Joseph, to the point that the author has had to repeatedly make clear to family and friends that the similarities stop at a superficial level.
Raised in suburban Cincinnati, Bollen, the son of a college professor and the owner of a flooring installation company, spent childhood summers in New York City with rela­tives who lived there.
"New York was like a book to me, a way to escape and think outside my dull suburban surroundings," he says.
Columbia was his first choice of colleges, and from the moment he arrived, "I don't think I slept," he says.
He threw himself into his studies. An English and American literature major and self-described nerd, he spent his waking hours reading and writing, worshipping poetry professors Kenneth Koch and Colette Inez and University Professor Gayatri Spivak.
"She taught comp lit like it was as important as a U.N. resolution," Bollen says of Spivak. "The lessons I learned from that were as much about life as about these texts on literature. Years later, I would quote her and pretend they were my own insights."
After graduating summa cum laude, Bollen hung around the Lower East Side for a year, waiting tables and working at an art gallery to cover the rent. The gallery job led to an internship in Italy with the Peggy Guggenheim Collection.
He returned to New York soon after and started a career in magazines, rising through the ranks at a variety of publications as a writer and editor before becoming editor-in-chief of Interview in 2008.
"I was too young and didn't have the ability to write novels at that time," he says. "It was the only way I knew how to make money writing. I regret that I waited so long."
In his 20s, Bollen had taken notes to prepare to write Lighting People, but when he turned 30, he realized that he needed to start the serious process of completing the book. He spent four years writing after work and on weekends.
Two years ago, he stepped down from his position at In­terview, taking the title of editor at large, a part-time position where he still does interviews and writes articles but which allows him to spend more time focused on writing fiction.
Although Bollen does not plan to give up magazine writing completely, he will continue writing fiction, striving for the cre­ative and commercial success that would drive so many of his characters insane with jealousy.
"My agent made me start writing my second book before the first one came out," he says. "I didn't want the reviews to influence or terrorize me."
Ethan Rouen '04J, '11 Business is the former associate editor at CCT and now works in strategic communications for Columbia. A former crime reporter at The New York Daily News, he is a regular contributor to Fortune.com, American Way and other publications.