Columbia Forum
The Bauhaus Group: Six Masters of Modernism
Wassily Kandinsky's creative journey from figurative realism to abstract painting
Nicholas Fox Weber '69 PHOTO: MARION ETTLINGErNicholas Fox Weber '69, longtime director of The Josef & Anni Albers Foundation, developed an important friendship with Josef and Anni Albers while studying art history in graduate school at Yale. In the 1920s and '30s, the artist couple had been the only husband-and-wife pair of artists at the Bauhaus, Germany's pioneering art school. After grad school, Weber went on to write numerous acclaimed books on art, including Balthus: A Biography and The Clarks of Cooperstown: Their Singer Sewing Machine Fortune, Their Great and Influential Art Collections, Their Forty-Year Feud. Now he has trained his art historian's eye back on the Bauhaus and six of its main protagonists: architect Walter Gropius, Paul Klee, the Alberses, Mies van der Rohe and the great Russian painter Wassily Kandinsky.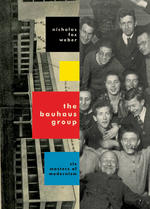 In this excerpt from The Bauhaus Group: Six Masters of Modernism (Yale University Press, 2011 in paperback), Weber follows Kandinsky on his adventurous artistic journey from the familiar world of figurative realism to the unexplored frontier of abstract painting.
Rose Kernochan '82 Barnard
---
Shortly after the Bauhaus moved to Dessau, Wassily Kandinsky wrote a letter to Lily Klee. This was in the period when Lily preferred to remain in the pleasant apartment in Weimar rather than move to temporary digs near the school's new location.
Lily had given Kandinsky some polenta. Addressing her with a Russianized version of her name, he wrote,
Dear Elisaveta Ludwigovna,
For years I have wanted to eat polenta — so you will easily understand what pleasure you have given me. My heartfelt thanks. For me polenta is a synaesthetic delight, for in some strange way, it stimulates three senses perfectly harmoniously: first the eye perceives that wonderful yellow, then the nose savors an aroma that definitely includes the yellow within itself, at last the palate relishes a flavor which unites the color and the aroma. Then there are further "associations" — for the fingers (mental fingers) polenta has a deep softness (there are also things which have a shallow softness!) and finally for the ear — the middle range of the flute. A gentle sound, subdued but energetic . . .
And the polenta which you served me had pink tones in its yellow color . . . definitely flute!
Kind regards to you, dear Pavel Ivanovitch, and dear Felix Pavlovitch, with best wishes for you all,
Yours,
Kandinsky
Kandinsky's paintings of the period have elements of the marvelous Italian cornmeal. The word "synaesthetic" was key; the Russian invented it to describe the commingling of the various senses that was one of his artistic goals. The soft explosions of polenta cooking, the repetitive popping noise, conjured a realm that increasingly obsessed him: the sonic effects of visual experience. Beyond that, the abstract forms that appear to be in continuous motion — growing, bursting, and condensing — are like polenta when it is being cooked, with the delicate grains absorbing water and air and transmogrifying. Inevitably, too, Kandinsky's oils and watercolors have a sphere of the same vibrant yellow that the painter admired in the cornmeal, which evokes a spiritual force.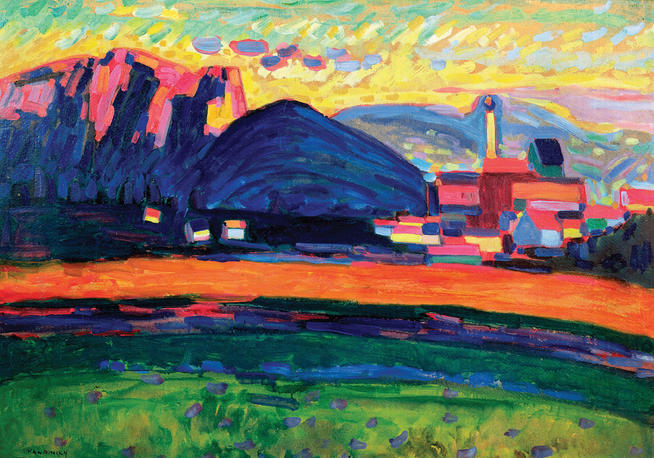 Murnau, 1907
Improvisation XIV, 1910
The smells and tastes of food were less directly connected to Kandinsky's art, but his alertness to their subtle unfolding in the polenta reflects his priorities. Sharp observation of everyday experience was fundamental. A keen appreciation for the processes perpetually occurring in the kitchen, the human body, and the wooded parks where he and Klee and Albers took their daily walks, governed his life. What was essential was to stop and look. In his pervading appreciation of existence and his overwhelming desire both to celebrate and to add to the world's store of beauty, he was possessed by a determination to make the most of every source of wonder; he would rest only in order to gain strength for action.
Those same desires ruled the lives of several of his colleagues, but Kandinsky was distinguished among them in bringing to the mix "the Russian soul." He had the particular intensity that fired Pushkin and Tolstoy, that permeates the chants of the steppes and the icons of the Russian Orthodox Church, and that has characterized an entire people through all the transformations of their nation. Will Grohmann, who observed Kandinsky firsthand at the Bauhaus, writes, "His uncompromising attitude to life and art, his faith in the unconquerability of the human spirit, came with him from Russia." Although Kandinsky spent most of his life in Germany and Paris, he not only retained his fervent belief in Orthodox Christianity, remained immersed in Slavic literature and music, and continued to speak his native language with his wife; he also guarded his secrets, and relished a sense of inexplicable mysteries.
Of the Russian types, he was a nobleman out of Turgenev. He looked every bit the aristocrat, and struck people "as more like a diplomat or a widely traveled scholar than as an artist." While Johannes Itten wore his outlandish costumes and the Bauhaus students flaunted their bohemianism, Kandinsky dressed with meticulous elegance. This was true not just in society but also when he painted. Unleashing his furies as he brazenly applied vivid pigments to canvas, he wore, at his most casual, a bow tie and jacket. "I could paint in a dinner jacket," he once quipped. But Kandinsky was marked by correctness and reserve rather than dandyism. In his appearance and demeanor, he had no wish to attract attention; he "spoke quietly and attentively, and was never wounding. He behaved impeccably even in painful situations." He had genuine style; he was not a showman.
He was possessed by a determination to make the most of every source of wonder.
His propriety teetered at the edge of aloofness. For his students and colleagues, there was always the sense that Kandinsky, however amiable and cheerful he might appear, had some very private issues he was deliberately keeping from view. He was older than everyone else by at least a decade, but it wasn't just age that kept him apart. What was that veneer meant to guard? Grohmann thinks it was masking an overriding instability. "The more Kandinsky became aware of his psychic constitution, the more he developed a capacity to control himself . . . to save face." Kandinsky was so eager to conceal the vagaries of his mind that he preferred "chance acquaintances to half friendships." The person at the Bauhaus to whom he was closest was Klee; this suited him in part because Klee, too, eschewed intimacy. It was like befriending a flock of birds or an image of St. Christopher — highly rewarding, but without threat to the privacy Kandinsky guarded so carefully.
Kandinsky's face rarely came into focus behind the cloud of smoke from the cigarettes he puffed all day long. The screening served him well. By the time he was at the Bauhaus, he had effectively excised from his story the woman who had been his truest partner, the brilliant painter Gabriele Münter; all that one could glean about Münter from the elusive Kandinsky was that, in her bitterness over his having left her and, shortly thereafter, taken up with the young playgirl who was now his wife, she had refused to return a lot of the art he had left in her care a decade earlier.
But even if Kandinsky would not discuss the details of his past, students and teachers of every level and a range of styles admired him immensely. He was the voice of reason in Bauhaus disputes, where his ability to keep his personal reactions hidden set him apart, and he was respected for his balanced perspective on complex issues. While establishing careful perimeters around his private self, he was open to infinite approaches in most matters. Anni Albers recalled, with a broad smile, "Kandinsky often said, 'There is always an and.' " Grohmann refers to Kandinsky's wish "to express mystery in terms of mystery." There were layers beyond and beneath the layers; that complexity inspired extraordinary thinking and completely original art.
Wassily Kandinsky was born in Moscow, on December 4, 1866 — in the same decade that Tolstoy's War and Peace and Dostoevsky's Crime and Punishment were published, and Mussorgsky's Boris Godunov was first performed. His earliest memories consisted of shapes and colors of the sort that would eventually become the substance of his art. When he was three years old, the family's coachman would strip spirals of bark from thin branches, "cutting away both layers of bark from the first spiral, and from the second only the top layer." Little Wassily saw the forms as abstracted horses, with the outer bark a "brownish yellow . . . which I disliked, and would gladly have seen replaced," and the second layer a "juicy green . . . which I loved most particularly and which, even in a withered state, still had something magical about it." The wood of the now-naked branch was "ivory-white . . . which smelled damp, tempting one to lick it, but soon withered miserably and dried, so that my pleasure in this white was spoiled from the outset." Colors would induce intense emotions in him for the rest of his life.
Bright hues made him rapturous; black induced fear. At age three, he also went to Italy with his parents and his Russian governess, and retained an impression of a frightening black carriage in which he and his mother crossed a bridge over "dirty yellow" water in Florence when he was on his way to kindergarten. Even more terrifying were "steps leading down into black water, on which floats a frightening, long, black boat with a black box in the middle. . . . I . . . bawled my head off."
When Wassily was five, his family moved to Odessa, where he spent the rest of his childhood. He had not been there long when he painted a watercolor of a horse. His aunt — his mother's older sister, Elizaveta Ivanovna Tikheeva, who lived in the house and helped him with his art — had asked him to hold off doing the hooves until she was there to advise him. Initially, the boy was content to comply. Then, suddenly, he couldn't wait a moment longer.
He loaded his brush with black paint and globbed it onto the bottoms of the horse's legs. "I thought, if I make the hooves really black, they are bound to be completely true to life. I put as much black on my brush as it would hold. An instant — and I was looking at four black, disgusting, ugly spots, quite foreign to the paper, on the feet of the horse. I was in despair and felt cruelly punished." The repulsion fascinated him. "Later, the prospect of putting black on the canvas would still put the fear of God into me," he said. That fear carried an excitement. In the night scenes and landscapes he would start making when he was in his twenties, and in the abstractions he crafted at the Bauhaus, he would often slather black on — perhaps deliberately to conjure what was disturbing, or else because he relished a certain victory in having overcome his fear of it. In the house in Dessau where the Klees occupied the other half, he and his young Russian wife painted a wall of their dining room pure, unadulterated black.
In a portrait painted in Rome, Kandinsky's mother, Lidia Ivanovna Tikheeva, has a majestic stare. Her face is perfectly proportioned, with aquiline nose and rosebud lips framed by a complex chignon, and her gown and jewelry are splendid. "Characterized by inexhaustible energy and marked nervousness," Lidia was a force to reckon with. Wassily, however, did not have to deal with her most of the time, because when he was a small boy she divorced his father, who was left to bring him up. In a memoir he wrote in 1913, Wassily Vasilevic Kandinsky portrays his father as "a deeply human and loving soul." Wassily Silvestrovich Kandinsky, a tea merchant, fostered his son's interest in making art. He hired a private drawing tutor for young Wassily and let him, at age ten, choose between a school that emphasized the humanities and one that focused on science. When Wassily picked the former, his father was delighted.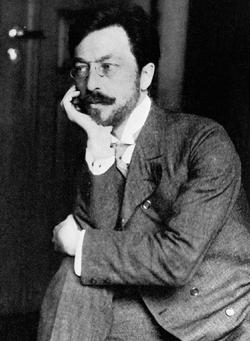 Kandinsky dressed with meticulous elegance, not just in society but when he painted. Photo: © Bettmann/CORBISWassily's maternal grandmother, a Balt who spoke German, and Elizaveta Ivanovna indulged him in Lidia Ivanovna's absence. The boy had a penchant for a horseracing game and loved being read fairy tales — mostly in German, his first language. It was a magical childhood, except when he suffered from "inward trembling" and terrifying dreams. To escape, and go "beyond space and time" — his words — he latched on to drawing as the sole solution. Like the young Paul Klee, he made pictures as instinctively as he breathed and ate.
At age thirteen, Wassily bought a paint box with money he had saved up from his allowance. He later described the sensation of the pigments being extruded from their tubes: "One squeeze of the fingers, and out came these strange beings . . . which one calls colors — exultant, solemn, brooding, dreamy, self-absorbed, deeply serious, with roguish exuberance, with a sigh of release, with a deep sound of mourning, with defiant power and resistance, with submissive suppleness and devotion, with obstinate self-control, with sensitive, precarious balance." He "longed to be a painter" and "loved art above all else." Yet when Kandinsky left Odessa at age nineteen for the University of Moscow, he decided that "art was an unallowable extravagance for a Russian." He studied economics and law, even though he painted in his free time. The "intricate, conscious, refined 'construction' " of Roman law "enchanted" him, but left him unsatisfied "as a Slav because of its far too cold, far too rational, inflexible logic." He turned to the old peasant code in Russian law, which was unusual for its flexibility and the way it treated the same crimes differently according to a measurement of the good or evil at their root. This less rigid approach fascinated him, and when Kandinsky was twenty-three, it inspired him to go on a trip to Vologda, a northern province full of monasteries and medieval towns, so he could write a report on peasant laws and paganism in the Syryenian tribes.
The journey was funded by the Society for Natural Science, Ethnography, and Anthropology. Kandinsky traveled from village to village studying folk art and sketching peasant architecture and people dressed in traditional costumes. Visiting the colorfully carved houses with profusely ornamented furniture and icons, and traveling through the woods, marshes, and sandy desert, he felt as if he were "living inside of pictures."
Kandinsky's report was published, and he had the rare distinction of being elected a member of the society. In 1892, now twenty-six, he passed his law exam and married a cousin, Anja Shemyakina, one of the few female students at the University of Moscow. The following year, a paper he wrote on the laws concerning workers' wages won him an appointment as instructor at the university.
What Wassily Vasilevic Kandinsky desperately desired, however, was to paint "the most beautiful hour of the Moscow day. . . . To paint this hour, I thought, must be for an artist the most impossible, the greatest joy." He was fixed on the moment when the sun is "getting low and has attained its full intensity which it has been seeking all day, for which it has striven all day."
That craving to make paintings of comparable force would eventually provide the basis of his teaching at the Bauhaus. "The sunlight grows red with effort, redder and redder, cold at first, and then increasing in warmth. The sun dissolves the whole of Moscow into a single spot, which, like a wild tuba, sets all one's soul vibrating."
In Kandinsky's mind, there was not just "always an and"; there was often a however.
No, this red fusion is not the most beautiful hour! It is only the final chord of the symphony, which brings every color vividly to life, which allows and forces the whole of Moscow to resound like the fff of a giant orchestra. Pink, lilac, yellow, white, blue, pistachio green, flame red houses, churches, each an independent song — the garish green of the grass, the deeper tremolo of the trees, the singing snow with its thousand voices, or the allegretto of the bare branches, the red, still, silent ring of the Kremlin walls, and above, towering over everything, like a shout of triumph, like a self-oblivious hallelujah, the long, white, graceful, serious line of the bell Tower of Ivan the Great.
In the limited time Kandinsky could devote to painting given his obligations as a law professor, he did his best to evoke those sights. But it would be a while before Kandinsky's art could begin to live up to what he saw in his mind. "These impressions . . . were a delight that shook me to the depths of my soul, that raised me to ecstasy. And at the same time, they were a torment, since I was conscious of the weakness of art in general, and of my own abilities in particular, in the face of nature." It would require him to have a totally different approach if his art was to match the forces inherent in the universe.
Two decades later, Kandinsky would develop a form of painting that completely eliminated the idea of representing known sights. Abstraction "put an end to the useless torment of the useless tasks that I then, despite their unattainability, inwardly set myself. It cancelled out this torment, and thus my joy in nature and art rose to unclouded heights. . . . To my enjoyment is added a profound sense of gratitude." As the senior figure in Weimar and Dessau, he would invoke that redolent sense of gratitude and the specter of those "unclouded heights."
Such intense feelings had a hefty price. In his reminiscences about his craving to express his feelings through art, Kandinsky alludes to the inner turmoil that Will Grohmann considered the clue to his comportment at the Bauhaus. "My soul was kept in a state of constant vibration by other, purely human disturbances, to the extent that I never had an hour's peace," Kandinsky acknowledged. The slightest visual event triggered either overwhelming joy or intense anguish in him: "Everything 'dead' trembled. Everything showed me its face, its innermost being, its secret soul, inclined more often to silence than to speech — not only the stars, moon, woods, flowers of which poets sing, but even a cigar butt lying in the ashtray, a patient white trouser-button looking up at you from a puddle on the street, a submissive piece of bark carried through the long grass in the ant's strong jaws to some uncertain and vital end, the page of a calendar, torn forcibly by one's consciously outstretched hand from the warm companionship of the block of remaining pages."
In that period in Moscow, even if Kandinsky did not feel entitled to devote his life to art and release that extraordinary responsiveness, to enjoy rather than repress his fiery nature, he was developing the sensibility that would determine his life's course and become the substance of his Bauhaus teaching. "Every still and every moving part (= line) became for me just as alive and revealed to me its soul. This was enough for me to 'comprehend,' with my entire being and all my sense, the possibility and existence of that art which today is called 'abstract,' as opposed to 'objective.' "
In the Hermitage in St. Petersburg, the young lawyer came to believe that "the great divisions of light and dark" in Rembrandt's paintings resonated like "a mighty chord." They evoked for him the trumpets in Richard Wagner's Lohengrin, a performance of which he attended at the Court Theatre. Listening to Wagner, Kandinsky envisioned the Moscow twilight as he wanted to paint it: "The violins, the deep tones of the basses, and especially the wind instruments . . . embodied for me all the power of that pre-nocturnal hour. I saw all my colors in my mind, they stood before my eyes. Wild, almost crazy lines were sketched in front of me."
In 1910, Kandinsky painted a watercolor that went one step further than his previous work . . . possibly the first entirely abstract painting.
He still was not ready to let those forces determine his life's course, but he recognized that his internal storm needed an outlet. "Even as a child, I had been tortured by joyous hours of inward tension that promised embodiment. Such hours filled me with inward tremors, indistinct longings that demanded something incomprehensible of me, stifling my heart by day and filling my soil with turmoil by night."
Then Kandinsky experienced a powerful moment of relief from his suffering. He was in front of a Monet in a show of French impressionist painting in Moscow. Standing close to the canvas, he could not recognize its subject as a haystack, although the catalogue listed it as such. Initially, he "found this nonrecognition painful." But then "I noticed with surprise and confusion that the picture . . . gripped me." He succumbed to "the unexpected power of the palette, previously concealed from me, which exceeded all my dreams. Painting took on a fairy-tale power and splendor."
The law professor abruptly decided to start anew and to head to Munich to throw himself full-time into painting. "At the age of thirty, the thought overcame me: now or never. My gradual inner development, of which until now I had been unconscious, had progressed so far that I could sense my artistic powers with complete clarity, while inwardly I was sufficiently mature to realize with equal clarity that I had every right to be a painter."
Anja accompanied her husband to Munich in 1896, but she disliked the artistic life. She left Kandinsky in 1903, although they did not divorce until 1911 and always remained on perfectly civil terms. Kandinsky, meanwhile, began his new life. He studied art in a traditional academy, with the same Franz von Stuck who had taught Klee and would teach Josef Albers, and about whose teaching of figure drawing the three would commiserate at the Bauhaus. Kandinsky also studied art at the Munich Academy, but often cut class and worked at home or outdoors, painting with such intense colors that, over a quarter of a century later, when the Bauhaus moved to Dessau and he needed to describe his credentials to the Municipal Council, he told the officials that he had been in deep trouble at the Munich Academy for being so "intoxicated by nature" that he tried to express "everything through color," and that he failed a drawing test there. He believed that this conflict with the establishment in Munich a quarter century earlier was one of his main qualifications for teaching at the Bauhaus.
Between those confrontations with the hidebound art establishment and his joining the Weimar Bauhaus in 1922, Kandinsky altered the course of world art. In 1901, he founded "the Phalanx," an organization to advance new artistic methods that was named after a word invented by Homer for the battle line in ancient Greece, where heavily armed soldiers, working in unison, vanquish their enemy with heavy swords and twelve-foot-long pikes. The Phalanx showed work by Monet as well as other impressionists, while Kandinsky pushed his own work into a new realm by using tempera to create vibrant colors.
Teaching a breakthrough approach to painting and drawing, the Russian led his students to Bavaria by bicycle and summoned them for critiques with a police whistle. In 1902, one of the students who cycled in agreeably when the whistle was blown was Gabriele Münter, a quiet and thoughtful twenty-five-year-old woman, of slight build and almost Japanese looks with her smooth dark hair and porcelain skin. The mutual attraction was immediate, and once Anja moved out, Kandinsky and Münter began to live together; they traveled to Venice in 1903, and, in the winter of 1904–5, to Tunis. Kandinsky returned to Odessa and Moscow on his own, but afterward he and Münter moved to Sèvres, near Paris, for a year, then for nearly another year to Berlin, before returning to Munich.
In his early abstract paintings, such as Improvisation XXXI, 1913, Kandinsky pushed the limits and produced artworks that seemed to convey sheer energy. PHOTO: © The Gallery Collection/CorbisIn this period, during which Kandinsky became one of the principal painters in the Blue Rider movement, his work went from animated woodcuts based on Russian folk art and fairy tales to landscape paintings in unprecedented combinations of saturated colors. Münter worked similarly: there are paintings from 1908 and 1909 where it is difficult to tell who painted which one. She had extraordinary natural gifts, and was one of those rare people who could spontaneously make dazzling art, almost primitive in its untutored freshness yet revealing complete competence, that evoked natural sights with unequivocal joy. Kandinsky learned an immense amount from her approach — more than he would ever acknowledge. At the Bauhaus, he would be with a woman who had no such artistic skill, who worshipped him giddily; it would be as if there was something intolerably threatening about having once been with a fellow artist who had direct access to her own brilliant instincts.
Münter and Kandinsky's apartment on Munich's Ainmillerstrasse was two houses away from where the recently married Paul and Lily Klee were living. The moment that Klee and Kandinsky met, they enjoyed a remarkable rapport. Each was delighted to meet another person who cared so deeply about making art, and who was so bent on exploring new means to imbue that art with vitality. The rare sense of comfort and pleasure Kandinsky experienced with Klee, in spite of Klee's apparent remoteness, would over a decade later be a lure to the Bauhaus.
There were halcyon evenings when Kandinsky and Münter would go over to the Klees' to hear Paul and Lily perform violin and piano duets. Kandinsky adored little Felix, who, starting at the age of two, in 1909, would spend time in the Russian's studio when his parents were busy. Felix Klee would never forget Kandinsky's and Münter's apartment, which was larger and more elegant than his parents' and distinguished by its white doors.
Once they were based in Munich, Kandinsky and Münter spent their summers in the Bavarian Alps, in the picturesque country town of Murnau, where Münter bought a house in 1909. There, Münter's natural skill as a painter became all the more evident. Her exuberant renditions of idyllic life in the countryside seemed effortless, spontaneously evoking the sweet local church, apple trees bursting with fruit, and farmhouses bathed in summer sunlight. Kandinsky was more of a struggler, perpetually intellectualizing and pushing himself to the next step, although he benefited immensely from his exposure to Münter's forthright style. Kandinsky and Münter were both affected by the hinterglasmalerei — small folk art pictures with the images painted on the reverse side of glass — that they collected together. With their simplified forms and vibrant colors, these anonymous works had a charm and an immediacy that both painters sought to retain in their more sophisticated work.
But the Russian could not stop his inner wheels from turning. By 1910, he was determined to explode the boundaries of painting. He started to improvise compositions that convey sheer energy. Their charged, dark lines of scant representational value, and their sequences of fantastic yellow, red, indigo, and mauve biomorphic forms, pulse in deliberate dissonance. With these paintings simply named Composition or Improvisation, Kandinsky unleashed a way of painting that was unlike anything that anyone else had ever done or even considered.
While Kandinsky's fellow Blue Rider artists — Auguste Macke, Franz Marc, and Klee — adhered to figurativism, they admired his independence as well as the consuming zeal with which he approached the task of painting. As Grohmann observed, "Kandinsky himself was a very unusual, original type, uncommonly stimulating to every artist who came in contact with him. There was something uniquely mystical, highly imaginative about him, linked with rare pathos and dogmatism." It was impossible not to respond to him and his work.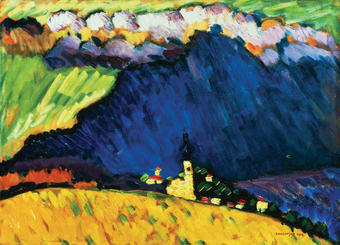 Colors affected Kandinsky profoundly, like pure emotions. Even at an early age, bright hues made him rapturous; black induced fear. Above, Dunaberg, 1909. PHOTOS: Above, © Christie's Images/CORBIS; Right, Courtesy Guggenheim Museum/ © Bettmann/CORBIS
In 1910, Kandinsky painted a watercolor that went one step further than his previous work by eliminating any reference whatsoever to known subject matter. This is possibly the first entirely abstract painting — as opposed to objects with abstract decoration — by anyone, ever. That same year, he wrote On the Spiritual in Art. This book, which declared painting "a spiritual act," embraced the supernatural and irrational as valid components of art. In advocating what was sensory and intuitive and opposing materialism, On the Spiritual in Art liberated many readers; following its initial publication at Christmastime of 1911, it went through two more printings within a year.
Observing Kandinsky firsthand, Grohmann had the opinion that the artist's beliefs derived directly from his own mental state.
According to all who knew him, his was a complex mind, given to violent contrasts, and his deep-rooted mistrust of rationalism drove him in the direction of the irrational, that which is not logically graspable. We know that he suffered from periodic states of depression, imagining that he was a victim of persecution, and that he had to run away. He felt that part of his being was closely tied to the invisible; life here and now and in the hereafter, the outer world and the inner soul, did not seem to him opposed.
Although the stated goals of the Bauhaus stressed the practicality of objects and the utilization of modern technology for aesthetically worthy results, Kandinsky's presence there would cause many people to explore mystical realms and to accept the inevitability of neuroses as an aspect of creativity. Kandinsky declared his purpose to be the creation of "purely pictorial beings" with their own souls and religious spirit. He believed that such art would have major ramifications. At the same time that he bravely accepted the reality of the mind's tortures, Kandinsky had "an absolute faith in the onset of a new era, in which the spirit will move mountains" and in which painting would defeat materialism "by asserting the primacy of inner values, and by directly appealing to what is good in man."
In On the Spiritual in Art, Kandinsky conceives of a "spiritual triangle" divided into three tiers, with atheists in the lower segment, and, in the layers above, "positivists, naturalists, men of science, and art students." This middle category does not have an easy time; "they are dominated by fear," for they grapple with "the inexplicable" while remaining unable to accept it, and thus suffer great "confusion." He writes of the plight of these people as if he were narrating the plight of the damned at the Last Judgment: "The abandoned churchyard quakes, the forgotten grave yawns open. . . . All the artificially contrived suns have exploded into so many specks of dust."
Denizens of this middle tier suffer from their illusion that it is possible to create or live in an "impregnable fortress." The occupants of the highest realms of Kandinsky's triangle recognize the fallacy of that assumption. Among this select group of "seers" and "prophets," creative geniuses who have entered the realm of "light" and "the spiritual," Kandinsky names Robert Schumann, Richard Wagner, Claude Debussy, Arnold Schoenberg, Paul Cézanne, Henri Matisse, and Pablo Picasso, explaining how each eschewed superficial beauty in preference for a true representation of "inner life" as well as "the divine."
Kandinsky considered music the ultimate art form, which is why he included more composers than painters in his pantheon. But he attributes to color some of the same transformative effects he cherishes in music. To chart the process of the impact of color on the viewer, he draws an analogy to the workings of a piano: "Color is the keyboard. The eye is the hammer, while the soul is a piano of many strings."
From the book: THE BAUHAUS GROUP: Six Masters of Modernism by Nicholas Fox Weber. Copyright © 2009 by Nicholas Fox Weber. Published by arrangement with Alfred A. Knopf, an imprint of The Knopf Doubleday Publishing Group, a division of Random House, Inc.