Features
Sensei and Sensibility
After 73 years, Donald Keene '42, '49 GSAS leaves Columbia for Japan
By Jamie Katz '72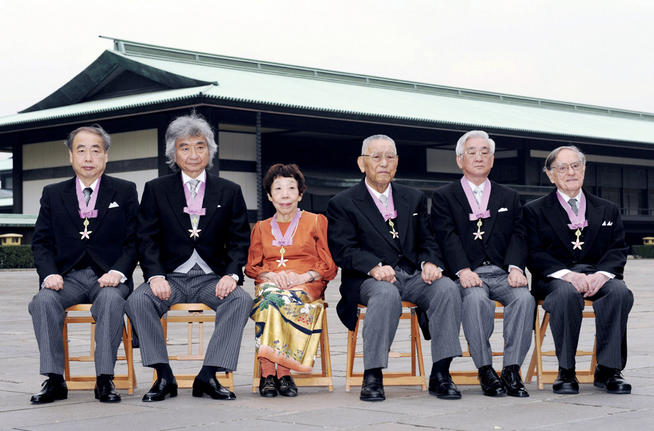 Donald Keene '42, '49 GSAS (far right) received the Order of Culture from Emperor Akihito during a Culture Day ceremony at the Imperial Palace in Tokyo on November 3, 2008. Other honorees included (left to right) Makoto Kobayashi, a winner of the Nobel physics prize; maestro Seiji Ozawa; novelist Seiko Tanabe; Hironoshin Furuhashi, chairman emeritus of the Japan Swimming Federation; and Toshihide Masukawa, a winner of the Nobel physics prize. PHOTO: KYODO VIA AP IMAGES
Donald Keene '42, '49 GSAS arrived on Morningside by subway as a shy 16-year-old from Brooklyn. He leaves the Columbia faculty 73 years later as a globally renowned scholar and translator of Japanese literature, and a beloved figure in Japan, where he has now chosen to live as a citizen.
---
In the wake of the Tohoku earthquake, tsunami and nuclear disaster last March, it came to light that the emi­nent Columbia University professor Donald Keene '42, '49 GSAS had chosen to retire to Japan.
His decision became a ma­jor news story there, cheering a nation that appreciated the gesture of solidarity from a re­vered sensei — teacher — at a time when many foreigners were leaving Japan.
Ever faithful to truth, however, Keene notes that he had actually formed his in­tention many weeks earlier, as he lay in a Tokyo hospital bed. On December 31, Keene had been stricken with an unusu­ally severe case of gout, which eluded ini­tial diagnosis. "It was serious enough to be life-threatening," Keene says. "When I came back to myself, I thought about how I was going to live the rest of my life, and I decided that it would have to be in Japan. I also decided I would take Japa­nese citizenship." His choice was deeply personal, born of an attachment that goes back to his student days at Columbia more than 70 years ago. But after the earthquake he felt even more committed, and when letters of gratitude poured in from Japanese admirers, he says, "I was, of course, pleased."
I thought about how I was going to live the restof my life, and I decided it would have to be in Japan.
A modest, soft-spoken scholar and teacher, the 89-year-old Keene is virtually unknown to the broad American public. In the realm of Japanese letters, however, his reputation could hardly be more stellar. As a teacher, essayist, literary and cul­tural historian, critic, anthologist, memoirist, editor and transla­tor — with some 25 books in English and another 30 in Japanese — he is perhaps the quintessential figure in his field.
Keene, who began teaching at Columbia in 1955, was named the Shincho Professor of Japanese Literature in 1981 and attained the institution's highest academic rank, University Professor, in 1989. The University's prestigious Donald Keene Center for Japa­nese Culture, named in his honor at its founding in 1986, spon­sors instruction, research, exhibits, prizes and other public pro­grams. Somehow the major College alumni awards have eluded Keene, however. Perhaps he feels as Duke Ellington did in 1965 when the Pulitzer Prize board denied him the award its music jurors had recommended: "Fate is being kind to me," Ellington dryly remarked. "Fate doesn't want me to be famous too young."
Keene certainly has not lacked for recognition on the west­ern side of the Pacific. He has received a number of Japan's most distinguished prizes, most recently the Order of Cul­ture (Bunka-Kunsho), which the Japanese government awards for significant contributions to the nation's culture; he was the first foreign national to be so honored.
"He's almost the most famous man in Japan," says Carol Gluck '77 GSAS, Columbia's George Sansom Professor of History, her­self a well-known scholar and commentator there. "You can't go anywhere in Japan and utter the words 'Donald Keene' and not have everybody know him, whether you're in the middle of the paddy fields or the mountains in the north," she says. "Intellec­tuals and scholars are media celebrities in Japan and always on television. Even I'm always on television."
Fred Katayama '82, '83J is a news anchor for Thomson Reuters television in New York and a former student and longtime friend of Keene's. Katayama remembers switching on NHK — the BBC of Japan — and watching in awe as his teacher interviewed then-Prime Minister Yasuhiro Nakasone one-on-one. Keene so en­gages the Japanese public, Katayama observes, that his memoirs were serialized in Yomiuri Shimbun, the nation's (and the world's) leading daily newspaper, with a paid circulation of more than 14 million. "I think they feel that he knows and understands Japan more than perhaps any foreigner," Ka­tayama says.
A third-generation Japanese-Ameri­can from Los Angeles, Katayama spent a number of years in Tokyo as a cor­respondent for Fortune, the Associated Press and the program Japan Business Today, seen on CNBC in the United States; he sits on the board of the Japan Society and the U.S.-Japan Council, in Washington, D.C. Yet it was Keene who inspired him to embrace his own cul­tural ancestry.
"Japan didn't have the greatest im­age when I was growing up," Katayama says. "It was mocked — 'Made in Japan' and all that stuff. I didn't want anything to do with the country." But as a student in the Col­lege, Katayama recalls, he happened to read Keene's Landscapes and Portraits: Appreciations of Japanese Culture, and a spark was ignited. "He talks about Japanese aesthetics in daily life — the beauty of irregularity. The misshapen tea bowl is more interesting and some­thing to behold than a perfectly symmetrical piece of porcelain."
Katayama followed his curiosity and signed up for Japanese classes, gradually committing to a major in East Asian languages and cultures. Eventually he landed in Keene's famed course, "In­troduction to Modern Japanese Literature."
"The amazing thing about Professor Keene is that he does not use notes," Katayama says. "His lectures are all in his head, and he's extremely passionate. You can feel it in the tenor of his voice, his mannerisms, the way he holds himself. There's a Japanese sensibility to him — modest, quiet, extremely diligent, but never patronizing or condescending. He always came in a suit; he was old-fashioned in that sense. You're not going to see him in a polo shirt. And he ended perfectly on time — he would be out the door."
Katayama feels deeply indebted to Keene. "I was a Japanese-American who had an identity crisis at a Jesuit prep school and swore he would never go to Japan," he says. "And I wind up spending a good chunk of my career tied to Japan. What if I hadn't read Landscapes and Portraits?"
Keene's approach to teaching and writing bears the imprint of his freshman Humanities instructor, Mark Van Doren '21 GSAS. "He was a scholar and poet and above all some­one who understood literature and could make us understand it with him," Keene writes in Chronicles of My Life: An American in the Heart of Japan. "Van Doren had little use for commentaries or specialized literary criticism. Rather, the essential thing, he taught us, was to read the texts, think about them, and discover for our­selves why they were ranked as classics."
The experience of taking the College's general education cours­es was "incredible," Keene says, and he fondly remembers the great teachers he encountered as an undergraduate. Among them were the "learned and gentle" classicist, Moses Hadas '30 GSAS; Lionel Trilling '25, '38 GSAS and Jacques Barzun '27, '32 GSAS, who led Keene's Senior Colloquium; and Pierre Clamens, a French instructor "who was very stern, but gave everything to his stu­dents," Keene says.
His chief mentor, however, was cul­tural historian Ryusaku Tsunoda, a pio­neer of Japanese studies at Columbia whom Keene often refers to, simply, as Sensei. "He was a man I admired com­pletely," Keene says, "a man who had more influence on me than anyone else I can think of."
As a senior, Keene enrolled in Tsu­noda's course in the history of Japa­nese thought. Fifty years later, in a CCT interview (Winter 1991) with David Lehman '70, '78 GSAS, Keene remem­bered: "The first class, it turned out I was the only student — in 1941 there was not much pro-Japanese feeling. I said, 'Wouldn't it be a waste of your time to give a class for one student?' He said, 'One is enough.'"
Born in 1922, Keene speaks with some sadness of his boyhood in Brooklyn's Flatbush section. In 1934, he lost his sister, which left him an only child. Keene's father, who sold radio parts and later real estate, left his mother "under very unpleasant condi­tions" when he was 15, Keene says. "And then he disappeared from my life altogether for a period. I didn't even know where he was." Keene himself has never married.
Lonely and, by his own reckoning, exceptionally unathletic, Keene found solace in stamp collecting, which opened his eyes to a wider world of nations and languages, and in movies, which opened his eyes even wider. Years later, as a professor, Keene es­corted Greta Garbo, a friend of a friend, to the Broadway produc­tion of The Diary of Anne Frank. "After emerging from the theater, we waited briefly for a taxi, and the drivers of passing cars halted their vehicles for a better look at the famous face," he later recalled.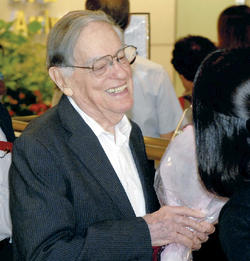 Keene accepts flowers upon arriving in Japan on September 1. PHOTO: THE YOMIURI SHIMBUN VIA AP IMAGESIn 1938, Keene attended his first performance of the Metro­politan Opera; it was Orfeo ed Euridice. The following year, as a birthday gift, his mother gave him a subscription to 16 successive Friday nights at the Met. The teenaged Keene sat in the last row of the uppermost tier, where tickets cost $1, and was hooked for life. One of Keene's chief regrets in leaving New York is giving up his Met Opera subscription.
It was also in 1938 that he graduated from James Madison High School, a Brooklyn public school that also has produced four Nobel laureates, three U.S. senators and a Supreme Court justice — Ruth Bader Ginsburg '59L (not to mention Judge Judy, songwriter Car­ole King and comedian Chris Rock). Thanks to a Pulitzer scholar­ship, Keene was able to attend Columbia.
Apart from his studies, college proved to be rough going for the commuter student. "I had no campus life," Keene says. "Other people were living in the dormitories or near the University. But my mother was pretty hysterical at that time; she depended on me, and I had to make the long journey every day. The subway cars were badly lit and I ruined my eyes. I knew very few people, had almost no friends."
His closest acquaintance was a Chinese student named Lee who happened to have been seated behind him in Van Doren's class. The following summer, in 1939, they took to swimming together at the Riis Park beach in Rockaway, Queens. Lee taught Keene some Chinese characters, which he practiced drawing in the sand. It was his introduc­tion to Asian languages. For the next two years, they ate lunch together every day at the New Asia restaurant at Broadway and West 111th Street, which became Moon Palace.
One day in fall 1940, Keene was browsing the remainder shelves at a Times Square bookseller when he spot­ted a two-volume edition of the classic work The Tale of Genji, selling for just 49 cents. He bought it and was so enchant­ed by the story, and by Arthur Waley's elegant translation, that he yearned to read it in the original Japanese.
At a time when news of mounting violence overseas dominated the head­lines, the tale offered a more peaceful vi­sion. "The hero, Genji, unlike the heroes of European epics, was not described as a man of muscle ... or as a warrior who could single-handedly slay masses of the enemy," Keene wrote. "He knew grief, not because he had failed to seize the government, but because he was a human be­ing and life in this world is inevitably sad." Keene says today: "The book became, literally, my salvation from the newspapers, from the horrible things that were going on in the world."
Chance continued to play a part in Keene's turn to the Orient, as it was then commonly called. In spring 1941, a stranger ap­proached him in the East Asian Library, housed in what is now the Faculty Room in Low Library. He introduced himself as Jack Kerr, and mentioned seeing Keene often at the Chinese restau­rant. Kerr was forming a small group to study Japanese that sum­mer at his house in the North Carolina mountains, and wondered if Keene might care to join them. Keene accepted. It was Kerr — who went on to teach Japanese history at other universities — who recommended that Keene register for Tsunoda's class for the Fall 1941 term.
On December 7, 1941, Keene went hiking on Staten Island. When he returned to lower Manhattan, he saw the news: The Japanese had attacked Pearl Harbor. Tsunoda was detained the next day as an enemy alien. He was accused of espionage, but a judge dismissed the charges a few weeks later and Tsunoda re­turned to teaching.
Keene graduated the following spring, wondering what the war would bring. He had been a pacifist since childhood; he re­members how he felt visiting a Vienna museum with his father in 1931 and looking at the automobile in which the Austrian Arch­duke Franz Ferdinand and his wife had been assassinated in Sarajevo in 1914, touching off WWI. The sight of the archduke's blood-stained uniform and the white plume in his ceremonial helmet "crystallized my hatred of bloodshed," Keene wrote in his Chronicles. So when he learned that the U.S. Navy needed in­telligence officers and was training Americans to speak Japanese as well as shoot guns at them, he signed up.
Wm. Theodore de Bary '41, '53 GSAS was just a year ahead of Keene at Columbia, but they met at the Navy's Japanese Language School in Berkeley, Calif., which lat­er moved to Boulder, Colo. The pair became roommates and close friends. "We just took to each other right from the beginning," says de Bary, the John Mitchell Mason Profes­sor Emeritus, Provost Emeritus and Spe­cial Service Professor in East Asian Lan­guage and Culture, who still teaches in the Asian Humanities and Civilizations program of which he was the principal architect. "I think we were soul brothers, because we shared a Columbia soul."
When they finished their training in 1943, both men were assigned to the headquarters of Adm. Chester W. Nim­itz, commander in chief of the U.S. Pa­cific fleet, at Pearl Harbor. They rented a house in Honolulu to serve as home base while they were sent out on dif­ferent missions, in different campaigns. Keene and de Bary crossed paths in the Aleutians and at Okinawa in 1945, and they remained in touch as their tours wound down after the war. (Their correspondence later was published in War-Wasted Asia: Letters, 1945–46, edited by the late historian Otis Cary, who served with Keene in the Pacific.) De Bary's postwar plan was to continue graduate work at Harvard, but Keene had a better idea. "Donald persuaded me not to return to Harvard," de Bary says, "but to come back and join him and study with Ryusaku Tsunoda." As a scholar, teacher, academic statesman and defender of principle, de Bary has become one of the most significant figures in the his­tory of the University; now 91, he has taught at Columbia in eight different decades.
During his service in the Pacific theater, Keene acted as an interpreter, translated documents and conducted prisoner inter­rogations. He was moved by some of the diaries of captured or killed soldiers he encountered, and felt empathy for some of the POWs he questioned.
There's a Japanese sensibility to him — modest, quiet, extremely diligent, but neverpatronizing orcondescending.
"I had to fill out a form — color of hair, color of eyes ... idiotic questions to be asking a Japanese," he says. "But then we could start on other questions, and I discovered these people had read the same books that I had — the kind of books one got in the Humanities course at Columbia. They knew them very well. And I felt they were closer to me than some of the rough-and-tough Americans I had to deal with, like the lieutenant commander who asked me to get him a pair of Japanese ears."
Keene does not minimize the extraordinary cruelty the Japa­nese visited on so many during that era. "I can't justify it," he says. "The Americans in Hawaii, where I spent much of the time, treated the Japanese extremely well. But the Japanese didn't. They were proud of the fact that they had their own traditions, which did not include mercy towards foreigners. There's no way of excusing that. I think almost any people are capable of it. It depends a great deal on their strength of belief — whether in re­ligion or in decency — that leads them to say no when they're asked to do something under orders."
Keene returned to Columbia after the war to study with Tsunoda, earning an M.A. in 1947 and a Ph.D. in East Asian Languages and cultures in 1949 (sandwiched around a year of graduate study at Harvard). He then earned a second master's at Cambridge University in England, where he lectured from 1949–55.
On Keene's first night at Corpus Christi College — in the "coldest rooms in Cambridge," he was told — a porter brought him a dinner of whitefish with a white sauce and white potatoes and white cabbage on a white plate. "I had never realized before how important color is to food," he later wrote.
He found sustenance in other ways: in the splendid architecture, the library, the sound of proper English, and of course, his scholarship and teaching, which he pursued despite a marked lack of encouragement. At one point, he considered abandoning Japanese in fa­vor of Russian literary studies, a notion he dropped when he found that "the vocabulary refused to enter my brain."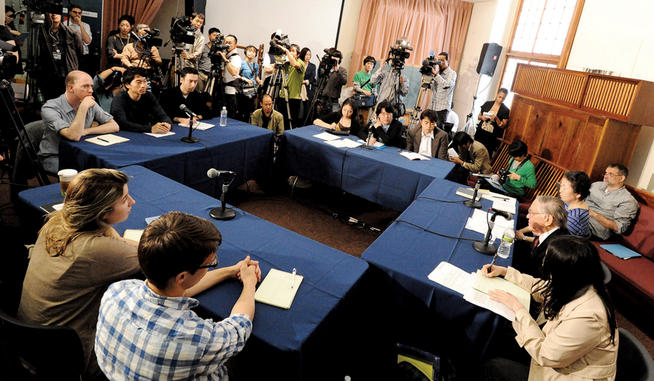 When Keene taught his final class at Columbia last spring, it was a major event for the Japanese news media. PHOTO: EILEEN BARROSO
One who did encourage him was de Bary. In 1948, College Dean Harry Car­man '19 GSAS had asked de Bary to develop an Oriental Studies program, which spawned Columbia's ground­breaking courses in Asian Humanities and Civilizations. When the real work began in 1949, de Bary sought out Keene to pro­duce translations of significant Japanese texts. "He was a key figure, because we couldn't have done it without the transla­tions," de Bary says. "He's extremely gifted, both in Japanese and as a writer."
Those gifts earned Keene increasing renown in the years that followed. While teaching at Columbia in the 1950s and '60s, he spent summers in Japan coming to know many of the country's leading literary and cultural figures — among them Yukio Mishi­ma, Kanzaburo Oe and Kobo Abe — while deepening his own knowledge and appreciation of their world.
"Japanese are always saying Donald Keene knows more about Japanese culture than they do," says Gluck. She recalled a New Year's party at which Keene's good friend, Abe, raised a toast: "I'd like Keene to make a resolution," Abe said. "I want him to forget one thing he knows about Japanese culture every day for the coming year."
Fortunately for Japanese studies in the United States, de Bary was able to persuade Keene not to emigrate in the early '70s. In a unique arrangement, Keene taught in New York each spring while spending the fall semester in Japan. By now, two genera­tions of Keene's Columbia graduate students have gone on to prominence in Japanese literature, among them such leading lights as Karen Brazell '69 GSAS, Susan Matisoff '73 GSAS and J. Thomas Rimer '71 GSAS. Students of Keene also were among the first female tenured professors in the field, Gluck points out. Not that Keene was inclined to make such distinctions. "He encour­aged all of us equally," she says. "So as women we didn't feel at all disadvantaged."
Keene's passion and feeling for the subject, his depth of un­derstanding and his prodigious hard work all contribute to the respect and warmth so many feel for him. "He's very close to you when he speaks about Japanese literature," Gluck says. "You don't feel like it's a kind of knowledge. His generosity and spirit, combined with his delight in Japanese literature, generates affec­tion even in people who are very shy and think he's a great man. There's no space between him as a teacher and his subject, and you as students."
After a round of tributes and symposia last spring — cov­ered by dozens of Japanese reporters and camera crews — Keene spent the summer preparing to move from spa­cious faculty digs on Riverside Drive to a modest Tokyo apart­ment, where he's finishing a book about 19th-century poet Shiki Masaoka. "My apartment is in a quiet neighborhood where I've lived a long time, so people are accustomed to seeing me there. These streets are narrow and they're not meant for cars, and you can walk pleasantly," Keene says. "And having become very Jap­anese in my attitudes, I feel happier there."
The subtle virtues of Japanese culture — and the challenges of translating and communicating its beauty — continue to animate Keene.
"The Japanese language is characterized among other things by evocative vagueness," he says. "You try to avoid being too pre­cise. I used to write to a Japanese friend, and he would send back my letters with things crossed out or changed. If I said 'I've been sick for four days,' he would correct me: 'You should say "about four days," or "four or five days." We Japanese never say "four." We never say "five."' And it's true. There's a liking for a fuzziness, which the Japanese find more exciting because it leaves space for the imagination."
Having witnessed Japan's rebirth after the catastrophes of WWII, Keene has faith that his adopted country will heal from this year's natural disasters.
"In 1955 I took a journey to the northern parts of Japan, which was the same one that had been taken in 1689 by the great Japa­nese poet Basho," Keene says. The haiku master was particularly inspired by Matsushima Bay, with its hundreds of tiny, pine-clad islands.
After the Tohoku earthquake of March 11, a monster tsunami wreaked destruction along that coast, killing thousands. When Keene heard the news, his first concern was for the well-being of his many Japanese friends. But his thoughts also turned to Mat­sushima's delicate islands.
"I wondered what had happened to that," Keene says. "And I was told that the tsunami cut the pines down, but their roots are still there, and they can hope that in 20 years or so, the islands will be covered with trees again."
Former CCT editor Jamie Katz '72 has held senior editorial positions at People and Vibe magazines and now writes for Smithsonian Maga­zine, among other publications.