Features
Ashley Hayes '06 Embraces Cultural Exchange
From city to country, alumna experiences many sides of Japanese living
By Shira Boss '93, '97J, '98 SIPA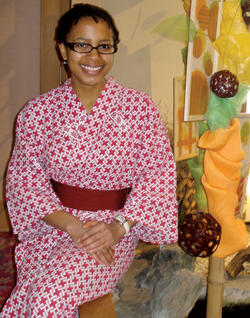 Ashley Hayes '06 at a traditional inn in Otaru built on the site of a natural hot springPHOTOS: COURTESY ASHLEY HAYES '06
Ashley Hayes '06 was working at a translation agency in Tokyo in March, after working in the countryside for four years. After she felt a small tremble, she asked her coworkers, "So, what's the evacuation plan for this building?"
They laughed at the question, she recalls, then pointed to a box con­taining a drop-down ladder. They worked on the sixth floor of an eight-floor building.
Two days later, when the big earthquake hit on March 11 and the office's rooms started shaking and bookshelves toppled, Hayes' boss, usually unflappable, cried, "We need to get out of here!"
"We ran down the stairs — forget about the evacuation ladder, nobody even looked at that," Hayes says. "We piled out onto the street — cars had stopped — you could see buildings literally swaying. It was frightening and surreal. It's the only time in my life I thought, 'This is it, I could die right now.'"
Cell phones didn't work for calls but the Internet was enabled, and Hayes reached out to her family and friends by posting on her Facebook page that she was OK. Once at home, she packed an emergency backpack with clothes, nonperishable food and a motorcycle helmet to use as a hardhat like the ones she'd seen in the emergency kits sold in Japanese stores.
Hayes and her boyfriend, who is from Nagano, where Hayes had lived for the previous four years, considered retreating back there while things set­tled down. They awoke to news of an earthquake in Nagano. There's no escape! Nowhere is safe! she thought. Despite the urgings of her mother to get out of the country, Hayes initially felt more like a local, one who had to stay and per­severe through the country's recovery from the disaster.
Several days after the earthquake and tsunami, with nuclear power plants leaking unknown amounts of radiation, the American government followed other countries in advising their citizens to evacuate, and Hayes reconsidered. She was surprised to get a flight home just two days later and returned to Atlanta for 10 days, during which she worked remotely and followed the situation closely.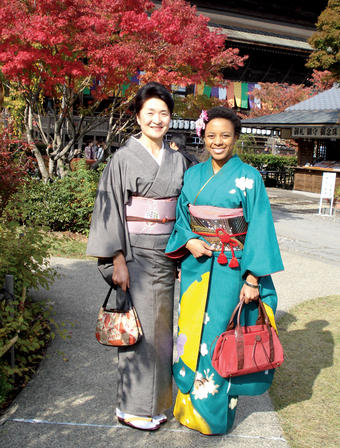 Ashley Hayes '06 with a friend on the way to a tea ceremony at Zenkoji Temple in Nagano. PHOTOS: COURTESY ASHLEY HAYES '06
She took flak from some Japanese people, including her boy­friend, and even some expats, who told her she was overreacting and asked why she was abandoning the country. "It was one of the larger cases of culture clash I had there," she says. "I didn't feel I had to question loyalties. I was concerned for personal safety; I wasn't trying to under­mine Japanese authority."
Despite being safer and more at ease in Atlanta, Hayes spent the whole time feeling torn and decided to return. "I had responsibilities and people I cared about in Japan," she says. "I had to get back as soon as possible to minimize the gravity of my faux pas."
When she got back, she was per­plexed by the cross-currents of infor­mation from the government and local Japanese about the extent of the radia­tion leaks. "My biggest concern was ra­diation in the food and how that would impact my health over the long term," she says. Some locals bought Geiger counters to check the food for radiation; others told her they were drinking local water by the gallon and had no concern.
The government "slipped up" sev­eral times, Hayes says, not reporting elevated radiation in certain areas and in the food supply. "They released information late — there was a lot of fumbling around," she says. "There was an aura of calm, but news stories popped up that upset people." She cites the example of the announcement that school lunches contained potentially radioactive produce from Fukushima; an ensuing ar­gument that the country needed to support the people and farms of that region; and a rebuttal that that couldn't involve endanger­ing the health of the nation's children.
Unusual for Japan, anti-nuclear energy protests were held nearly every weekend in Tokyo. "Before, I didn't even think about how electricity was produced — I assumed Japan was very environmentally conscious," Hayes says. "Only afterward did we find out how vulnerable the country was."
Hayes' interest in Japan stems from a two-week visit when she was in high school and stayed with a host family in Fukuoka, the sister city of her hometown of Atlanta. En­tranced by the country's history and its pop culture exports, she knew she wanted to learn Japanese and live there after college.
She was drawn to Columbia by its stellar East Asian studies program and the legacy of scholars such as Ivan Morris and Ed­ward Seidensticker '47 GSAS. She started taking Japanese lan­guage classes her first year and became active in the Japan Club (now the Columbia Japan Society), of which she became v.p. in her senior year. "It was awesome to be in a city with Japanese speakers and Japanese cultural events I could attend regularly," Hayes says. She adds that there also were plenty of Japan-relat­ed events on campus, such as the annual spring Matsuri festival on Low Plaza, with its noodle-eating contest, mock wrestling in inflatable sumo suits and thunderous taiko drum performances. For her junior year abroad, Hayes studied in a yearlong pro­gram run by the Kyoto Consortium for Japanese Studies and lived with a local host family.
Following graduation, she joined the Japanese Exchange and Teaching (JET) program, which places recent college graduates from around the world in schools or government offices. Hayes was posted as coordinator of international relations at Nagano City Hall.
Entranced by the country's history and its pop culture exports, Hayes knew she wanted to learn Japanese and live there after college.
In that job, she acted as an interpreter for local foreign resi­dents who didn't speak Japanese, helped plan cross-cultural events and arranged visits for Americans from Nagano's sister city of Clearwater, Fla. She wrote an essay on the importance of international exchange that won her a local contest to run with the Olympic torch when it passed through Nagano in 2008 on its way to the summer games in Beijing. (Many people asked her, "Are you training?" "You walk briskly and wave," she says. "It wasn't a marathon or anything.")
"She's about as smart as they come. When we met, I was pret­ty blown away by her Japanese ability," says Grant Peterson, a fellow American working in Nagano. "Then after seeing her belt out a beautiful song at a mutual friend's wedding, and seeing her perform a dance routine at an international event, I was amazed to keep finding all of these hidden talents Ashley possessed." Hayes was a karaoke singer, "then when I went to Japan, all of a sudden people started asking me to sing for real!" she says. "I've actually sung at three weddings now courtesy of my karaoke performances — and I've also danced in public when asked to. I guess I don't like to let people down. If someone asks me to do something, I try to rise to the occasion."
In Nagano, Hayes lived in a traditional apartment with tatami rooms and sliding doors — and no central heating, which the Southerner never did get used to. Although she initially ques­tioned whether Nagano, a city of 381,000 in a largely agrarian region, was exciting enough for someone who grew up in East Atlanta and went to college in New York, Hayes came to love apple-picking, riding her bicycle around town and appreciating locally grown food. "Almost everyone had a rice paddy or a veg­etable garden," she says. "It wasn't just Old MacDonald on the farm, it was your coworkers." The Japanese reverence for nature, she says, gave her a new perspective on rural living.
After four years working in Nagano in the JET program (which allows renewals up to five years), Hayes decid­ed to move to Tokyo, which she'd always wanted to experience. She started work at the translation agency in summer 2010. While she had thought she craved urban living again, she says the 9–5 grind left her feeling more like a belea­guered worker bee: "You get on a very cramped train and work all day and take the train home. People on the train during rush hour disregard all concepts of personal space. People think of the Japanese as very polite and noble, but they also push you and jab you and step on you."
Following the chaos and uncertainty of the earthquake and its aftermath, Hayes eventually decided to return to the United States. She arrived in Atlanta in August, and is moving to San Antonio, Texas, to teach high school ESL as part of Teach for America. To further her own language abilities, she is studying Chinese and Spanish.
"I loved living in Japan and still love Japan and would con­sider living there again," she says. She reads Japanese newspa­pers and blogs every day, and plans to get a rice cooker to try to make rice the same as it is in Japan. Her boyfriend, who won't finish undergraduate studies until 2014, might come to graduate school here. Hayes adds: "I'd like to be one of these Americans like Donald Keene ['42, '49 GSAS; see feature in this issue] who's a bridge between Japan and America."
Shira Boss '93, '97J, '98 SIPA is a contributing writer to CCT. Her most recent feature was a profile of environmental lawyer Michael Gerrard '72, in the May/June 2011 issue.