Features
Power Player
Abbe Lowell '74, '77L is Washington's go-to lawyer
By Alex Kingsbury '04J
Abbe Lowell '74, '77L has a modest office by Washington standards. That's sur­prising considering that he is one of the most high-profile lawyers in a city that is saturated with high-profile lawyers: the head of the White Collar Defense, Regulatory Investigations, and Litiga­tion Group at the prestigious firm of Chadbourne & Parke.
The office walls are adorned with the standard Beltway accou­trements: pencil drawings of the advocate arguing before the Su­preme Court, political cartoons in which he appears, tokens from appreciative colleagues after his service with the United Nations, framed family photos. There's a special name in the nation's capital for such collections of personal and professional memorabilia: the power wall.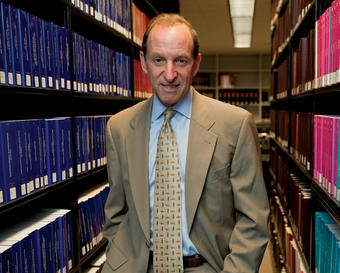 One journalist describes Abbe Lowell '74, '77L as "high-octane and incredibly loyal to his clients." SCOTT J. FERRELL, CONGRESSIONAL QUARTERLY/GETTY IMAGESTo the left of Lowell's desk is a small book­case holding a few dozen binders, his notes from cases involving the likes of President William Jefferson Clinton, actor Steven Sea­gal, lobbyist Jack Abramoff and former Sen. John Edwards. "Those are what I would grab if this place caught fire and I had to escape," Lowell says with a grin. "There are copies of the family photos at home, but not those notes."
Those binders are the tabulation of a professional life spent de­fending the powerful, either from the consequences of their own actions or from others in power who are out to get them. And wildly successful work it has been.
Lowell is best known for his service as Chief Minority Coun­sel during impeachment proceedings against President Clinton, but he's represented dozens of other high-profile clients as well in cases dealing with spying, public corruption and racketeering. In 2011, he was named one of the country's top five white-collar defense lawyers on the National Law Journal's Most Influential Lawyers list and referred to as the "go-to lawyer when it comes to constitutional issues stemming from leak investigations and prosecutions."
Lowell is practiced at keeping numerous balls airborne. One day in October, he was simultaneously arguing that the criminal case against former presidential candidate Edwards should be dis­missed in a North Carolina courtroom (he lost that motion); filing a lawsuit in Boston on behalf of the spouses of gay military service­men denied health and other benefits because of the federal De­fense of Marriage Act; and arranging logistics for the return from Egypt of his law student client, American Ilan Grapel, who had been held there for five months on charges of spying for Israel.
It's hard to find a high-profile spy case in Washington that hasn't somehow involved Lowell. In 2009, after four years in court, pros­ecutors dropped charges against two Lowell clients, Steve Rosen and Keith Weissman, lob­byists for the American-Israel Public Affairs Committee (AIPAC), who'd been accused of passing classified information to journalists and the Israeli government. Ever the advo­cate, Lowell had harsh words for the Ameri­can Jewish community for not backing his cli­ents more forcefully. "Everybody was worried that this is [convicted Israeli spy] Jonathan Pollard again," Lowell said in a radio interview in 2008. "Everybody was worried that we would stick our neck out and get it chopped off like the kosher duck. Well, we know better now, and the public knows better."
It was a case that was closely followed by both government of­ficials and journalists because it was the first time that the Justice Department had launched a prosecution under the Espionage Act of 1917, which criminalized the receipt of classified informa­tion. Were that act enforced, many journalists and politicians in­side the Beltway could face prosecution. In the wake of the AIPAC case, Lowell has been more forceful in his defense of clients accused of leaking information, asserting that it is inconsistent to punish some leakers while the leaking is encouraged.
"[The] Executive Branch leaks classified information often to forward several of its goals and then prosecutes others in the same branch for doing the same thing," he wrote in a filing in defense of Stephen Kim, a State Department contractor accused of leaking information about North Korea to a journalist.
Lowell's background put him on the short list of expert witnesses called before Congress as it grappled with how to deal with WikiLeaks.
Lowell, the consummate insider, explained to the court the way that Washington really works: "As the government has imposed ev­er-more stringent restrictions on information, while simultaneously broadening its definition of what constitutes classified information, leaking has become essential to provide context for messages deliv­ered to the public through official channels. Although reliance on a 'leak system' is counterintuitive for a nation that prides itself on open government and places immense value on democratic tradi­tions, it has become a necessary practice, facilitating the exchange of information between the government and its constituency."
That case was only Lowell's most recent brush with the Espio­nage Act, a statute that he's been grappling with since his time as a special assistant to the Attorney General in the early 1980s, when he helped draft some of its associated language. His back­ground put him on the short list of expert witnesses called before Congress as it grappled with how to deal with WikiLeaks, when an Army soldier was accused of leaking hundreds of thousands of classified military reports to a website.
In December 2010, Lowell appeared before the House Judi­ciary Committee. "A meaningful debate about the Espionage Act and changes to the law are long overdue. However, a current scandal or crisis is not the time to act too quickly," Lowell warned lawmakers. "There is often an urge to address the clamor of the crisis to show that Washington is listening and doing something and taking a problem seriously. This can lead to ill-conceived laws that have unintended consequences that infringe on rights and cause decades of needless litigation."
Unlike other Beltway insiders, but like many veterans of the Core Curriculum, Lowell lives up to the Renais­sance Man ethos. He still reads Shakespeare and sits on the board of trustees for D.C.'s Shakespeare The­atre Company. He's an officer at the Jewish Community Center of Greater Washington. And he's run four marathons, the quickest in four hours.
"I describe him as high-octane and incredibly loyal to his cli­ents, whoever they are," says Anne Kornblut '94, a White House correspondent for The Washington Post who has known Lowell for years. They met when Lowell interviewed her when she ap­plied for admission to Columbia in 1989.
For a young, Bronx-born Lowell, there wasn't much of a choice when it came to college. He knew that he wanted to be in the Na­ked City, and he knew that he wanted to be at the center of the ac­tion. Even before he enrolled in 1970, he'd organized anti-war rallies, worked for politicians and come to the conclusion — somewhat an­tithetically for a young man of his era — that one of the best ways to fight The Man was to don a suit and join forces with him.
Lowell studied political science at Columbia but it was the classics that caught his interest. He had his "moment of truth" during his junior year, when he shifted his focus from politics to Elizabethan literature after a series of particularly engaging class­es with Professor Edward "Ted" Tayler. "Even then he had real intellectual integrity," recalls Tayler. "He never wrote cacozelia, the great vice of both undergraduates and those in my profes­sion." Lowell wrote for Spectator, too.
The 1970s were a time of upheaval and social unrest, coming after a decade of even more unrest. Lowell remembers that he couldn't wait to start doing something with his career that could help make a difference. "It wasn't that radicalism or demonstra­tions had lost credibility, but I was looking for something else," he says. "The idea was to work within the system to change the sys­tem. The law allows people a chance to do that. But it doesn't come easily. It is hard work."
Lowell graduated Phi Beta Kappa and magna cum laude before heading to the Law School as a Harlan Fiske Stone Scholar and serv­ing as editor of the Columbia Law Review. Perhaps predictive of a ca­reer that would see him defend politicians from both parties, Lowell says he split his time between The Gold Rail (the bar favored by ath­letes and more conservative students) and The West End (preferred by the more liberal crowd) during the early 1970s. And then there was the iconic Tom's Restaurant: "I remember those ageless wait­resses who served breakfast to weary students like us," he says.
Lowell is an equal opportunity lawyer. Throughout his career, he has split his time between Democratic and Republican col­leagues. They include Democratic Rep. Gary Condit, Republican Rep. Charlie Wilson, ImClone CEO Sam Waksal and actor Sea­gal. When the GOP swept into office in 2010, Lowell went on The Colbert Report television show and joked that he'd ordered ample amounts of blue and red business cards.
But for all his celebrity, the case he's most known for is the defense of President Clinton during his impeachment hearings. In the case's final days, Lowell delivered an impressive closing statement, surely bound for inclusion in some legal textbook. "Impeachment is not a means to punish the President," he said in December 1998. "Impeachment is not a means to send a mes­sage to our children that the President isn't above the law. There are better ways to do that. Impeachment is not a vote of confi­dence for independent counsel [Ken] Starr. Impeachment is not a penalty for the President not answering the 81 questions as some of you would have wished." Lowell urged the House of Repre­sentatives to find another way to sanction President Clinton for his misdeeds, but the GOP-led House pushed for impeachment anyway. Two of four articles of impeachment passed the House by narrow margins, but both were defeated in the Senate.
For Lowell, defending the rich and powerful has been a "fas­cinating experience." In front of the cameras, celebrities and poli­ticians are enlarged beyond their stature, but when they are in trouble and discussing their cases in his modest office, "they are just as scared and insecure and worried about what will happen as anyone else. And everyone's entitled to a fair trial."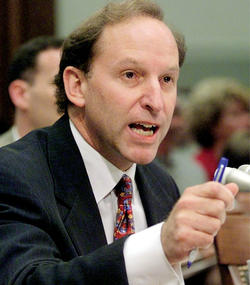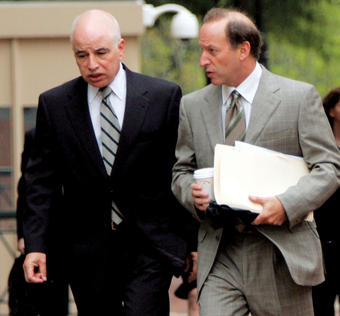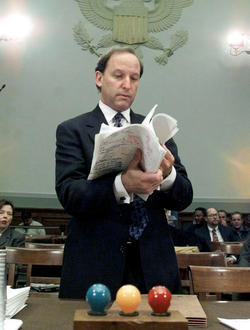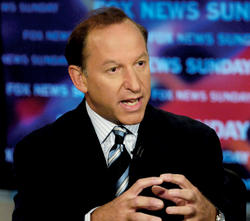 High-profile clients are routine for Lowell, who has defended accused spy Steve Rosen (top right) and former lobbyist Jack Abramoff (far left), among others. He is perhaps best- known for serving as Chief Minority Counsel of the House Judiciary Committee during the 1998 impeachment inquiry against President Clinton.
PHOTOS: (FIRST PAGE) SCOTT J. FERRELL/CONGRESSIONAL QUARTERLY/GETTY IMAGES; (THIS PAGE, FIRST ROW, LEFT TO RIGHT) LUKE FRAZZA/ AFP/GETTY IMAGES, WIN McNAMEE/GETTY IMAGES; (SECOND ROW, BOTH PHOTOS): LUKE FRAZZA/AFP/ GETTY IMAGES; (THIRD ROW, LEFT TO RIGHT): TOM WILLIAMS/ROLL CALL/GETTY IMAGES, AP IMAGES
Alex Kingsbury '04J wrote for US News & World Report from 2004–11. A native of Maine, he currently lives in Washington, D.C.