Obituaries
1933
Clarence S. Barasch, attorney, New York City, on August 31, 2010. A 1935 alumnus of the Law School and a member of the New York Bar since that year, Barasch was a WWII veteran stationed at Bletchley Park, United Kingdom; he was commend­ed by Her Majesty's Government in 2010. He was a lecturer and a frequent contributor to the New York Law Journal. Barasch was a member of The Real Estate Board of New York for more than 42 years, where he wrote numerous articles for the Annual Diary, including the "Outline of Real Estate Broker's Rights and Duties." Each year, Barasch reviewed and updated the articles as changes in the law occurred. He is survived by his sons, Lionel and Jonathan '88 P&S; daughters-in-law, Lili and Lisa; four grandchildren; and many nieces, nephews, grand­nieces and grandnephews.
1936
Herbert M. Olnick, retired radi­ologist, Blue Ridge, Ga., on July 25, 2010. Olnick earned a degree from P&S in 1939 at 21 and specialized in radiology at Emory University Grady Hospital in Atlanta. He began practicing radiology in Macon in 1949, then went to the Middle Georgia Hospital, from which he retired as president in 1974. Olnick and his first wife, Praise, were avid golfers and members of the Idle Hour Country Club. She, and his son, Richard, predeceased him. He is survived by his wife, Doris; daugh­ter and son-in-law, Jane and Terrance Lightbourne; daughters-in-law, Mary Irvin Paz and Helen; brother and sister-in-law, Jay and Catherine Olnek; six nieces; one nephew; five grandchildren; six stepchildren; and four step-grandchildren. Memorial contributions may be made to the American Cancer Society.
1940
Robert Benjamin, retired textile executive, New Rochelle, N.Y., on August 27, 2010. Benjamin was born on June 6, 1919, in New York City. He served with the 5th Air Corps in the Pacific and returned from Japan in 1945. He is survived by his wife, Betty K.; sons, John and Richard; and one grandson.
1941
Cecil H. London, magazine execu­tive, Greenbrae, Calif., on August 21, 2010. London was born in 1920 in North Georgia. He was inducted into the Navy Air Corps and piloted blimps, conducting coastal surveillance on the East Coast and in South America, retiring in 1945. London went to San Francisco as an advertising salesman for Time magazine. When Time introduced Sports Illustrated, London opened and managed the office. He later managed the San Francisco office of National Geographic. He is sur­vived by his wife, Nancy; daugh­ters, Dana and her husband, Kevin, and Barrie; son, Terry, and his wife, Teri; and six grandchildren.
1942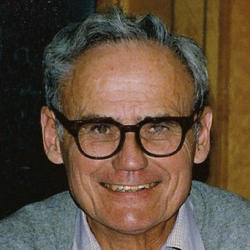 George C. Thompson '42 George C. Thompson, retired Columbia professor of business law and accounting, Greenwich, Conn., on October 12, 2010. Thompson was born May 3, 1920, in New York City. After graduating from the Business School in 1943 with honors, he was recruited by Arthur Andersen and Co. to open its Paris office, then earned a J.D. from the Law School in 1949. Thompson held the James L. Dohr Chair of Business Law and Accounting at the Business School and was best known as an expert in taxation. He also taught account­ing for lawyers at the Law School. Thompson was recognized both by students and peers as an outstand­ing performer in the classroom. He co-authored a number of law books and had a private investment, taxation and consulting practice for more than 50 years. He also was on the boards of the Greenwich Coun­try Day School and the Ellis Phillips Foundation. Thompson was the longest-standing active member at Indian Harbor Yacht Club, having joined in 1945. He is survived by his wife of 48 years, Barbara Churchill Thompson; daughters and son, Elizabeth Baird and her husband, Jay, Annie Masillo and her husband, Chris, and Stuart '87, '89 Business and his wife, Tiffany; and four grandchildren.
1943
Edward M. Marwell, business executive, Mount Kisco, N.Y., on September 7, 2010. Born on June 16, 1922, in Brookline, Mass., Mar­well grew up in New York City, where he graduated from Stuyves­ant H.S., and then from the College and Engineering, simultaneously earning degrees. During WWII he served as an officer in the Army Air Forces and was chief engineer of the Fifth Air Force Factory in Showa, Japan, as part of the Army of Occupation. Marwell settled in Mount Kisco and during the 1950s became active in local government. In 1968, he was elected as a Mc­Carthy delegate to the Democratic National Convention in Chicago. Marwell worked at General Preci­sion Laboratory prior to co-found­ing, in 1960, Curtis Instruments. He was president from 1960–2000 and chairman from 1960–2003. In 2003, Marwell received the Order of the Madara Horseman (First Degree) from the Republic of Bulgaria. He is survived by his wife of 67 years, Grace Glass Marwell; sons, Stuart '70 and his wife, Vicki, David and his wife, Judy, and Joshua and his wife, Chitra Bopardikar; daughter, Emily; eight grandchildren; and one granddaughter-in-law. Memo­rial contributions may be made to Mount Kisco Day Care Center, 95 Radio Cir., Mount Kisco, NY 10549.
1947
Edward B. Gold, retired writer and editor, New York City, on September 9, 2010. Gold was born in the Bronx. At the College, he was editor-in-chief of Spectator, associate editor of the Columbian and secretary of the Student Council. He earned a degree in 1948 from the Journalism School. His first job was as a caption writer for Acme Newspictures. In 1949 he joined the staff of the Gallup, N.M., Independent, where he was a reporter, sports editor and columnist. Gold returned to New York in 1952 and joined Fairchild Publications. From 1960–65 he specialized in manage­ment news for all the Fairchild papers and from 1965–91 was manager of Fairchild Books. He then retired but wrote first-person pieces for The Villager. Columns by Gold twice helped The Villager win Best Editorial Page in the New York Press Association's annual Better News­paper Contest. Gold was a leading member of the Reform movement that wrested Democratic leadership from Carmine DeSapio, the last head of the Tammany Hall political machine to be able to dominate mu­nicipal politics, more than 50 years ago, and a member for more than 40 years of the community board that covers Greenwich Village. He was predeceased by his wife, Annalee Kram, in 1998.
Robert H. Marshall, retired busi­ness executive, El Paso, Texas, on August 20, 2010. Marshall was born in New York City on July 11, 1923, and resided in White Plains, N.Y., until he moved to El Paso in 2002. He was a decorated WWII veteran, serving as a military intelligence interpreter doing liaison work with French counter-intelligence units as a member of the 6th Armored Divi­sion during the combat campaigns in Normandy and Northern France. He later earned a B.A. and then an M.A., from Johns Hopkins, and pursued an advanced degree at Harvard. He retired in 1988 after 35 years at IBM Corp. but continued working with a private contractor. Marshall is survived by his brother, Richard; niece, Abigail; and neph­ew, Stanley. Memorial contributions may be made to the Alzheimer's Association, PO Box 96011, Wash­ington, DC 20090-6011 or at alz.org.
1948
Thomas E. Murray Sr., retired ad­vertising executive, Venice, Fla., on August 5, 2010. Murray was born October 27, 1924, in the Bronx and graduated from Long Beach H.S. He served as a tech sergeant in the Army Air Corps, flying 35 missions over enemy territory during WWII. He was a master radio operator and bombardier on B-17 Flying Fortresses. Murray was a retired advertising executive of Thomas E. Murray Preprints. He was a pioneer in the field of newspaper free-stand­ing inserts. Murray was a member of Epiphany Cathedral of Venice, the VFW and the American Legion and was a lifetime coach and advocate of children's sports and the CYO. He is survived by his high school sweetheart and wife of 63 years, Joan; daughter, Susan Snyder and her husband, Will; sons, Tom Jr. and his wife, Jane, and Don and his wife, Louise; eight grandchildren; and one great-grandchild. Memo­rial contributions may be made to Venice Hospice House, 210 Wexford Blvd., Venice, FL 34293 or at tidewell.org.
Marvin A. Schlaff, United Nations official, New York City, on August 18, 2010. Schlaff was born in New York City on August 14, 1926, and educated at public schools and Birch Wathen. He spent two years at Engineering, then joined the Army as a radio/radar mechanic. Under the G.I. Bill, he earned a B.A. from the College. He next studied in Paris and spent two years in the La­bor Division of the Marshall Plan. In 1952, Schlaff returned to the United States with the intent of becoming a union leader. In 1953, he refused to sign a loyalty oath as required by the Bell System and told union members that they did not have to sign it, as it was not a condition of employment; he retained his job but lost his next union election and abandoned a union career. Schlaff then earned an M.A. in 1962 from SIPA, worked for the International Confederation of Free Trade Unions and the International Labour Orga­nization and in 1965 joined the U.N. Secretariat. After retirement, Schlaff worked part-time as secretary of the joint appeals board/disciplinary committee, the UN's internal justice system. He is survived by his wife, Marcia; children, Elizabeth, Antho­ny and Abigail; sister, Ruth Meyers; and four grandchildren. Memorial contributions may be made to the New York Public Library.
Irwin F. "Woody" Woodland, re­tired attorney, Seattle, on August 25, 2010. Woodland was born in New York City on September 2, 1922, and graduated from Benjamin Franklin H.S. in 1940. He served in the Army Air Corps as a navigator, flying missions over Germany and Italy. He was a POW at Stalag Luft III and was released in 1945. After earning a degree from the College, he gradu­ated from the Law School of Ohio State University in Columbus in 1959. Woodland joined the law firm of Gibson, Dunn and Crutcher as an associate in 1960 and retired a part­ner in 1992. He became a member of the California State Bar Association in 1960 and the Washington State Bar Association in 1991. Woodland was predeceased by his wife of 50 years, Sally Duffy, in 2005, and is survived by his children, Connie Woodland and her husband, Robert Peterson, Patrick and his wife, Lisa, Joseph and his wife, Katherine, Rev. Stephen, William and his wife, Linette, David, and Duffy and his wife, Tricia; 12 grandchildren; and sister, Catherine Howley. Memorial contributions may be made to Music Department, St. James Cathedral, 804 9th Ave., Seattle, WA 98104.
1949
Francois D. Vaillant, teacher, Pensacola, Fla., on September 14, 2010. Vaillant was born in 1926 in New York City. He graduated from the Edgewood School in Greenwich, Conn., served in the Air Force at the end of WWII and then attended Columbia, where he earned an M.A. from GSAS in 1953. He enjoyed the teaching profession in independent schools in Connecticut, Massachu­setts, North Carolina and Florida; he worked variously as coach, school­master and headmaster. His love for sailing drew him to Pensacola Yacht Club, where he was fleet captain and secretary in the 1980s. Vaillant also was involved with the Gulf Yachting Association in the 1990s, becoming commodore in 1998. He is survived by his wife of 59 years, Susan; children and their spouses, Frank and Patty Vaillant, Michelle and David Bell, and Madeleine and Jim Simmons; eight grandchildren; and a great-grandson. Memorial contribu­tions may be made to Manna Food Bank, Habitat for Humanity, Christ Church Parish or Covenant Hospice.
1952
Donald J. Bainton '52 Donald J. Bainton, business execu­tive, Boca Raton, Fla., on June 13, 2010. Born in New York City, on May 3, 1931, Bainton was a naval officer during the Korean conflict. After the war, he married Aileen Demoulins and began his corporate career with Continental Can Co., eventually becoming president. Following the sale of the company, Bainton acquired the name and formed a second Continental Can. In 1998, with sales nearing $600 mil­lion, he sold the company to Suiza Foods (now Dean Foods). Bainton again acquired the name, and a third Continental Can was formed, resulting in a recent acquisition in the United Kingdom. Bainton was a Knight of Malta. He is survived by his wife of 56 years; children, Kath­ryn Sarka, Stephen and William; and three grandchildren. Bainton was predeceased by a daughter, Beth, in 1998. Memorial contribu­tions may be made to Catholic Charities USA (800-919-9338).
Eugene C. Thomas, attorney, Boise, Idaho, on September 13, 2010. Thomas was born in Idaho Falls on February 8, 1931. He earned a degree in 1954 from the Law School and began his legal career as U.S. District Judge Fred Taylor's first law clerk.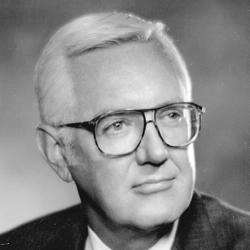 Eugene C. Thomas '52 He next worked in the Ada County prosecutor's office, first as an appointed chief deputy, and later, at 24, was elected to the office of Ada County Prosecuting Attorney. In the early '50s, Thomas and Willis Moffatt began the firm of Moffatt Thomas, now known as Moffatt Thomas Barrett Rock & Fields. Thomas was elected presi­dent of the Idaho State Bar at 40 and in the 1980s was the State Bar delegate to the American Bar Asso­ciation House of Delegates; he rose to chair of the House of Delegates in 1985 and was elected president of the ABA in 1986–87. He held honor­ary LL.D.s from the University of Idaho and the College of Idaho. He is survived by his wife of almost 60 years, Jody; sons and their wives, Mike and Martha, and Steve and Maureen; five grandchildren; and a great-granddaughter. Memorial contributions may be made to St. Mary's School, Mountain States Tumor Institute, the Boy Scouts or the Idaho Humane Society.
Harold H. "Hal" Wanamaker, retired otolaryngologist, Syracuse, on August 29, 2010. Born on May 18, 1930, in Suffern, N.Y., Wana­maker went to Syracuse for medical school and stayed for his internship and residency in otolaryngology (ear, nose and throat). Following a fellowship in otology at the House Ear Institute in Los Angeles, he was director of ENT at the military hospital in Landstuhl, Germany, for two years before returning to Syracuse to join the ENT practice founded by his mentor, Gordon D. Hoople. Wanamaker was a pioneer in the combined surgical approach with neurosurgery for acoustic neu­romas. He practiced for 30 years at Crouse Hospital and was a clinical professor at Upstate, where he was instrumental in establishing several endowed chairs. He retired in 1993 and enjoyed gardening, collecting and repairing antique clocks, root­ing for Syracuse and spending time at his cottage on Gananoque Lake in Canada. Wanamaker is survived by his wife of 55 years, Barbara; four children; 11 grandchildren; and two sisters. Memorial contribu­tions may be made to the Crouse Health Foundation, 736 Irving Ave., Syracuse, NY 13210 or the Barbara and Harold Wanamaker Scholar­ship Fund at the Upstate Medical Alumni Association, 750 E. Adams St., Syracuse, NY 13210.
1953
William M. Bason, pediatrician, Chesapeake, Va., on September 18, 2010. Bason was born in Yonkers, N.Y., on March 19, 1932. He went to Downstate Medical School and earned an M.D. in 1957. Follow­ing an internship at the Naval Hospital in Philadelphia, Bason had a brief tour of duty in Camp Lejeune, N.C., with the Fleet Marine Force, then went on to a residency program at the Chelsea NH and tours of duty in the United States and abroad. As chairman of the Department of Pediatrics at the Philadelphia NH, he established the first military neonatal and pediatric intensive care unit and received the Presidential Medal for Meritori­ous Service. Bason completed his 26 years of military service in 1979 as a captain. He then assumed the position of director of Ambulatory Care at the Children's Hospital of The King's Daughters, Norfolk. He later became medical director for Sentara Medical System. Bason was active in education throughout his career and published in a number of journals. He is survived by his wife of 52 years, Elizabeth; twin sons, Keith, and Kent and his wife, Yvonne; daughter, Kimberly, and her husband, J.P.; four grandchil­dren; and brother, Robert, and his wife, Paula. Memorial contribu­tions may be made to the American Heart Association.
Erik D. Wensberg, writer and editor, New York City, on June 5, 2010. Wensberg was born May 16, 1931, in Omaha, Neb. He was an editor of the Columbia Alumni News and founding editor of The Columbia Forum, a quarterly of fact and opinion. He returned as editor of Forum in 1971 and stayed until 1975. Wensberg reviewed books and wrote articles for The New York Times Book Review, Vogue, Com­mentary and other magazines. He developed a reputation as an expert on the American language, and in 1998, Hill and Wang, the publisher of Wilson Follett's Modern American Usage, selected him to revise and update the book. Wensberg was a longtime Greenwich Village resident who, as a founding member of the West Village Committee, worked with the late Jane Jacobs in the suc­cessful efforts to prevent the destruc­tion of the neighborhood some 40 years ago; he later joined her in the successful effort to block an urban renewal project that would have destroyed 14 blocks of the Village. Wensberg also was part of the fight to block Robert Moses' 1963 plan for the Lower Manhattan Expressway from river to river on Broome Street. His brother, Peter, died in 2006. In addition to Wensberg's sister, Eleanor Pelcyger, six nephews and a niece survive him.
1954
Daniel R. Thompson Jr., retired insurance executive, Queensbury, N.Y., on June 17, 2010. Born on December 31, 1932, in Port Chester, N.Y., Thompson graduated from Mamaroneck H.S. and earned a B.S. in economics from the College; he was active in the Air Force ROTC. Thompson had a long career work­ing for Continental Insurance Co., formerly Glens Falls Insurance Co. He was an innate woodsman, Boy Scout leader, camper, skier, snowshoer, boater and fisherman, and was ahead of his time recycling and repurposing "nothings" into "somethings." Thompson was active in the Catholic Church, spending many years affiliated with St. Alphonsus in Glens Falls. In retirement, he and his wife traveled more; they took cruises, visited Maine annually and, in 1999, drove to Alaska to visit their son Dan III as he worked on an archeologi­cal dig site at Sitka. Thompson is survived by his wife of 52 years, Ellie; children, Brian and his wife, Tammy, Annie Thompson Murphy, Chris and his wife, Maria, Kevin, Katie Elazar and her husband, Don, Dan III and his wife, Margan, and Elizabeth Bott and her husband, Eric; and four grandchildren.
Other Deaths Reported
Columbia College Today also has learned of the following deaths. Complete obituaries will be published in an upcoming issue, pending receipt of information. Due to the volume of obituaries that CCT receives, it will take several issues for the complete obituary to appear.
| | |
| --- | --- |
| 1935 | Walter W. Davis, attorney, Millerton, N.Y., on September 21, 2011. |
| 1937 | Daniel M. Friedman, judge, Washington, D.C., on July 6, 2011. |
| 1938 | Jerome Z. Lorber, real estate and bank executive, Floral Park, N.Y., on October 21, 2011. |
| 1940 | Justin N. Feldman, retired attorney, New York City, on September 21, 2011. |
| 1941 | Robert G. Dettmer, retired executive, New York City, on August 27, 2011. |
| | Richard H. Kuh, retired attorney, New York City, on November 17, 2011. |
| 1942 | Harry M. Bakalian, retired entrepreneur, Lakewood, N.J., on September 18, 2011. |
| | William Pfeffer Jr., pediatrician, Randolph, N.H., on September 25, 2011. |
| | H. James Sondheim, radio and television broadcaster, Trumbull, Conn., on August 6, 2011. |
| | Myron E. Steinberg, physician, Palm Beach, Fla., on October 22, 2011. |
| 1943 | Martin S. James, professor emeritus of art history, Ann Arbor, Mich., on October 11, 2011. |
| | Leon C. Komoroski, Brightwaters, N.Y., on April 22, 2011. |
| 1945 | Leonard F. Garr, pianist, San Francisco, on August 22, 2011. |
| | Joseph Nagl Jr., Purchase, N.Y., on May 25, 2011. |
| | Bruce A. Winner, retired executive, Lancaster, Pa., on August 11, 2011. |
| 1946 | David O. Feder, engineer, Madison, N.J., on November 15, 2011. |
| | Frank T. Turnbull, retired ob/gyn, Banning, Calif., on August 25, 2011. |
| 1947 | Joseph I. Kesselman, attorney and executive, Westport, Conn., on July 12, 2011. |
| 1948 | Harry E. Ekblom, attorney, banker and consultant, Osterville, Mass., on August 28, 2011. |
| | Philip E. Young, executive, Armonk, N.Y., on July 7, 2011. |
| 1949 | Irving H. Carno, physician, Cleveland, on September 6, 2011. |
| | Ross J. Wilson, retired actuary, Hilton Head Island, S.C., on September 23, 2011. |
| 1950 | Arthur S. Campbell, retired psychiatrist, Upper Saddle River, N.J., on July 9, 2011. |
| | Rev. S. Neale Morgan, minister, Marshall, Va., on April 30, 2010. |
| | Piero E. Weiss, musicologist and pianist, Baltimore, on October 2, 2011. |
| 1951 | Jay D. Battenberg, retired executive, Lenexa, Kan., on August 6, 2011. |
| | Robert E. Sullivan, retired engineer, Zionsville, Ind., on April 12, 2011. |
| 1952 | Edgar H. Schuster, educator, Melrose Park, Pa., on July 27, 2011. |
| 1953 | Howard M. Pettebone, retired bank executive, Whitehouse Station, N.J., on July 28, 2011. |
| | Rolon W. Reed, retired attorney and former mayor, Lake County, Fla., on September 18, 2011. |
| 1954 | George T. Fadok, Phoenix, on July 17, 2011. |
| | Patrick W. DiMartini, attorney, Fort Lee, N.J., on August 4, 2011. |
| 1955 | Denis A. Haggerty, retired executive, Melbourne, Fla., on July 11, 2011. |
| | Ferdinand J. Setaro, consultant, Haddonfield, N.J., on September 2, 2011. |
| 1959 | George R. Carmody, biology professor and DNA evidence expert, Ottawa, Ontario, on June 13, 2011. |
| | Robert W. Chatfield, librarian, Alstead Center, N.H., on December 24, 2010. |
| 1961 | Harold R. Cohen, Gwynedd, Pa., on March 12, 2011. |
| | Robert P. LaFiandra, physician, Middlebury, Vt., on September 3, 2011. |
| 1962 | Sylvain R.C. Fribourg, retired ob/gyn, West Hills, Calif., on April 24, 2011. |
| 1966 | Clyde P. Wachsberger, Orient, N.Y., on November 20, 2011. |
| 1967 | David G. Koffler, retired dentist, Navy captain, San Diego, on July 1, 2011. |
| 1974 | Mark A. Tessier, executive, New Orleans, on August 21, 2011. |
| 1983 | Peter D. Stevens, physician, Haworth, N.J., on August 13, 2011. |
| 1986 | Anthony D. Stark, film director and writer, Palm Beach Gardens, Fla., on October 19, 2011. |
1956
Seymour Wallace, anesthesiologist, Los Altos, Calif., on August 25, 2010. Born in New York City on June 4, 1929, Wallace was a naviga­tion officer in the Merchant Marine from 1947–53. He earned a degree in 1959 from P&S and specialized in anesthesiology. Wallace was a member of the faculty of Stanford University Medical School and sub­sequently practiced anesthesia at El Camino Hospital. He was president of the California Society of Anes­thesiologists and for two terms was president of the Northern California Anesthesia Society. Wallace was an avid sailor, stunt kite flier, gardener and supporter of the arts. He is sur­vived by his wife of almost 60 years, Flora; and daughter, Linda.
1962
Lawrence I. Lubkin, retired high school teacher, Tucson, Ariz., on Sep­tember 27, 2010. Lubkin was born in Brooklyn, N.Y., and graduated from Stuyvesant H.S. He earned a master's in biology from North Carolina Agricultural and Techni­cal State University. Lubkin taught high school chemistry and biology in New Jersey until his 1996 retire­ment. In 2002, he and his wife, Alice, vacationed in Tucson and decided to stay. It was in Tucson that Lubkin could enjoy his favorite pastime, cycling. He is survived by his wife of 27 years; daughters, Jennifer Lubkin and her husband, James May, Margaret Lubkin, and Andrea Maricich and her husband, Mitchell; one grandson; and brothers, Saul and Elihu. Memorial contributions may be made to the Leukemia and Lymphoma Society, Donor Service, PO Box 4072, Pittsfield, MA 01202.
1964
Leslie M. "Les" Pockell, publishing executive and literary anthologist, White Plains, N.Y., on July 26, 2010. Pockell was born in Norwalk, Conn. He was a v.p. and associate publisher at Grand Central Publishing during the decade before his death. In a long publishing career, Pockell worked at St. Martin's Press, Doubleday and the Book-of-the-Month Club before joining Warner Books, which became Grand Central, a division of Hachette Book Group USA. He ed­ited a diverse group of authors, from mystery writer Donald Westlake to literary critic Harold Bloom to actor and children's writer John Lithgow. Pockell also compiled numerous anthologies, including 100 Essential American Poems and The 101 Greatest Business Principles of All Time.
1987
Gregory C. Giraldo, stand-up comic, New York City, on Sep­tember 29, 2010. Giraldo was born in New York in 1965. He earned a law degree from Harvard and worked briefly as an attorney but made a career as an irreverent and sharp-tongued comic. He was a judge on the NBC reality televi­sion show Last Comic Standing and was a frequent guest on Comedy Central's celebrity roasts. He per­formed more than a dozen times on The Late Show With David Letterman and Late Night With Conan O'Brien and became a radio regular on The Howard Stern Show. Off-stage, Giraldo was nothing like his caustic on-stage persona, according to John Trueson, a comic and a promoter at Governor's comedy club, who said he had known Giraldo for about 20 years: "He treated everybody with respect, like they were his friend. He certainly wasn't a performer who had any attitude with anyone. He was a brilliant man, one of the smartest guys I ever met and one of the funniest guys I've ever met." Giraldo owned a home in Hampton Bays and enjoyed boating. He is survived by three sons.
2002
Irina Shekhets, attorney, Fair Lawn, N.J., on August 24, 2010. Shekhets was born in Kiev, Ukraine, and came to America in 1989, settling with her family in Brooklyn, N.Y., and later Fair Lawn, N.J. Upon starting col­lege, Shekhets was awarded a spot in the prestigious J.P. Morgan Schol­ar Program. She double-majored in economics and computer science, and after graduation joined J.P. Morgan-Chase, where she was an a.v.p. in the Competitive Intelligence Department. Shekhets graduated from Brooklyn Law School in 2010; she earned her J.D. while working full-time. At Brooklyn Law she was associate managing editor of the Brooklyn Journal of International Law. Shekhets died on her 30th birthday. She is survived by her husband, Guy Beider; parents, Boris and Tatyana; and sister, Marianna Shamis, and her husband, Felix. Memorial contribu­tions may be made to ZAKA or Chabad House of Kathmandu, Gha-2-516-4 Thamel, Kathmandu Nepal, 977-980-324-1294.
Lisa Palladino