Alumni Profiles
Jerry Kessler '63 Plays Cello for Bart Simpson
By Michael R. Shea '10 Arts
Whether you know it or not, you've heard Jerry Kessler '63's cello. It's immortalized in primetime and reruns, across the major networks and cable. Kessler, who left New York in 1963 to make his mark on Hollywood, is something of a specialist.
He plays the cartoon circuit.
The 70-year-old attorney and professional musician has performed with The Simpsons' orchestra for more than 20 years. His cello has been heard on other Fox cartoons such as Family Guy and American Dad!, and most recently in the hit Seth MacFarlane movie Ted.
When Kessler graduated from Roosevelt H.S. in Yonkers, N.Y., in 1959, he had no idea what lay down the road. He simply wanted to "be successful" and to make music. He'd chosen Columbia both for its opportunities and its proximity; his father had died from a heart attack during Kessler's senior year of high school. "It was the kind of thing, in those days, they didn't know how to fix — but these days they'd change the plugs, points and condensers and you'd be back on the golf course the next day," he jokes. "At the time, it seemed best to stay in town. I lived at home."
Kessler started out on a pre-med track but quickly decided he didn't have the zeal that drove his fellow students. So he made an appointment with professor Douglas Moore in the music department, arrived cello in hand and was accepted into the music program. He played in the Columbia University Orchestra under Howard Shanet '39, '41 GSAS, a professor, conductor and composer who later wrote an important history of the New York Philharmonic. He also produced 10 orchestra concerts, broadcasting them live over WKCR from Wollman Auditorium to the wider city.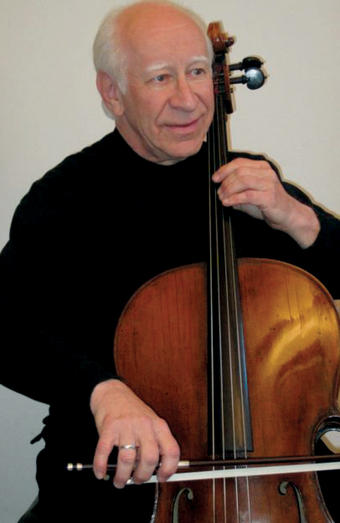 Jerry Kessler '63's cello can be heard on many TV and film soundtracks. Photo: courtesy Jerry Kessler '63With dreams of working in the entertainment industry, Kessler attended law school at UCLA; he graduated in 1966 and a few months later landed a job with Leonard H. Monroe, a well-known attorney who worked for Capitol Records, Columbia Pictures and other high-profile clients. Kessler recalls, "He said, 'You can't really do both things, practice law and pursue a professional music career.' I told him he was right, then proceeded to do both."
In fact, it was in the months between graduation and passing the bar that Kessler had unwittingly jump-started his professional music career when he called a number on a street flyer looking for a music copyist. (Until the 1990s when computers took over, musical scores and individual instrument parts were generally copied out by hand.) The band was The Mothers. The leader, Frank Zappa. Not long afterward, Zappa was putting together a show at the Roxy and asked his new copyist to audition. In the end, Zappa's selected ensemble included six woodwind players and Kessler on cello.
Fire took The Roxy before Kessler took the stage, and the gig busted. But then, in 1972, Zappa asked Kessler to perform on the album that became The Grand Wazoo; later, he toured with the band in the United States and Europe. "He wrote amazingly difficult parts," Kessler remembers. "We'd say, 'We can't play that!' And he'd say, 'Yes you can!' And we did .... Every May I'd call him to wish him a Happy Mother's Day."
The work also led Kessler to studio jobs — recording with orchestras, scoring television and film — all the while holding down a full-time job as an attorney. He met Hollywood composer Alf Clausen and worked with him on Moonlighting and the alien sitcom ALF. When Clausen signed on with The Simpsons in its second season in 1990, Kessler joined the orchestra on cello. "No one thought it would turn into much at the time," Kessler says. "Last year we did the 500th episode, and there's no end in sight."
With Clausen, Kessler also has recorded music for Family Guy, American Dad!, The Cleveland Show and the movie Ted. He's worked on other shows such as St. Elsewhere, Kung Fu, The Rockford Files and Hill Street Blues. His film scores have included The Shoes of the Fisherman, The Prince of Tides and The Jazz Singer. Some weeks Kessler might have five or 10 recording sessions for his various projects, other weeks he may have none. "The phone rings, you say, 'Yes.' You show up," he says.
Pamela Goldsmith met Kessler in 1961 when she was a student at Mannes College of Music, on East 74th Street. When she moved to Los Angeles, they reconnected, playing music in the same circles. Both played for Zappa — Goldsmith on viola — and both were hired on in the early days of The Simpsons' orchestra. These days they get together every few weeks and play chamber music for fun.
"Here's a guy who's very good at a number of different things. A lot of musicians, even very talented musicians are, well, really dingbats or have lots of other problems," Goldsmith says, laughing. "But Jerry, well, first off he's my attorney and has kept me out of trouble for a number of years. Then, he's a very fine cello player, a very fine conductor and he carries a certain joie de vivre that's hard to put into words."
Kessler has settled into semi-retirement, paring down his list of legal clients and performing with The Simpsons' orchestra whenever it rings.
In 2007, he married his wife, Joyce. He has two children from a previous marriage: Jennifer, the education director at the Orchestra of St. Luke's on West 37th Street; and Amy, who is close to completing a doctorate in physical education at Mount Saint Mary College in Newburgh, N.Y. Kessler also founded the Topanga Symphony, outside Malibu, Calif., of which he is musical director and conductor. This past summer he conducted a performance with both his daughters soloing with the orchestra, and self-published a memoir on Amazon.com called Daddy, Tell Me a Story (This is My Story, and I'm Sticking to It).
"I've had a good run," Kessler said. "Not that I plan to stop anytime soon."
Michael R. Shea '10 Arts is a freelance writer in New York City.