Alumni Profiles
Joanne Ooi '89 Is Willful Iconoclast
By Karen Iorio
One inch wide and 10 miles deep" is a surprising motto for Joanne Ooi '89, whose résumé includes leading a fashion brand, founding an environmental NGO and launching an online fine jewelry store, but she maintains that depth over breadth has been the unifying thread in her career. From convincing civic leaders in Hong Kong to confront air pollution to pioneering a social-shopping platform for her start-up website, Ooi approaches all of her endeavors with passion and intellectual curiosity.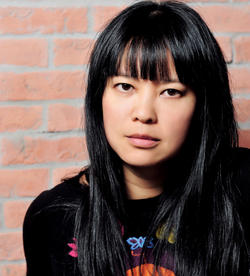 Joanne Ooi '89 credits Columbia with nourishing her abstract way of thinking. "I wouldn't do anything in an artificial or superficial way," Ooi says, speaking by phone from the Hong Kong home that she shares with her husband, John, and 13-year-old son, Sam.
Ooi has lived in Hong Kong since 1994 — a far cry from Cincinnati, where she grew up as one of the few Asian students in her high school (Ooi was born in Singapore). At the College she majored in political science and in 1993 graduated from Penn Law, but she wanted something radically different from the corporate jobs her classmates coveted. Then, while on vacation in Hong Kong, she recalls, "A job fell into my lap." The position, offered to her by a friend, was with Pearl City Associates, a buying office that supervised American brands that were manufacturing in the Chinese market. Ooi would be responsible for visiting Chinese factories to make sure products were being made to the designers' standards and to ensure they'd be delivered on time. She had been crazy about fashion since she was a teenager, but until then never considered it a viable career option.
The job gave Ooi a taste of what she calls "the wild, wild west" of Asia's fashion industry in the '90s as well as the myriad opportunities open to her. Clients included The J. Peterman Co. and Eileen Fisher. After a year, she was recruited to take charge of French shoe designer Stephane Kélian's sales in Asia. "I'd take suitcases full of shoe samples — 60 shoes — to Jakarta and Taipei with no contacts, going in cold," she says. "I'd set up a makeshift showroom in a hotel or go to the leading shopping mall and sweet talk my way into getting the numbers of the high-end store owners. I'd knock on doors and wrangle my way into appointments. I quintupled business. After three years, I knew every high-end retailer in Asia."
Ooi left Stephane Kélian in 1997 and started her own small company, Style Trek, both a physical and online boutique. Style Trek emphasized "style over fashion," Ooi says, or excellence and uniqueness in design over trends. In 2001, in the midst of the Asian financial crisis, Ooi decided to shutter her business and work for a more established company. She accepted a job as creative director of Shanghai Tang, a Hong Kong-based fashion line known for contemporary interpretations of traditional Chinese design such as intricate patterns, bright silk robes and Mandarin collars. By the time Ooi arrived, however, "It had become a gaudy pastiche of Chinese culture. We had to reformulate the DNA of the brand."
Her strategy, as always, was to go deep — in this case, reinventing the brand by approaching Chinese design history with scholarly focus. "I was serious about acquiring knowledge of Chinese culture," she says. "When we did a collection inspired by calligraphy, I decided to learn Chinese and study the history of calligraphy. Everything I did was an investigation."
Ooi's eight years at the company earned her accolades from Business Week, which in 2005 credited her for the company's 43 percent growth in worldwide sales over the previous year. A 2006 Fast Company cover story, "The Gucci Killers," lauded Ooi for elevating the brand to the level of fashion dynasties like Gucci and Armani.
By the end of 2008, Ooi was anxious for a new challenge. She stepped away from the Asian fashion world and began as marketing director of Filligrent Limited, a biotech company that at the time was manufacturing a cigarette filter that dramatically reduced inhaled carcinogens. So while her new venture marked a radical shift in her professional trajectory, Ooi sees it as in keeping with her personality as a "willful iconoclast" — an iconoclasm she credits Columbia with fostering.
"The liberal arts curriculum shaped me," she says. "I'm an abstract thinker and the College allowed my way of thinking to flourish. It was the first place where that was encouraged in me. I have a healthy disrespect for authority that's based on intellectual confidence."
As part of her job, Ooi attended a conference on clean air, where she participated in a breakout section on environmental toxicity. After learning more about air pollution and the health risks it poses, she decided to shift into environmental activism. Along with Christine Loh, a former Hong Kong legislator, and others, Ooi founded Clean Air Network in October 2009, an NGO that raises awareness of air pollution in Hong Kong.
Just two years after CAN's inception, in 2011, Ooi and Loh were named to Time magazine's list of the 100 most influential people. "That CAN even exists is surprising in a city notorious for its obsession with commerce almost to the exclusion of all else," Time wrote. Ooi's marketing background and connections allowed CAN to flourish.
"People took me seriously because I always understood why businesses were hesitant. I knew how to communicate to them and they could relate to me," Ooi says.
"I spent a huge amount of time engineering every message to be health focused: Air pollution kills people. It was a wake-up call to the public."
Ooi enlisted her friends from the fashion world, getting the backing of the largest shopping mall company in Hong Kong, which allowed CAN to promote its message on a 70-ft. billboard, in subway stations and in a television advertising spot.
A fellow CAN board member, Lisa Genasci, describes Ooi as fully engaged from the beginning. "She put the skills she learned as a creative director into political activism .... In fundraising pitches, she'd get very wrapped up, very passionate about working on the issues. Sometimes she would talk a million miles a minute. I would kick her under the table to get her to slow down."
While Ooi remains on the board of CAN, she stepped down as CEO in 2011 to again reinvent herself. Her latest venture, Plukka, is an online jewelry marketplace in which prospective designs are voted on by customers; those with enough votes are produced — at a cost that makes sense based on demand. "This business model brings creativity back into retail," she says. "It gives young designers a chance to get their products out there. There are a billion reasons against retailers taking risks on young, creative people. But [the Plukka model] gives us latitude to try something new."
In Plukka's second year, Ooi already is finding success at changing how consumers shop for fine jewelry online. On a recent fundraising round, She raised $2.5 million from angel investors. She plans to increase Plukka's inventory from 500 to 800 pieces in the coming months.
The company name derives from one of Ooi's favorite words — pluck, as in the spirited courage she brings to each of her passions in life. "I've always taken the harder route," she says. "It's personal commitment that gets you over the hump."