Alumni Profiles
Izhar Harpaz '91 Finds Stories That Matter
By Kim Martineau '97J
Early in his career in broadcast journalism, Izhar Harpaz '91 knew that the rush of chasing big, breaking news stories was not for him.
"I wanted to really delve into something and explore it from all angles, to see what was not immediately obvious," he says from his office at NBC Studios in New York.
Today, as a veteran producer at Dateline NBC, Harpaz has earned some of his profession's highest honors for his knack at finding surprise angles on the news. In the Elián González affair that reignited U.S.-Cuba tensions in 2000, he found a love story. In a public school in Atlanta, he found a first-year teacher determined to succeed. And in a Haitian village ravaged by cholera, he documented an unlikely mission by American volunteers to bring medical help.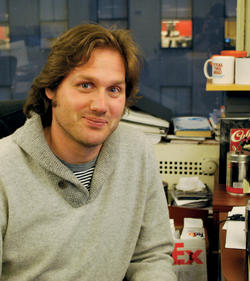 Dateline producer Izhar Harpaz '91, seen here in his office, seeks out unexpected angles on the news. PHOTO: KIM MARTINEAU '97JIn most Dateline episodes, a familiar correspondent such as Kate Snow or Lester Holt leads viewers through the story. But it is the behind-the-scenes work of producers like Harpaz that shapes the narrative that unfolds; the producer picks the characters, crafts the script and directs months of on-location filming.
While his name may be un-familiar to the viewing public, Harpaz is well-known among his peers: He has won two George Foster Peabody Awards for public service, two Alfred I. DuPont-Columbia Awards for excellence in broadcast journalism, two Edward R. Murrow Awards for TV, radio and digital journalism and three Emmys for television production, including one this year for the piece on Haiti, "Rescue in the Mountains," which won for "Outstanding Individual Achievement in a Craft: Video Journalism."
There are no trophies, though, on Harpaz's desk at 30 Rockefeller Plaza. Pictures of his wife and two daughters pinned above his computer speak to the quiet life he leads outside work.
Harpaz's path to Dateline had many twists. Born on a kibbutz in Israel, he lost his father at 3, when a mine exploded beneath the tractor he was driving. His mother remarried and moved the family to Germany.
At 14, Harpaz moved back to Israel, only to immigrate to the United States a few years later. He finished his senior year in Queens, working odd jobs to support himself, then studied at NYU for one year before moving to Florida to train for the Israeli Olympic swim team. He didn't make the team but, on a friend's advice, transferred to Columbia. There, he majored in history and German, swam on the varsity and coached the masters swim team.
Through a personal connection, Harpaz landed his first job in journalism, producing IDs for ABC News staff. He was quickly promoted to desk assistant on the overnight shift, where he took advantage of the slow, early-morning hours to come up with story ideas. Each week, he would leave a packet of pitches on World News Tonight anchor Peter Jennings' desk. Within a few months, Jennings offered Harpaz a job on his research team. After working his way up to assistant producer, Harpaz left for Dateline in 1996.
The Elián González story, nominated for an Emmy in 2000, was his first major success as a producer. In 1999, González's mother drowned at sea while attempting to flee Cuba in a motorboat with her son, boyfriend and 11 others. Elián survived, setting off a bitter custody battle between his relatives in Miami and his father in Cuba. An already tense relationship between communist Cuba and its capitalist neighbor exploded. As the story turned political, Harpaz and his TV crew traveled to the boy's hometown searching for a deeper truth. There they learned González's mother's secret reason for leaving: She was in love. It was not so much the promise of freedom in the United States or a better life financially. Her boyfriend had made his mind up to leave Cuba and so she decided to take Elián and go with him.
Over time, Harpaz has developed a set of rules to produce by. The first: Go where the story leads. In "Rescue in the Mountains," he remained in the remote Haitian village of Medor to film a risky medical mission even after host Ann Curry was evacuated due to election-year violence. "We were prepared to tell the story that developed and not push the elements into a storyline we'd imagined beforehand," he says. "That took a lot of planning but also quick-on-our-feet thinking as the story changed in front of our cameras."
His second rule: Treat casting as seriously as a Hollywood director would. "Someone may have a great story, but if they can't tell it you need to pass," he says.
Harpaz interviewed three Teach for America recruits before deciding on Monica Groves, the charismatic sixth-grade teacher in "The Education of Ms. Groves," which won a Peabody in 2006 and a duPont in 2008. He set out to make a film about public education in an inner-city school but knew the story's success would depend on finding the right teacher. "When I talked to Monica on the phone I really felt her honesty and passion," he says.
His third rule in producing stories about real people: gain their trust. He does this by trying to be as open and honest with his subjects as they are with him. Today Show host and Dateline correspondent Hoda Kotb credits that rapport for Harpaz's ability to capture the intimate moments that have become his signature.
"Izhar is authentic, and people respond to that," she says. "He literally falls in love with the people he meets. It's very personal."
With shoots that can stretch for months, relationships with subjects can become close. But there is a journalistic line that Harpaz is careful to observe. During the filming of Groves, in Atlanta, Harpaz watched the teacher grow increasingly distraught over a disruptive student. Through his reporting he knew that the girl was acting out because her father had recently been sent to jail, but he fought the impulse to share this information with Groves.
"They need to succeed on their own terms, without your help," he says.
When Dateline is looking to tackle a subject that does not lend itself easily to TV, Harpaz often is assigned to do the story, says the show's executive producer David Corvo. "Izhar is able to combine innovative storytelling with solid, old-fashioned journalism," he says. "We give him a premise and he knows how to challenge that premise — what any good journalist will do."
After finishing a piece in June that profiled several middle-class Americans in suburban Colorado adjusting to a new life of poverty, Harpaz in August was starting on a story closer to home, examining childhood asthma among New York City's poor.
"Doing documentaries about the poor is challenging," he says. "But it's an important story that can reach millions of people. Maybe it can change policy or get people motivated to do something. I'm privileged I get to do stories that matter."
Kim Martineau '97J writes about earth science at Columbia's Lamont-Doherty Earth Observatory.