Around the Quads
Lefkowitz Wins Nobel Prize in Chemistry
By Alex Sachare '71
Dr. Robert J. Lefkowitz '62, '66 P&S Photo: Duke University Photography
Dr. Robert J. Lefkowitz '62, '66 P&S, a professor at the Duke University Medical Center, shared this year's Nobel Prize in Chemistry with Brian K. Kobilka, a professor at the Stanford University School of Medicine. They were honored for their work in deciphering the communication system that the human body uses to sense the outside world and send messages to cells — for example, speeding the heart when danger approaches. This understanding is aiding the development of new drugs.
They will split the award of eight million Swedish krona, or about $1.2 million. The Nobels were to be presented by the Royal Swedish Academy of Sciences in Stockholm on December 10.
Lefkowitz is the 18th College alumnus to win a Nobel; the last was President Barack Obama '83, who won the Nobel Peace Prize in 2009. Dean James J. Valentini said, "Robert Lefkowitz is one of the great scientists who was trained at Columbia College. He began his scientific journey that led to this tremendous accomplishment as a chemistry student in Havemeyer Hall and went on to mentor other students at Duke. We are very proud of his extraordinary work."
Lefkowitz and Alvin Roth '71E, who shared this year's Nobel in Economic Science, bring the overall number of Columbia Nobel Laureates to 82 since the award was first given in 1901. That figure includes alumni of all schools of the University, faculty, adjunct faculty, researchers and administrators.
After earning an M.D., Lefkowitz completed his internship and one year of general medical residency at Columbia-Presbyterian Medical Center (now NewYork Presbyterian/Columbia University Medical Center). He is the second graduate of the P&S Class of 1966 to win a Nobel, joining Harold Varmus '66 P&S, director of the National Cancer Institute, who shared the Nobel Prize in Physiology or Medicine in 1989.
President Lee C. Bollinger congratulated Lefkowitz for joining "the long line of distinguished alumni and faculty who have been honored by the Royal Swedish Academy over the past century. We are especially gratified that as a double Columbia alumnus, Dr. Lefkowitz has continued to be actively involved in the University by serving on our medical school's Board of Advisors. This is a day for all of us to recognize the invaluable contributions to society made by research scientists and to celebrate the special achievement represented by Robert Lefkowitz's pioneering work."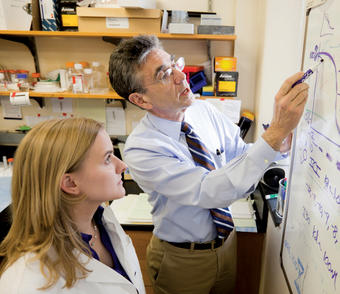 Lefkowitz is the 18th College alumnus to win a Nobel Prize, going back to Nicholas Murray Butler (Class of 1882), who won the Nobel Peace Prize in 1931. Photo: Duke University PhotographyLefkowitz said he was asleep and did not hear the ringing of the telephone early in the morning of October 10, when members of the Nobel Committee called to tell him that he had won. "I wear earplugs when I sleep and so my wife gave me an elbow," he said. "And there it was, a total shock and surprise, as many before me have experienced."
Lefkowitz and Kobilka were honored for discovering the inner workings of G-protein-coupled receptors, gateways to cells that react to chemical messages. In the 1960s, Lefkowitz explored the behavior of these receptors and in the 1980s, his group, which included Kobilka as a postdoctoral researcher, searched for and found the gene that produced one of these receptors. The genetic blueprint indicated that the shape of the protein included seven long spiral strings that wove through the cell membrane seven times.
That was almost the same shape as another receptor that had been found in another part of the body — the light receptor rhodopsin in the retina. Lefkowitz said his "real eureka moment" was realizing a family of protein receptors looked and worked similarly. About 1,000 of these G-protein-coupled receptors are now known, residing on the surface of cells and reacting to a host of hormones and neurotransmitters.
"A receptor was correctly assumed to be involved," said Sven Lidin, professor of inorganic chemistry at Lund University and chairman of the Nobel Committee for Chemistry, at a news conference on the day of the announcement. "But the nature of this receptor and how it reacted remained a mystery for a long time. Around half of all medications act through these receptors, among them beta blockers, antihistamines and various kinds of psychiatric medications."
Knowledge about the shapes of different receptors could refine drug design and is an area of keen focus for pharmaceutical and biotech companies. "We hope by knowing the three-dimensional structure we might be able to develop more selective drugs and more effective drugs," Kobilka said.
Lefkowitz, who received the U.S. National Medal of Science in 2008, was honored at a P&S alumni event last year and said he was inspired by his family practitioner to become a physician. "To me, medicine was like a priesthood. I always thought it was the highest and noblest thing you could do in life." Though he ultimately turned to research, he still feels that "being a physician is just the greatest thing in the world. When I write down my occupation, I still write down physician."
And what are the keys to his success? "The same things that made me successful as a physician made me good at research," he said. "The four keys are focus, focus, focus, and you can figure out the fourth. Persistence also helped."