Around the Quads
Five Accomplished Alumni To Be Presented John Jay Awards in March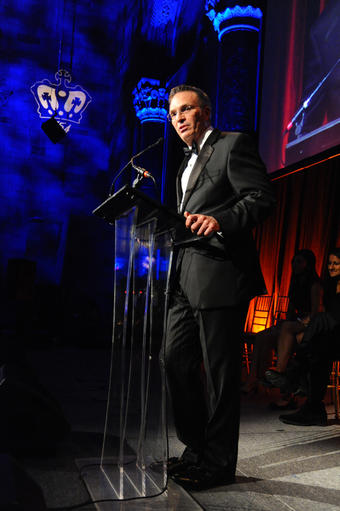 Dean James V. Valentini will be among the speakers at this year's awards dinner.PHOTO: EILEEN BARROSOOn Wednesday, March 6, five accomplished alumni will be presented with 2013 John Jay Awards for distinguished professional achievement at the annual John Jay Awards Dinner at Cipriani 42nd Street in New York City.
Proceeds from the dinner benefit the John Jay National Scholars Program, which aims to enhance academic and extracurricular experiences for outstanding first-year College students. John Jay Scholars are invited to participate in panels, discussions and outings. A current John Jay Scholar will speak at the dinner, along with President Lee C. Bollinger, Dean James J. Valentini and the honorees.
This year's honorees are Thomas Cornacchia '85; Katori Hall '03; Kai-Fu Lee '83; Mike Schmidtberger '82, '85L; and George Yancopoulos M.D., Ph.D. '80, '86 GSAS, '87 P&S.
Cornacchia is a managing director and head of sales for Fixed Income, Currencies and Commodities in the Americas at Goldman Sachs and a member of the Columbia College Board of Visitors. He was a four-year letter winner for Columbia's heavyweight rowing program.
Hall is an award-winning playwright and performer. She has received acclaim for her works in London and New York; her play, The Mountaintop, an account of the night before Martin Luther King Jr.'s assassination, won "Best New Play" at the Oliver Awards, Britain's equivalent to the Tony Awards. Hall is an artist in residence at The Pershing Square Signature Theatre in New York. At Columbia, she majored in African-American Studies and studied creative writing.
Lee is the founder, chairman and CEO of Innovation Works, an investment company and business creation platform that mentors entrepreneurs and high-tech companies in their effort to develop products focused on the Internet, mobile Internet and cloud computing. Prior to founding Innovation Works, he was a Google v.p. and president of Google Greater China. He also has held upper-level positions at Microsoft, SGI, Cosmo Software and Apple. From 1988–90, Lee was on the faculty at Carnegie Mellon, where he earned a doctorate. He is the author of five best-selling books in China.
Schmidtberger is a partner at Sidley Austin and the global co-head of the Investment Funds, Advisers and Derivatives group at the firm. While in law school, he was editor-in-chief of the Columbia Human Rights Law Review. He is a former member of the Columbia College Alumni Association Board of Directors.
Yancopoulos is president of Research Laboratories and chief scientific officer at Regeneron Pharmaceuticals. He has a distinguished record of scientific achievement and is an author of a substantial number of publications, and is a member of the National Academy of Sciences.
For more information on the dinner, contact Robin V. Del Giorno, associate director, College events and programs: robinv@columbia.edu or 212-851-7399, or go to the Columbia College Alumni Events calendar: college.columbia.edu/alumni/events.