Around the Quads
Shayna Orens '15 Seeks a Global Perspective
By Nathalie Alonso '08
Whenever Shayna Orens '15 is asked for her resume, she worries the reader will be perplexed by her eclectic list of activities, which range from scientific (tracking howler monkeys in Costa Rica) to artistic (attending music camp in New Hampshire) to political (discussing the Egyptian revolution with local students in Cairo).
"It fits together eventually," assures Orens as she explains that these and other endeavors are preparation — retrospectively, in some cases — for a career in international affairs and diplomacy.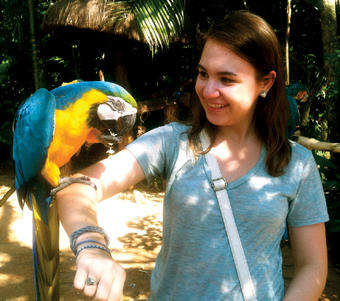 Shayna Orens '15 poses with a macaw at Parque das Aves in Brazil, where she studied abroad during summer 2012. Driven in part by a passion for travel, Orens has been immersing herself in other cultures and volunteering around the globe since high school. In summer 2009, in one of her earliest experiences abroad, she spent several weeks observing monkeys and living in a research station in Costa Rica's Manuel Antonio National Park through Kids Saving the Rainforest. More recently, the Baltimore native spent last summer in Rio de Janeiro, where she studied Portuguese and volunteered at Espaço Criança Esperança (Children's Space for Hope), an organization that provides social and educational support for youth in one of the city's many slums. Orens was a mentor, engaging students ages 14–17 in conversations about current events.
"I really want to learn about a place from the inside out, and volunteer work has allowed me to do that," she says. "Learning isn't something that ends when I come home; instead, the experience abroad is a springboard and opportunity to think about things differently."
Orens set her sights on Brazil after traveling to Cairo in March as part of a weeklong program organized by the Division of Student Affairs' Office of Civic Action and Engagement through the nonprofit Hands Along the Nile, which promotes cultural exchange between Americans and Egyptians. In the mornings, Orens and several other students volunteered at an orphanage in the Egyptian capital's garbage collecting district, home to the city's unofficial sanitation workers. In the afternoon, they met with local students, activists and NGO leaders to talk about the 2011 revolution. Formal meetings took place at the U.S. Embassy, but students also dialogued over coffee and dinner.
"We got to see a lot of different sides to the revolution in Cairo, not just from students but also from an underprivileged community and activists who had been very involved," Orens says.
For Orens, who has played the viola since she was 8, the first foray into the realm of international affairs came, somewhat unconventionally, through her love of chamber music. During summer 2009, after returning from Costa Rica, Orens spent two weeks at the Apple Hill Center for Chamber Music in New Hampshire. There, she participated in the center's Playing for Peace program, which brings together musicians from conflicted areas of the world. Her experience was so moving that she returned the following summer.
"It's really interesting the way you get to know people by playing music together. It's much different than if you were just to sit down and have a conversation. You have to really be in the other person's head and feel the pulse together. That's a really special connection to have with people," says Orens, who played in a quintet with musicians from Israel and Jordan. "That made me interested in learning more about international affairs. Where do these people come from? What's going on there? How can we apply this in the world and in negotiations?"
Orens plans to major in political science and sustainable development. She continues to take viola lessons through the music department and, as a first-year, was a member of the Columbia University Orchestra, which led to a performance at Carnegie Hall. She also has found an outlet for her diverse interests in Spectator, for which she covers environmental and sustainability issues and writes arts reviews.
Core Lecturer Margo Rosen '11 GSAS believes the critical thinking style Orens exhibited in her Lit Hum class is aligned with her career goals. "Shayna's fearlessness and associative thinking were great assets to our Lit Hum class," says Rosen. "I could see her approaching other cultures, languages and problems in the same way she approaches texts: enthusiastically, empathetically and intelligently absorbing, understanding and responding."
Though she loves to explore new places, having a home base is important for Orens and is one of the reasons she chose the College. "I really loved the sense of community here," she says. "Being in New York, I think that's really important, because it can be an overwhelming place if you don't have that. Having a campus that feels like home to come back to at the end of the day — I really love that."
Nathalie Alonso '08, from Queens, is a freelance journalist and an editorial producer for LasMayores.com, Major League Baseball's official Spanish language website.