Cover Story
Ronald Breslow Sees Magic in Chemistry
Packing into the span of one interview the details of a 56-year career that includes the development of a cancer-killing drug, the establishment of a new field in chemistry and a key role in the College's transition to coeducation is no mean feat. "Will we go through tomorrow or just today?" Ronald Breslow jokes.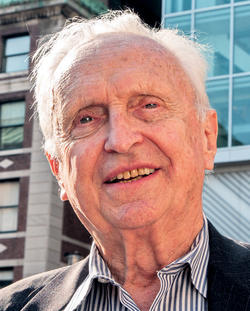 It helps that the University Professor and chemist packs in a lot of words per minute (sympathy goes to the students taking notes in his classes). But his quick-talking speech pattern seems a function of excitement as much as expedience. After all, this is an 81-year-old who describes chemistry in the same terms he did as a sixth-grader — as "magic stuff."
"In synthetic chemistry, we make new things — molecules that never existed. You say, 'Well, how much of that can you do?' The best estimate is that the number of molecules you could make about the size of a typical drug, with the typical elements in it, is 10 to the 40th — that's 1 with 40 zeroes after it." He laughs. "So forget about it, there's no way you can exhaust this field. Absolutely no way."
Breslow, who earned an A.B. in chemistry, A.M. in biochemistry and Ph.D. in organic chemistry, all from Harvard, has worked at Columbia since 1956. His extensive accolades include the Arthur C. Cope Award; the Priestley Medal, the highest honor conferred by the American Chemical Society (ACS); and the National Medal of Science. From Columbia he has received the Mark Van Doren Award, and from the Society of Columbia Graduates, the Great Teacher Award. Just as telling as the awards he's received is the one that ACS established in his name, in 2001, which recognizes outstanding contributions to biomimetic chemistry — a field of which Breslow is considered the father. He coined the phrase in the mid-1950s to describe a "new chemistry based on the principles used by nature."
"What we do is look at how enzymes work and say, 'OK, that's how nature does it — how can we do the same thing?' We're learning from what nature already does rather than start from scratch with nothing."
Breslow calls it an ancient idea, adding: "When people were trying to figure out how on earth they were going to fly, they looked at insects and at birds, and they said, 'Wings! Boy, that's a good idea. Let's try that.' And then for a while they tried flapping wings and that was a fiasco; you don't want to imitate everything. But still: Everything that flies has wings, so that's obviously the trick."
Breslow put his conception of biomimetics to work most notably with suberoylanilide hydroxamic acid — SAHA, as he called it in the lab, or Zolinza as it's marketed by Merck, which owns and manufactures the drug for the treatment of cancer. A computer-generated image of the molecule hangs above a couch in Breslow's spacious office in Chandler Laboratory. It appears as a string of yellow globes, hugging the gridded outline of a protein.
"That is a really nifty molecule, and it deserves to be up there," he says.
Breslow's work built on research by Charlotte Friend of Mount Sinai Medical Center in Manhattan, who discovered that "a very common solvent would take a particular kind of cancer cell and turn it into a normal cell." The problem was that an enormous amount of the drug would be needed to meaningfully curb cancer in humans.
Dr. Paul Marks '46, '49 P&S — then-dean of the Medical School and president emeritus of Memorial Sloan-Kettering Cancer Center — who knew Friend and her work, approached Breslow in the early '70s with the challenge: "What can we make that would be more potent and would still work?" Breslow and his team created close to 1,000 compounds in pursuit of their goal. "Eventually we improved the potency of the thing by about more than 100 millionfold."
That breakthrough occurred in 1987, but years of fundraising, development and human trials still lay ahead. In 2001, Breslow, Marks and a few other colleagues formed a small company, Aton Pharma, with a license from Columbia for the underlying technology, and in 2004 sold that company to Merck. SAHA was approved by the FDA in 2006 as the first-of-its-kind prescription drug. In essence, "it stops cancer cells from growing, then in half the cases turns them into normal cells, while in the other half they commit suicide — a process called apoptosis." Today, it also is being considered for use as a treatment and possibly a cure for AIDS.
Breslow and his wife, Esther, a biochemistry professor now retired from Weill Cornell Medical College, used proceeds from the sale of Aton to establish the Esther Breslow Professorship in Organic or Biological Chemistry. (The professorship also was funded by Gerry Lenfest '58L, part of his 2006 pledge to match gifts for endowed faculty chairs in the Arts and Sciences.) The chair will be renamed upon Breslow's retirement to recognize him as well: "My wife likes the idea that, 100 years from now, we're going to be together on this," he says.
As it happens, Breslow grew up in Rahway, N.J., where Merck's headquarters is located. His father was a doctor, and many of his patients were chemists with the company — which is "how I learned there was even such a field as chemistry." A family friend who also was Merck's chemistry director gave the young Breslow a college textbook on organic chemistry. "I'm in sixth grade reading this stuff, and the poor guy who was teaching chemistry at my high school had no idea what I knew."
"The course is challenging ... That's what a university ought to do: get people to perform up to their peak of ability."
Breslow's enthusiasm extends to his work as an educator. Some 130 Ph.D. theses — red hard-back volumes from Merle Battiste '59 GSAS to Severin Thomas Schneebeli '11 GSAS — hold a prominent space on a long shelf in his office. He teaches, among other courses, a freshman-only organic chemistry class, designed for students who have done a significant amount of preparatory work in high school. "Mostly they are people who want to be scientists. Usually about halfway through the course they say, 'How can we get into research?' And we do get them into research, and many of them go on to pursue very good careers in the field," he says.
"The course is challenging and all of them say they never knew what it meant to work, to study, before — but that's good for them. That's what a university ought to do: get people to perform up to their peak of ability." With only 30 students in the class, he adds, he is able to give them all serious attention.
Breslow's place in Columbia history also is assured for his role as chairman of the committee of faculty and alumni that, in 1980, explored whether the College should admit women. ("I did it in part because I had two daughters who would have gone to Columbia if they could, but had no interest in going to an all-girls' school.") With Barnard's well-being in mind, the committee looked at about a dozen other places where an all-male college in proximity to a women's college had made the transition, and in each case the women's college survived. The final recommendation was for coeducation.
"The first year we did it [1983], the incoming class was 45 percent women, right away, as soon as we opened the door. And then four years later, they had won all the prizes. Now, is that so bad?" he says, laughing. "If it hadn't worked out, it was pretty clear who would be blamed, and that was fine with me. I think that's part of the responsibility of a thing like that. You come in with the best case you can, and you're certainly willing to be the person who they say, 'He brought that?' But I wasn't worried."
Considering the whole of his career, Breslow is hard pressed to single out the accomplishment of which he is most proud. Instead, he returns to the passion that underlies them all: "We're in the business of understanding not only the world as it is, but also the world as it can be, which is a big, very exciting area. We think about new things and we can create new things, and then we can find out how they work and what they do. Even after all these years, I still think that's a special thing."
Alexis Tonti '11 Arts, CCT's managing editor, wrote the profiles of Breslow, Broecker, Sidorsky and Terrace. Photos by Leslie Jean-Bart '76, '77J.