Cover Story
Wallace Broecker Is Dean of Climate Scientists
On a crisp fall day that serves as an advertisement for working at Lamont-Doherty Earth Observatory, Columbia's bucolic 157-acre campus west of the Hudson River in Palisades, N.Y., Wallace Broecker '53, '58 GSAS emerges unexpectedly (and unmistakably) from around a bend in the sidewalk: there is the trademark ruffled hair, black jeans and sneakers; a small compass hangs from his belt.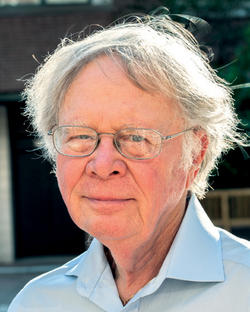 Broecker's errand would be unremarkable were it not for the impromptu tour that results and the hellos he exchanges with every passerby along the way. This is a man who loves his work, a point that's underscored when, back in his wide-windowed office in the Gary C. Comer Geochemistry Building, Broecker declares: "Lamont is, for me, the place. The people, the quality of the science, the beauty of the campus. There's nothing else in the world that can touch it."
Indeed, the whole of the geochemist's 58-year career has been set at Lamont. (He was a research associate for Professor J. Laurence Kulp while earning his Ph.D. in geology.) In that time, Broecker has taught hundreds of undergraduate students, mentored 50 graduate students and 35 postdoctoral fellows, and published 480 papers and 11 books. His many honors include the National Medal of Science and the Vetlesen Prize, widely considered the geoscience equivalent of a Nobel Prize. He was a pioneer in radiocarbon and isotope dating — critical tools for mapping the earth's past climate fluctuations — and he developed the concept of the "great ocean conveyor," which helps explain instances of abrupt climate change.
Oh, and he is "the father of global warming" — though Broecker wrinkles his nose at the moniker: "I'm known as that, for better or worse. I don't really like the idea," he says, pointing instead to scientist Charles David Keeling, who in the late '50s began the regular collection and testing of air samples that demonstrated the steady rise of carbon dioxide in the atmosphere.
"It was the first time anybody measured CO2 accurately enough that you could start to think about getting a time trend, and that record continues through today. He was the one who had the vision to do that, and did it, and was a demon for accuracy," Broecker says.
Broecker's own insistence on accuracy is admirable, but certain facts remain: In 1975 he published a seminal paper in the journal Science, titled "Climatic Change: Are We On the Brink of a Pronounced Global Warming?" In a word, his answer was "yes" — and today he is credited for popularizing the phrase as well as for his prescience in predicting the current trend in global temperature increases as a result of rising CO2 levels.
Broecker developed what he calls his best idea, the great ocean conveyor, in the 1980s. It was born from his desire to explain the abrupt coolings and warmings evidenced in borings that had been drilled from the Greenland ice cap. Put simply, the conveyor is a global ocean current that transports heat, water and other materials around the world. (The current's magnitude is tremendous; imagine all the rivers in the world flowing through a single pipe — and multiply the force by 20.) Broecker quantified the amount of water that was being shuttled around as well as the amount of heat it released to the atmosphere and showed how shutdowns and rejuvenations in the conveyor's circulation triggered dramatic swings in global temperatures.
Father of global warming? "I'm known as that — for better or worse."
"Before, people were mad to explain glacial cycles in terms of astronomical changes." He picks up a pencil, moving it slowly to demonstrate the earth's procession, then elliptical orbit and finally axial tilt.
"When I came along and said that the ocean's circulation had been changing drastically, and we now think these ocean reorganizations are superimposed on the astronomical changes — and together they somehow drive the climate system — that threw a wrench in. But it's just fascinating, and beautiful, to think it's been doing the same thing over and over again on a 100,000-year time scale."
Broecker's first article on the subject appeared in Natural History magazine in 1987 and though "the details have changed a bit since then," the concept still holds true. He also is quick to point out that, for all our advances in understanding, no one knows how our climate system will respond to all the CO2 that's being added. (Broecker often likens the world's climate to an angry beast that we're poking with a stick.) He describes a future of changing rainfall patterns, sea level rise, wildlife transience and decline in grain yields.
"We may luck out, and the consequences might be on the small side," he says. "But the computer simulations suggest otherwise … [they say] that the probability that the warming will be greater is much more than the probability of the warming being smaller. It is really scary."
The slow progress in government's accepting, let alone addressing, the situation frustrates him.
"Nobody says the simple thing: If we're going to stop CO2 from going up, we need to cut fossil fuel use by 90 percent. That means running Priuses ain't going to do it, and windmills ain't going to do it.
"To solve this problem, it's going to require that an entity be created that has full control over climate on the planet. And what I think is that, in the interim, we have to collect CO2 back out of the atmosphere and bury it. Otherwise we're going to have CO2 around 800 parts per million and the climate is going to be very, very different."
Broecker, who is the Newberry Professor of Geology in the Department of Earth and Environmental Sciences, describes his big talent as being able to see connections between seemingly disparate areas of information. He adds, "The pleasure you really get in science is to beat nature and find out something that nobody else has ever figured out, and then you feel real good. That's what you're trying to do. It's like putting together a picture puzzle and finding a piece that you've been looking for for two days."
But for all his success in big-picture ideas, Broecker names his experience in the field with GEOSECS — shorthand for Geochemical Ocean Sections Study — as "the Camelot of my career," explaining:
"During the 1970s the National Science Foundation had what it called the International Decade for Ocean Exploration. And what it did for the first time was try to put together bigger, multi-institutional projects that involved lots of people. So some of my friends and I got the idea to do a complete survey of the world's oceans, measure all its geochemical properties."
The expedition took place in several legs, beginning in 1972 and finishing in 1978, and included sampling at 454 stations in the Atlantic, Pacific and Indian Oceans.
"That was really very satisfying. A lot of it was mechanical — we were doing the same thing at every station — but the idea, that we were the first ones to ever map the ocean. And that has become the foundation for all subsequent studies. They all go back to that, because it laid out what the ocean was like for biologists and geochemists and so on."
The data set provided the foundation for Broecker's textbook Tracers in the Sea: "It was written in 1980 and people still want it, which is a great compliment." More recently, Broecker played a role in developing Frontiers of Science, which was added to the Core Curriculum in the early 2000s.
Broecker looks out his windows, where the light is signaling the late-afternoon hour, before returning to the subject of Lamont. He was chairman of the geology department from 1978–80. "That was the only time I've done administration in the sense of having an official title …. But I've worked very hard to help keep this place going, and I think I can take a modest amount of credit for the fact that Lamont is what it is."
Here he offers a history of the shuttle bus service between Morningside and Lamont, and its value to students and staff, but fails to mention his influence with the late Gary Comer, founder of Lands' End clothing retailer, which led among other things to Comer's $18 million donation toward the construction of the building in which Broecker now sits. Instead, he concludes:
"Things have just gotten better and better. I would be crazy to ever leave."
Alexis Tonti '11 Arts, CCT's managing editor, wrote the profiles of Breslow, Broecker, Sidorsky and Terrace. Photos by Leslie Jean-Bart '76, '77J.