Cover Story
Herbert Terrace Studies Evolution of Language
If Herbert Terrace had his way, before any discussion about his research in the evolution of language, he would put everyone into a room for a quick lesson in breaking the habit of anthropomorphism.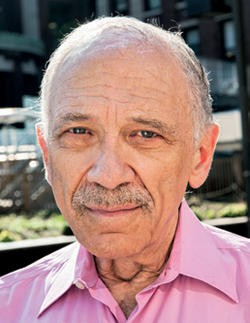 Not that the psychologist is unsympathetic to the impulse. "We're ingenious at it — Aesop's Fables, Doctor Doolittle — it's reinforced everywhere a child looks, more films and books about talking to the animals. I think that's because, in addition to language, we also became very empathic, so we tend to project our feelings onto the animal as if it's just another part of the family. I talk to my cat; she understands. It's natural."
But to Terrace's mind, the tendency can cloud people's judgment as it relates to his work, which is grounded in the conviction that nonhuman primates are incapable of using language like humans. Terrace famously came to this conclusion in the 1970s, after a three-year study that involved teaching sign language to a chimpanzee. And he has focused much of his career since developing a theory that explains how humans arrived at language when simians did not. Or as he puts it, "how we got to the first word."
Terrace is speaking from his office in Schermerhorn Hall where, on the wall opposite his desk, in winking recognition of his life's work, hangs a large print of monkeys — many, many monkeys — sitting before computers. "There's an expression, if you leave a monkey at a typewriter long enough, they'll eventually type Shakespeare. Well, if you look at what's on their screens, they're typing Shakespeare."
The Brooklyn-raised Terrace, who has worked at Columbia since 1961, earned a B.A. in psychology and an M.A. in experimental psychology from Cornell, and a Ph.D. in psychology from Harvard. There, he studied under the famed psychologist B.F. Skinner, known for his theories in operant behavior. (The basic idea is that behavior is determined by its consequences, be they reinforcements or punishments, which make it more or less likely that the behavior will occur again.) "He was a brilliant guy, and I said, 'That's my role model,'" Terrace recalls.
As a graduate student, much of Terrace's work focused on pigeons — his dissertation showed how they could learn to tell colors apart without making mistakes — but after coming to Columbia he found his way back to a subject that had interested him as an undergraduate: language and behavior. One catalyst was his reading of Verbal Behavior, a 1957 book by Skinner that had been notoriously criticized by the MIT linguist Noam Chomsky. Terrace also was intrigued by reports of people who were training chimpanzees to use human languages — among them, a couple at the University of Nevada who in the late 1960s taught American Sign Language to a chimp named Washoe.
But, Terrace says, the couple's work was largely anecdotal. He envisioned taking the next step — not only training the animal but also documenting and rigorously vetting the results.
Thus in 1973, Terrace embarked on a research study with a chimpanzee named Nim Chimpsky (a nod to Chomsky, who insisted that language as we know it is innate and unique to humans). At first the infant Nim lived with the family of a psychology student studying with Terrace, in a Manhattan brownstone; as he grew older and more rambunctious, he was transferred to a sprawling estate owned by Columbia in the Riverdale section of the Bronx.
"I had teachers around the clock, from when he woke up till when he went to bed, whispering into a recorder whatever signs he made and the context in which he made them …. Across a roughly three-year period I collected upward of 24,000 utterances in sign language and not only that, but during a two-year period I only looked at combinations of two or more signs."
These combinations and the order in which signs appeared ("more banana" versus "banana more") were key, as they went to the question of whether Nim was creating complete grammatical sentences. "I thought I succeeded in showing I could teach a chimp sign language, and that I had the documentary evidence," Terrace says.
He was preparing to submit his results to the journal Science when, while looking at videotape of Nim working with teachers, he realized something critical: Nim was not signing spontaneously; rather, the teachers signed most of what Nim signed, about a quarter of a second before he signed it. Terrace had simply been so fixated on watching Nim's actions as not to recognize the connection; he characterizes it now as the difference between looking through a telephoto lens and panning back for the wide-angle shot.
Terrace's ultimate conclusion? That Nim was "a brilliant beggar."
"Nim learned he had to move his hands in some way to get a specific reward, say an orange. But that's totally different, in my opinion, from using language in the modern sense. We use language to have conversations. I realized in hindsight that nobody had a conversation with Nim. He just said, 'gimme, gimme, gimme' and then he got. But he didn't say 'thank you' or 'this is an interesting-looking orange' or anything like that."
Project Nim ended in 1977 — a documentary by the same name, recounting the study, was released in theatres last year — and Terrace published a paper with his conclusions in Science in 1979. However it wasn't until he was on sabbatical at Oxford, in 1984, that he "really began to think about what all of this meant. And ever since then, I've been reading and reading, trying to figure out why we talk and they don't."
Terrace is writing a book now on the evolution of language. Among other things, he distinguishes between these two types of language, the imperative commands such as "gimme, gimme," and the conversational. (He also addressed the subject for the annual Schoff Lecture Series, which took place in November at The Kellogg Center at SIPA.) "We [humans] sort of seamlessly go from one to the other, but people don't realize the profound difference," Terrace says. "You would never get a chimp to go from stage one to stage two."
From 1985 until this past June, Terrace conducted most of his research at his Primate Cognition Lab (the lab initially operated out of borrowed space at Lehman College, but moved to Columbia in 1995). He and his team cared for about a dozen male rhesus macaque monkeys. "I always had about six or seven undergraduates as volunteers, and you couldn't tear them away." Research focused on monkeys' memory systems — for example, testing the animals' recall for the equivalent of a seven-digit PIN at a cash machine — only instead of numbers, they were asked to pick out photographs that appeared in a different configuration each time. Analyzing their performance, he says, held clues to understanding the evolution of human cognition and its pre-linguistic origins.
Terrace's honors include a Guggenheim Fellowship, All Soul's College Fellowship and Fulbright Senior Research Scholarship. As for his teaching, he has helmed an introductory course in psychology for "at least 25 years." For a long time he supplemented that with smaller classes on animal behavior. More recently, he's shifted toward courses on the evolution of language, consciousness and cognition.
"I like teaching; you get wonderful stimulation. Every year the population changes, both the undergraduate and the graduate students, so you get new blood — and that means you get new, different kinds of reactions."
Looking back at his career with Columbia, Terrace cites several high points: "The time I felt most excited during my first six or seven years was getting tenure. That's when I learned what it's like to be a citizen at a university, all that entails, and I really enjoyed it. Especially the social intellectual [aspect]. And then I taught with faculty in other departments, and that was even better. I used to give courses with a philosopher where we picked up a book — neither of us knew what the other was going to say — and the class loved it, because they saw the grownups fighting with each other."
Terrace says his most enjoyable period at Columbia began in 1995. "I was very lucky, I had six or seven graduate students who were brilliant; it was very sad to see them slowly go off into the real world …. I'd have visitors, and I'd say, 'I'm sorry I have to go to a lab meeting.' And they'd come and watch, and they just thought it was the most exciting thing they had ever seen. Of course, I wasn't saying all that much — it was the students, they just argued brilliantly. I felt very proud of that."
Alexis Tonti '11 Arts, CCT's managing editor, wrote the profiles of Breslow, Broecker, Sidorsky and Terrace. Photos by Leslie Jean-Bart '76, '77J.