Features
Freedom Writer
Pulitzer Prize-winning Columbia historian Eric Foner '63, '69 GSAS personifies the great teacher and scholar who approaches his calling with moral urgency
By Jamie Katz '72, '80 Business; Photos by Daniella Zalcman '09
On February 1, 1960, four black freshmen from North Carolina A&T sat down at a segregated Woolworth's lunch counter in downtown Greensboro and ordered coffee. Asked to leave, they quietly refused, remaining there until closing time. More people joined in the next day, and the next, and the sit-in protests soon caught fire across the South, galvanizing the civil rights movement. "Never before in the United States had so large a body of students spread a struggle over so great an area in pursuit of a goal of human dignity and freedom," the Rev. Martin Luther King Jr. later wrote.
Five hundred miles north of Greensboro, on Morningside Heights, another college freshman was tracking those events with keen interest.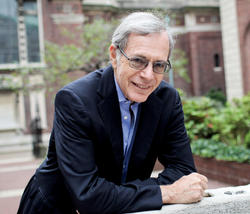 Eric Foner '63, '69 GSAS has written or edited 24 books and is one of the most influential and admired American historians of his generation. "The sit-ins inspired things at Columbia," remembers the DeWitt Clinton Professor of History Eric Foner '63, '69 GSAS, who turned 17 the week the Greensboro protests began. "Friends and I formed a little group on campus called ACTION. It was ultra-moderate compared to what came later in the '60s. But we picketed Woolworth's in New York to support the sit-ins in the South."
Foner's group published civil rights newsletters, sponsored folk music concerts — this was the heyday of politically engaged musicians such as Odetta, Pete Seeger and Harry Belafonte — and persuaded the University's off-campus housing office to require a non-discrimination pledge from local landlords. Foner attended the March on Washington on August 28, 1963, and, from a spot far from the steps of the Lincoln Memorial, listened to King's famed address. "I had never seen so many people in one place," Foner says. "It was a tremendously moving event."
It wasn't until his upper College years that the academic discipline of American history beckoned to Foner. His interest was sparked by two famed Columbia professors: James P. Shenton '49, '54 GSAS, who challenged students to connect past and present, and Richard Hofstadter '42 GSAS, whom Foner has called, quite simply, "the premier historian of his generation."
Following their example, Foner has forged a brilliant academic career. Only this fall, approaching 70, did he scale back his teaching schedule to half-time. Still, 43 years after he taught his first Columbia class, Foner appears as youthful and trim as ever. His rapid-fire, New York-accented speech remains lively and pointed. And his scholarly focus has never wavered. "There have been two big themes," he says. "One is the process of abolition and the legacy of slavery, which is still with us 150 years after the Civil War. And the other is how social movements changed America — the ways in which different groups have helped to reshape the idea of freedom. Both of them help us understand America today."
Foner's reputation blossomed quickly. His doctoral thesis, published in 1970 as Free Soil, Free Labor, Free Men: The Ideology of the Republican Party Before the Civil War, explored the deeply rooted ideals and interests that drove the northern majority to oppose slavery and ultimately wage war against Southern secession. The work took a fresh approach to a significant historical question and established Foner's national reputation. Free Soil became required reading for students of the period.
A caravan of impressively researched, lucidly composed books followed — he has written or edited 24 so far — among them Tom Paine and Revolutionary America; Nothing But Freedom: Emancipation and Its Legacy; the much-honored Reconstruction: America's Unfinished Revolution 1863–1877 (more on this shortly); The Story of American Freedom; and, most recently, The Fiery Trial: Abraham Lincoln and American Slavery, which won the Bancroft Prize, the Lincoln Prize and, capping a Triple Crown kind of year, the 2011 Pulitzer Prize for History.
Foner also has produced a widely used survey textbook, Give Me Liberty! An American History, and co-curated award-winning museum exhibitions. Visitors to The Hall of Presidents at Walt Disney World may be unaware of it, but the history lesson they receive there was prepared by Foner. He enjoys extraordinary respect among his peers, as mirrored in his election to lead all three major professional organizations in the field: the Organization of American Historians, the American Historical Association and the Society of American Historians. "If there were a Hall of Fame for American historians, Eric would be a first-ballot shoo-in," says his longtime colleague and friend Sean Wilentz '72, the noted Princeton historian and author of The Rise of American Democracy: Jefferson to Lincoln, itself a Bancroft Prize winner in 2006. "He is the most influential and admired American historian of his generation."
Foner takes equal pride in the recognition he has received as a teacher: the Society of Columbia Graduates' Great Teacher Award, in 1991, and Columbia's Presidential Award for Outstanding Teaching, in 2006, among other honors. The College presented him a John Jay Award for distinguished professional achievement in 2007.
Columbia has an exceptional tradition in Foner's field, including such luminaries as Hofstadter, Charles Beard, Henry Steele Commager and Allan Nevins. "Like his predecessors," Wilentz says, "Eric changed the prevailing wisdom on fundamental issues in U.S. history, not least the origins of the Civil War and the rise and fall of Reconstruction. Like them, he has written books and articles accessible to readers well outside the academy. To have produced one masterpiece is enviable; Eric has produced no fewer than three — including his first book, Free Soil; his book on Reconstruction; and his study of Lincoln and emancipation."
Four p.m., April 16, 2012. Some 150 students shamble and scurry into 417 International Affairs Building for Foner's upper College lecture course, "History W3528 — The American Radical Tradition." Sixty conversations fill the room.
Foner frets a little as he surveys the auditorium, like a batter stepping to the plate. He riffles through his lecture notes, tugs an earlobe, pushes his glasses up, grips the lectern, rubs his palms together, pauses and turns to the blackboard.
"As many of you have probably noticed," he begins loudly, pointing to the words "Mon., May 7, 4:10–7 PM," "this is when our final exam is scheduled, four weeks from today, I guess."
The hubbub subsides at once.
Reconstruction's meticulous scholarship is exemplified by Foner's "take-no-prisoners" footnotes, as historian Nell Irvin Painter once called them.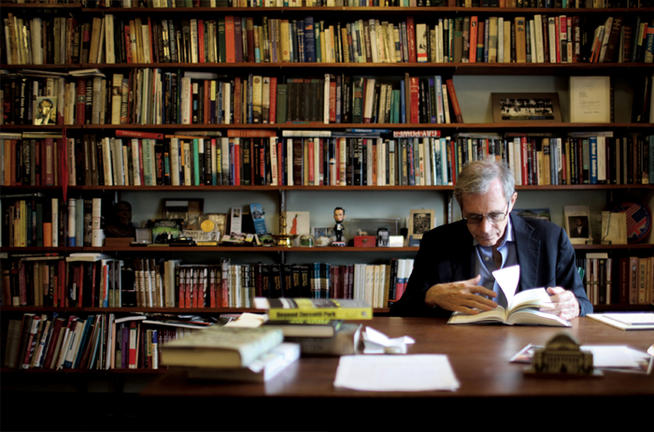 Foner in his office in Fayerweather Hall.
"Now bear this in mind," Foner continues. "Some students are scheduled for three exams in one day, and this is considered cruel and unusual punishment." A few chuckle at the Bill of Rights reference. "So if there's anyone in that boat, let me know, because we might have to schedule another sitting for that exam.
"All right," he says, beginning for real. "I don't know if you're spending your time watching baseball games, as I've been doing to some extent. But if you have, what was unusual about the mode of appearance of baseball players yesterday? Did anyone see this?"
A student quickly offers, "They all wore No. 42."
"Thank you. Yes, every single player on every single team was wearing the number 42 in honor of Jackie Robinson, because it was 65 years ago yesterday, April 15, 1947, that Jackie Robinson broke the color line in baseball. This was an important event in the ongoing history of civil rights in the United States, as everybody knows. In fact, according to family lore of mine, it was also Passover that day, and at the seder in my grandparents' house, when the traditional question was asked, 'Why is this night different from any other night?' someone said, 'Because today a black man played for the Brooklyn Dodgers for the first time!'"
The class breaks out in laughter.
"Objectivity does not mean you have an empty mind. It means you have an open mind."
The anecdote gives Foner a springboard to discuss the radical left's prominent role in agitating for civil rights in the 1930s and '40s, and how, during the Cold War, historians began rewriting American history to expel radicalism from the narrative. By the end of the 75-minute lecture, he has talked about the civil rights movement, the emergence of student activism in the '60s, Lenny Bruce, Abbie Hoffman and the New Left. "The Old Left arose from the abundance of poverty," Foner says, paraphrasing the late historian John Patrick Diggins, "while the New Left arose from the poverty of abundance."
Willis Mathewson '13 was enrolled in the course last spring. "The dish among students is really positive about him, and once I was in the class, I was thrilled," says Mathewson, a history major whose grandfather, Rufus W. Mathewson Jr. '55 GSAS, was a longtime member of the Columbia faculty. "It was a very large lecture, so it's not really as though you're in a seminar setting and you personally felt like, oh, Professor Foner and I have established some sort of a rapport. But at the same time, listening to someone lecture about something that they're so clearly, genuinely passionate about gives you a sense that you know him even if he doesn't know you."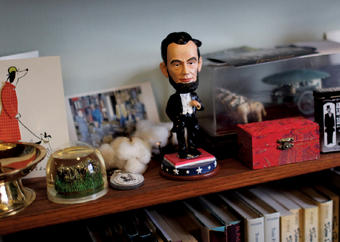 As Lincoln once said, "Be sure you put your feet in the right place, then stand firm." Foner's impact is powerful in smaller academic settings, too. "He directed my senior honors thesis on the civil rights movement in New Orleans," says Emory University professor Leslie Harris '88, an authority on pre-Civil War African-American history. She remains grateful for Foner's professional guidance and uncompromising intellectual standards: "He was very much a mentor to me at a really pivotal point in my career."
Coming full circle, Harris will host Foner in a panel discussion of The Fiery Trial at the Southern American Studies Association conference in Charleston, S.C., in late January. "I'm really looking forward to that," she says. "I'm reading it with my graduate students in a course this fall."
The Fiery Trial was also on the reading list for Wilentz's graduate research seminar in American political history at Princeton last semester. Jane Manners, a student in that seminar, says what she finds most striking in Foner's works is his combination of "moral thrust and deep research."
"Foner tackles the greatest moral dilemmas in history, and in doing so, he reminds young historians why it's exciting and meaningful to be a historian," she says. "He also is such a thorough, careful researcher that he always has the facts to back up his assertions, which also is inspiring."
When those comments were read to him, Foner was touched.
"I appreciate it very much. That is what I want to do, exactly. I know this is very old-fashioned, but I think history is a moral endeavor. It's not a science. There are plenty of people who study smaller things, and that's fine; those are the building blocks of history. But I do think we have an obligation to candidly address the big problems of our society in a historical frame of mind. And yeah, you've also got to do the research. I've seen plenty of people who are very engaged in finding their own identity, learning about their group, learning about some social problem. But if they don't do the research, it's not going to be any good.
"That's a smart girl," he adds with a laugh. "I'll give her a job. She is obviously a good up-and-coming historian."
In his own student days, Foner joined a failed petition effort to change the name of Columbia's Burgess Library to W.E.B. Du Bois Library, after the black historian and activist who co-founded the NAACP. "Du Bois had no Columbia connection, so maybe that wasn't a good choice," Foner concedes today. But he expresses no second thoughts about challenging the honor accorded John W. Burgess, a pioneering political scientist and pivotal figure in Columbia's development as a modern research university at the turn of the 20th century.
However forward-looking Burgess may have been as an academic leader, he was also a man of his times, and the mainstream views of the men in charge in those days were not, shall we say, a model of racial enlightenment. Along with the Columbia historian William A. Dunning, Burgess developed what became the standard narrative of Reconstruction, dramatized in D.W. Griffith's landmark 1915 film, The Birth of a Nation, which portrays a defeated white South valiantly resisting a post-Civil War coalition of vengeful Radical Republicans, corrupt "carpetbaggers," traitorous local "scalawags" and savagely caricatured ex-slaves. "Burgess called black suffrage a 'monstrous thing,'" Foner says. "He was a total racist."
What came to be called the Dunning School "was extremely pernicious and had a very deleterious effect," Foner believes, "not only on scholarship, but also on American life altogether, because it provided an intellectual justification for Jim Crow, for the disenfranchisement of blacks and the whole edifice of segregation. Dunning is a great example that history matters," he says. Foner repeats the words for emphasis: "History matters."
Although many scholars across the decades challenged the Dunning-Burgess perspective — not least Du Bois himself, in his 1935 study, Black Reconstruction in America — its premises and imagery proved durable. It fell to Foner to deliver the coup de grâce, in a volume commissioned for Harper & Row's famed New American Nation history series by its editors, Commager and Richard B. Morris. The resulting 690-page study, Reconstruction: America's Unfinished Revolution 1863–1877, was a finalist for the 1988 National Book Award and earned Foner numerous honors, including the prestigious Bancroft and Francis Parkman prizes and the Lionel Trilling Book Award, given by the Columbia College Student Council. In book reviews, distinguished historians were generous with their praise. "This is history written on a grand scale, a masterful treatment of one of the most complex periods of American history," David Herbert Donald wrote in The New Republic. C. Vann Woodward, writing in The New York Review of Books, said, "Eric Foner has put together this terrible story with greater cogency and power, I believe, than has been brought to the subject heretofore." Reconstruction is "a heroic synthesis that should dominate the field," Thomas C. Holt said in the Washington Post Book World.
Foner's narrative puts the four million newly emancipated slaves at the center of the story. While Dunning's followers ignored, ridiculed or feared black aspirations — one reputable Southern historian, writing in 1947, called the notion of blacks in government something to be "remembered, shuddered at, and execrated" — Foner sees Reconstruction as an era when Americans made a serious effort "to live up to the noble professions of their political creed — something few societies have ever done." Inspired by the promise of freedom and equality, African Americans established social, religious and educational institutions, purchased land, started businesses, exercised the right to vote and elected the first black members of Congress. Those efforts engendered determined Southern resistance, from voter suppression to social and economic intimidation and outright terror. Any notion of black political power was trampled, and many African Americans were condemned to a state of virtual slavery as sharecroppers, often on the same plantations they had labored on before emancipation.
Reconstruction's meticulous scholarship is exemplified by Foner's "take-no-prisoners" footnotes, as historian Nell Irvin Painter once called them. The tome's selected bibliography alone runs 27 pages, listing the 101 manuscript collections he consulted as well as hundreds of books, newspapers, periodicals, journal articles, memoirs, government documents, scholarly treatises and monographs — among them 24 unpublished doctoral dissertations. Ironically, Foner notes, his Reconstruction research was partly supported by the history department's Dunning Fund, and much of his reading was done in Burgess Library.
Early in his nine years of pre-Google sleuthing, Foner found serendipity: While teaching for a semester at the University of South Carolina, he discovered 121 tightly packed boxes of official correspondence tucked away in the state archives, offering extraordinary insight into local social and political life. "Before my eyes unfolded tales of utopian hopes and shattered dreams," he later wrote, "of struggles for human dignity and ignoble violence by the Ku Klux Klan, of racism and black-white cooperation, of how everyday life had become 'politicized' in ways barely hinted at in the existing literature."
If Reconstruction was born in the archive, he says, it was written from the heart.
"It is 600 pages of research, but the fundamental argument is a moral argument about the mistreatment of black people, the struggle for freedom, the struggle for some kind of equality, the failure of that and what that means for society," Foner says. "That's the driving impulse of that book. That's why it was successful, I think."
It seems fair to ask whether that degree of moral focus clashes with the need for scholarly detachment and objectivity.
"We debate this in history courses all the time," Foner says. "What is objectivity? Objectivity does not mean you have an empty mind. It means you have an open mind. Nobody goes through the study of history with no preconceptions. You go with assumptions, tentative hypotheses, and then you have to weigh them against the evidence. The essence of being a scholar is the willingness to change your mind. That's all. You can easily find what you're looking for, but you must keep an open mind for what you're not expecting, what contradicts what you thought."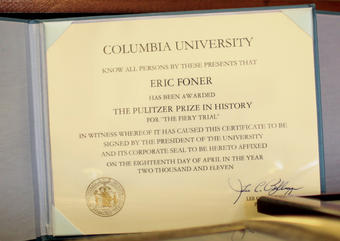 The Fiery Trial also won the Bancroft and Lincoln Prizes. An example from Foner's recent work: His respect for Lincoln's political skill in abolishing slavery grew as he worked on The Fiery Trial. "Not that I was anti-Lincoln, but I was much more critical of him when I began than when I ended my study," Foner says. "There has been a tendency in the literature to really emphasize some of Lincoln's racist statements, to emphasize a kind of slowness in moving toward emancipation. And I was influenced by that. But when I started really looking carefully, I began to say, 'Well, wait a minute, I don't think that's exactly what's happening here.' I came to a much deeper appreciation of what he was trying to do, how he was trying to do it, and his open-mindedness, his willingness to listen to criticism, his flexibility. Lincoln was a very savvy politician, a guy who understood the nature of power and what he could and couldn't do. Lincoln was not a dictator."
Foner was born in New York City in 1943 and grew up in Long Beach, N.Y., an oceanside community on Long Island. "It was a beautiful place, and quiet," he says. "I remember playing stickball and going around on my bicycle. It was a typical suburb."
Less placid was the experience of his father, Jack D. Foner '68 GSAS, whom Eric calls "the finest teacher I have ever known." Jack was a respected left-wing American historian who, in 1941, ran afoul of the New York State legislature's notorious Rapp-Coudert Committee, which was investigating Communist influence in education in a manner that would become more familiar during the McCarthy era; this resulted in the dismissal of Foner père from the CCNY faculty along with dozens of other academics, among them Foner's uncle Philip, a noted labor historian. One of the accusations against Jack Foner — whose faculty position was filled by the young Hofstadter — was that his teaching devoted excessive attention to African-American history. In 1981, the City University's Board of Trustees issued a formal apology to the blacklisted professors. In the meantime, Jack had returned to academe at Colby College in Maine, in 1969. He and his wife, Liza, a painter and high school art teacher, are now deceased, as is Eric's younger brother, Thomas, a writer and activist.
The right to dissent, to criticize, to agitate for freedom, is what Foner loves about America.
Conversation was lively at the family dinner table, Foner remembers. "We would talk about world politics and civil rights issues. W.E.B. Du Bois was a friend of my parents, although he was much older." Back then, Foner's interests leaned more toward science, however. "I was on the Long Beach H.S. math team," he says. "When I went to Columbia, I took astronomy and physics, math, calculus. I was basically a little nerd, I would have to say, before the term existed."
Among his professors at the College were James Rainwater, who later won a Nobel Prize in physics, and philosopher Sidney Morgenbesser, who taught Foner's freshman Contemporary Civilization section. In his junior year, Foner asked for and was granted permission to join Shenton's senior seminar on the Civil War, although he had taken zero history courses up to that point. "It shows you what an influence a teacher can have on you, that I'm still studying that era now 50-odd years later," he says.
Foner then came under the wing of Hofstadter, who guided Foner's senior thesis on the antebellum Free Soil Party, helped him land a Kellett Fellowship at Oriel College, Oxford, and eventually supervised his dissertation, with Professor Eric McKitrick — "an unusual, brilliant, interesting guy," Foner says — stepping in when Hofstadter fell ill toward the end.
"Hofstadter did more than anyone else to shape the questions that I ask," Foner says. "I don't give the same answers, but the things I'm interested in are the things Hofstadter was interested in — the history of political ideas, the relationship between politics and society." Foner adds, "Hofstadter was not a great teacher. He was a great thinker. He was a great writer. When you gave him something to read, he was a fantastic critic. But he was not that interested in teaching. In fact, he said to me once, 'I am a writer. I teach in order to make a living, but teaching is not my main concern.'"
Foner received his first teaching assignment in 1969, taking on Columbia's first course in what was then called Afro-American history (over the protests of black students who thought it should have been led by a black faculty member). Three years later, Foner's promising career hit a speed bump: He was notified by the history department that he would not be considered for tenure and should begin looking elsewhere for a job. The reason given was lack of funding. Foner was deeply disappointed, but he was immediately offered a position by City College and the Graduate Center of CUNY, which was revitalizing its American history program under Herbert Gutman '50 GSAS.
By 1975, Foner had achieved tenure there. He returned in triumph to Columbia in 1982 and, six years later, was appointed to the DeWitt Clinton chair earlier held by Hofstadter. Through the years he has taken leaves to teach at Cambridge, Oxford and other universities.
While a graduate student, Foner married screenwriter and director Naomi Foner '66 Barnard, '67 TC; they divorced in 1975. (Foner often is asked if he is related to her children from her second marriage, Maggie Gyllenhaal '99 and her younger brother, Jake; obviously he is not, though he says they're very nice people.) In 1980, Foner married Lynn Garafola '68 Barnard, a noted dance historian and professor at Barnard. Their daughter, Daria, 25, a Princeton graduate, has danced with the Norwegian National Ballet and now is pursuing a doctorate at Columbia in Italian Renaissance art. Foner and his wife live on West 116th Street and are regulars at opera and ballet performances. Foner also enjoys driving around the city and to his country house in northwest Connecticut, where he likes to play tennis and "putter around doing some gardening." He often tunes his radio — surprise factoid alert — to Tea Party–friendly talk shows like Rush Limbaugh's, in spite of the appalling degree of "overt racism" he finds there.
The ugly tone troubles him.
"I'm alarmed by what Hofstadter referred to as the paranoid style in American politics — the repudiation of facts, the hostility to difference of opinion," Foner says. "On the other hand, as a historian, one has to say there have been periods of American history with equally vitriolic and intense political debate."
Would he compare the current political divisions to America in the 1850s, on the verge of its greatest trauma? "I don't think we're headed toward another Civil War," he says. Still, as he told graduating doctoral candidates at their formal convocation in May, America is in crisis — not just of the economy but of the spirit.
"We witness the fading of the Enlightenment ideals that inspired the founders of this nation," Foner says. "We live in a world where scientific knowledge is subordinated to political and religious dogma, where intellect and expertise are denigrated as elitist, where demands proliferate that history be taught as an exercise in national self-congratulation, not critical self-examination. This is the frame of mind that divides the world, and America itself, into the forces of good and the forces of evil, and sees every dissenting view as disloyalty."
The right to dissent, to criticize, to agitate for freedom, goes to the core of what Foner loves about America.
"The patriot is the person who is never satisfied with his country," he says. "That's why I teach the history of American radicalism. Because these are the people I think we ought to admire in American history, the people who are trying to make this a better society. There are so many aspects of this country that are admirable. But it should be more. It should be better."
Former CCT Editor Jamie Katz '72, '80 Business writes for Smithsonian Magazine and other publications. As a senior, he took Foner's course on U.S. history 1815–1877.