Features
Rebellious Intellectual
Frances Negrón-Muntaner teaches, creates, leads, inspires
By Shira Boss '93, '97J, '98 SIPA
Among the things that set Frances Negrón-Muntaner apart from a stereotypical professor at work, the most immediately noticeable might be her office. The large and airy room at the northeast corner of the fourth floor of Hamilton Hall is impeccably neat, the ample floor space clear, the desk devoid of papers or ornamentation. From her command post, the associate professor of English and comparative literature and director of the Center for the Study of Ethnicity and Race appears energetic yet serene while steeped in her current projects: finishing one documentary film and starting another, writing a historical biography, completing two policy briefs for nonprofits, organizing CSER events and preparing for the fall semester's classes.
Frances Negrón-Muntaner, a professor and director, films on location in northern Guam in 2007. PHOTO: COURTESY OF FRANCES NEGRÓN-MUNTANER
"An organized desk means an organized mind," Negrón-Muntaner says. It becomes clear that she epitomizes Truman Capote's description of a great lady as someone who is always busy but always has time.
"She's an academic and a creative writer and those two people live together in her person," says Yolanda Martínez-San Miguel, a professor of Latino and Hispanic Caribbean studies and comparative literature at Rutgers and a friend of Negrón-Muntaner's since childhood.
She embodies those two identities and more. Negrón-Muntaner, who came to the United States from Puerto Rico after college, describes herself as a "compulsive essayist," interested in the Latino diaspora and immigrant experience. The 46-year-old also is a filmmaker, historian, writer, pedagogue, gay activist and — a surprise even to the committee members who recruited her to Columbia a decade ago for her first academic post — a gifted administrator.
"All these things pull on me — some pull more than others and at different times," Negrón-Muntaner says.
Since becoming the director of CSER in 2009, she has helped transform it into a vibrant intellectual hub. One of the few tenured Latino professors on campus, Negrón-Muntaner also has become wildly popular with students. "She's young and hip and everyone pretty much wants to be her," says Lizzie Lee '11, who majored in comparative ethnic studies.
Negrón-Muntaner comes from an academic family: her parents worked at the University of Puerto Rico, and her grandmothers earned master's degrees, unusual for women of their time.
Negrón-Muntaner's 1989 documentary, AIDS in the Barrio, aimed to educate urban Latinos and help prevent the spread of the disease. When Negrón-Muntaner was 8, she moved with her family to Long Island for 1½ years while her father worked on a Ph.D. in history. There, she gained an excellent knowledge of English, which opened up access to other cultures through reading books in English. She also developed an acute awareness of disparities between Puerto Rico and the suburban U.S. "There were a lot more resources in suburban public school: the breadth of the library, the infrastructure of the school itself — how big it was, the gym facilities …. Those things that middle-class children take for granted in the U.S. are not very widely available in Puerto Rico, even for many in the middle class," she says. "That stayed with me."
Negrón-Muntaner sat at her father's knee and helped proofread his dissertation. While in her teens, she helped him conduct research on slavery in the General Archive and National Library of Puerto Rico. "To be asked to count the slaves in a certain area and to write down whether the census notes if they were maimed or not gives you an awareness of where many of the social inequities of your country come from, and how the present comes from the past," she says.
Coming to the United States opened up for Negrón-Muntaner other ways of thinking about politics, particularly concerning LGBT and AIDS activism.
She also says that because of her upbringing, she was "expected to have a Ph.D.; it was a family requirement. I knew that whatever I did, it'd have to do with books and research." However, it was her grandfather, a frustrated filmmaker who built a studio in his garage but chose a secure career as a medical photographer, who most inspired her. He gave her her first camera, which was in the shape of Mickey Mouse. When the Polaroid instant became available, he presented her with one. Then she moved up to a Super 8 home movie camera, with which she documented her family life and had her sister star in homemade versions of I Dream of Jeannie — including the disappearances and reappearances, a technical challenge she had to figure out.
At the same time, Negrón-Muntaner was drawn to writing. A precocious child, she organized her middle school friends to start a literary journal when most of them didn't know what a literary journal was. She published her first essay, on the politics of salsa music, in ninth grade. She decided to "skip the silliness of senior year of high school" and went straight to college, graduating from the University of Puerto Rico in 1986 at 19.
After a brief move to Amherst, Mass., she relocated to Philadelphia. "When I came here at 19, I knew I wanted to write, and filmmaking now seemed possible," Negrón-Muntaner says. "Video cameras were relatively affordable and there were many places to learn. And I was moved to record what I saw in cities like Philadelphia, places of tremendous richness and diversity, but also of great poverty and discrimination."
She explains that children of her class and background were expected to go to graduate school in the U.S. and then return, which she and others of her generation never did.
"In my case, coming to the U.S. also opened up other ways of thinking about politics, particularly concerning LGBT and AIDS activism," she says. "This was a time when LGBT groups in Puerto Rico were literally underground. Although I was out early on, I was a member of one of those groups and the fear was very real. Here, small groups of people could challenge the status quo and make a difference. That impressed me and had an impact."
While in graduate school for visual anthropology and fine arts at Temple in 1989, Negrón-Muntaner worked with a group of people off campus to make a ½-hour documentary film, AIDS in the Barrio.
"AIDS was still thought of as a gay disease. My neighborhood was Puerto Rican and black, with a high incidence of drug use and unprotected sex," she says. "It seemed to me this epidemic would hit the inner city very hard, because I knew it was not a gay disease." She screened the film in schools, churches and even living rooms to educate urban Latinos and help prevent the spread of the disease. She says it remained a tool for discussion for at least 15 years.
Negrón-Muntaner later made other short films, most relating to the Puerto Rican migratory experience. Her best-known is Brincando el charco: Portrait of a Puerto Rican, completed in 1994 as part of her master's thesis. The hour-long, partly autobiographical film, in which she also acted, is described as "an experimental narrative on Puerto Rican identities in the diaspora." It was screened at the Whitney Biennial in 1995 as well as at film festivals worldwide. "It was an attempt to think about the migration from Puerto Rico to the U.S. that I was a part of," she says.
Negrón-Muntaner has made 10 films, from a 30-second public service announcement commissioned by the Philadelphia Lesbian & Gay Task Force to a one-hour documentary about Guam and WWII. All have been funded by nonprofits and public television.
After leaving Temple, Negrón-Muntaner began graduate studies in comparative literature at Rutgers and then moved with her Cuban-American longtime partner to Miami while completing her dissertation. She helped found the National Association of Latino Independent Producers, an organization to support and promote Latino participation in the media, and chaired its board for three years. During that time, it grew to 1,000 members and a $1 million budget.
Yet Negrón-Muntaner herself has never been a full-time filmmaker, having always pursued writing and supported gay activism at the same time. She wrote columns in two Puerto Rican newspapers — "I took on anything that interested me, in any part of the world," she says — and in 1997 published her first widely influential work, Puerto Rican Jam: Rethinking Colonialism and Nationalism, a collection of essays that she co-edited. Puerto Rican Jam still is a standard text in many Latino studies programs, she says, and is likely part of what attracted the attention of Columbia's recruitment committee several years later.

War in Guam (2007) focuses on one of the rare times in American modern history that a foreign power has occupied U.S. territory. "I was going to school but I've never seen school as a place that's separate or a time when you're 'away' from the world," Negrón-Muntaner says of writing the book while getting a Ph.D. She has since edited two other essay anthologies and published a book of her poetry and a book of her essays, Boricua Pop: Puerto Ricans and the Latinization of American Culture, which includes a famous-in-the-field essay on Jennifer Lopez, "Jennifer's Butt."
"I've written as a poet, a journalist, a public intellectual, a scholar," she says. "I once had a writer tell me, 'You speak many languages.' He didn't mean English, Spanish, French." (Although she is fluent in all three.)
In 2003 Columbia's English department, which was seeking a scholar of Caribbean literature, invited Negrón-Muntaner to apply for a faculty position. But she wasn't sure she wanted to climb into the Ivory Tower.
"My position on academic positions was that I didn't want them," she says with a laugh. "My idea was that the space on the edge of institutions was a good place for me. I thought of myself as a very rebellious intellectual … between an insider and an outsider. On the other hand, it was Columbia, so I thought, 'What do I have to lose?'"
She came to the University with a dual appointment in the English department — as the first and only hire in Latino literature — and at CSER. Although not a department, CSER houses a major, ethnicity and race studies, and it maintains a faculty jointly appointed with other departments, as well as adjuncts, affiliates and visiting professors — more than 50 in all. The center also organizes public conferences, seminars, film screenings, exhibits and lectures, with the goal of allow­ing faculty, students and outsiders from different fields and backgrounds to compare racial and ethnic identities and experiences in various contexts.
Negrón-Muntaner spent her first five years at Columbia "wrestling with the question of 'How do you keep your connection to the outside world and people not tied to academia while you're in academia?'" She has decidedly succeeded, rising to a tenured position and to director of CSER, earning affection and devotion from students and admiration from colleagues all while continuing to write and make films.
"She's fabulous," says Jean Howard, the George Delacorte Professor in the Humanities, and the University's first vice provost for diversity initiatives, from 2004–07. "We hired her for intellectual reasons; what we couldn't have predicted is her leadership abilities. She brings real imagination and vision to CSER, in terms of growing the faculty and the curriculum, fundraising, building library resources, reworking the website, building good ties to the community. It's a tremendous feat."
Negrón-Muntaner has taught courses on Caribbean literature, Latino Studies, U.S. Latino literature, U.S. Latinos and film, Latina feminist theories and Che Guevara, among others, and in 2012 she received a Distinguished Columbia Faculty Award, chosen by senior faculty for inspiring scholarship, teaching and mentoring.
"One thing Frances does that a lot of teachers forget to do is this: One of her top priorities is her students," says Lee, who is attending law school to become an immigration lawyer, a path she says was wholly inspired by her studies at CSER. "You sit in class and forget you're learning; you just want to sit there and listen forever. She has this uncanny ability to turn concepts that seem simple into something complex, and to turn something that seems complex into something simple and logical."
Negrón-Muntaner wants to change not only what is taught at Columbia but also how it is taught. "The University still operates under a transmission model: The teacher knows, you don't. The teacher will tell you what you don't know and you'll write it down and write it back in an exam," she says. "We need to develop a lab environment. It has to be more about pursuing questions in dialogue with others and communicating ideas."
In her courses, Negrón-Muntaner often requires students to go into the city and learn by doing, through field trips, observations, interviews. "That's part of recognizing that we're Columbia University in the City of New York," Howard says, "and Frances understands perhaps better than anyone I know how to connect to the city outside the walls of the campus. It's hard to do and most academics don't do it."
Her "Introduction to Latino/a Studies" class included an analysis of movie clips and hip-hop lyrics, a book club dinner discussion and salsa dance lesson, alongside meaty discussions of cultural identity and economic and political issues.
Negrón-Muntaner became CSER's third director in 2009 and has since significantly raised its profile, expanded its curricular offerings and affiliated faculty, and, perhaps most importantly, cultivated a great deal of student enthusiasm and satisfaction following years of unrest and protests dating back to CSER's origins as a response to student strikes in 1996. By collaborating with Barnard, the number of available courses has tripled. The number of students majoring and concentrating also has nearly tripled in recent years, from 20 in 2010 to 55 today.
"When I was deciding whether to come to Columbia to do interdisciplinary work in ethnic studies, some people told me Columbia was not the best place for that. Even over the course of two years, that reputation has changed," says Kaveh Landsverk '11 GSAS, a Ph.D. candidate in English and comparative literature. He says he thinks of Negrón-Muntaner first and foremost as a teacher, one who is "always around and always available," who stops students in the halls for updates on their work and always is providing leads and mentoring.
"Frances understands perhaps better than anyone I know how to connect to the city outside the walls of the campus."
To position CSER as a physical as well as intellectual meeting ground for people both on and off campus, extensive programming has been developed — often co-hosted by other schools and departments — and invitations to events are sent beyond campus. The center recently hosted a conference on the Indian caste system. In October 2011, Supreme Court Justice Sonia Sotomayor visited CSER. Indigenous Forum, a speaker series funded by Daniel Press '64, who specializes in Native American law, brings three guest speakers a year to CSER, one each from politics, arts and academia. This fall, a Latino Studies series was launched.
"The center is a trend-setter in its programming and curricular initiatives," says Martínez-San Miguel, the Rutgers professor.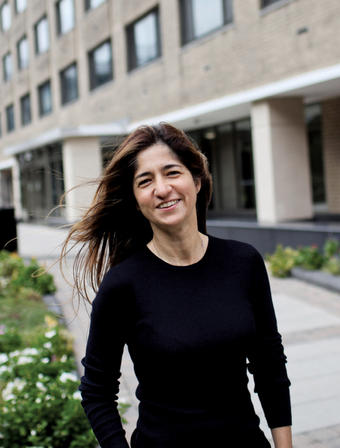 As director of the Center for the Study of Ethnicity and Race, Negrón-Muntaner has strengthened its position as an intellectual meeting ground for people on and off-campus. PHOTO: DANIELLA ZALCMAN '09To facilitate its relationship with the outside world, CSER is starting to build a Media and Idea Lab, where students use multimedia to build a more interactive intellectual community, on campus and beyond.
"In their personal lives, students create media and foster connections to other people around those ideas," Negrón-Muntaner says. "The biggest gift we can give our students is to help them develop their skills further and support them as they pursue the questions that matter to them."
The center recently acquired two video cameras and now has editing and production work stations available to students. In a gallery, both at the center and online, students can display their work. A course titled "Video as Inquiry," taught by Negrón-Muntaner, will debut in the spring, and there are plans to include technology and visual culture in the curriculum.
"It's figuring out how to use new media and interactive media to think about race and ethnicity and to use it to intervene in the public sphere. That's the challenge. So it's not just academic, it's practical," says Tina Campt, professor of women's, gender and sexuality studies at Barnard, who asked Negrón-Muntaner to speak to her class, "Theorizing Diaspora," about using film for those purposes. "She was incredible, giving tips and hints on the technical aspect," Campt says. "That's really something you get only in film studies from really astute filmmakers, and it doesn't cross over into the humanities and social sciences without the help of people like Frances."
Negrón-Muntaner continues to master crossover in her own career: In the midst of her many other pursuits, she is working on her first novel. "What Columbia has enabled me to do, particularly after tenure, is try to reach a balance in all of my interests and integrate them back into my work at Columbia," she says. "The University supports that I have these broad interests and supports my work in all its facets. That changes how it's produced and also how it's received outside the University."
View a clip from one of Negrón-Muntaner films.
Shira Boss '93, '97J, '98 SIPA is CCT's contributing writer. Her last feature (Spring 2012) celebrated 25 years of coeducation at the College.