Message from the Dean
Celebrating Our Faculty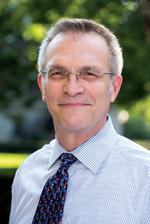 PHOTO: LESLIE JEAN-BART '76, '77JThe word "university" is derived from the Latin universitas magistrorum et scholarium, which means a "community of teachers and scholars." A "college," from the Latin collegium, or "a body of persons associated for a common purpose," is the part of that community specifically devoted to the education of undergraduate scholars. Columbia College is a prime example — a community of faculty teachers and scholars within Columbia University guiding undergraduate students through their academic experience.
Columbia College Today always has been focused on our alumni community, on Columbia College's former student scholars. But it is a publication for everyone who cares about the College — all our scholars: past, present and even future students, and their families, as well as our faculty. In this issue, and in issues to follow, CCT will highlight the many connections between our faculty and student scholars, and celebrate their academic, intellectual and pedagogical achievements, both individual and collective.
Our faculty members are at the center of Columbia College — it is they who create and propel the unique undergraduate education that the College provides. Columbia takes great pride in its tradition of outstanding teaching. The world-leading scholarship and exceptional teaching of our faculty members is one of the reasons that prospective students choose the College. Faculty members inspire our current students, advise them and guide them through their coursework. And alumni I meet invariably reminisce about the faculty members who taught them, even several decades after graduation. These former students come back for Alumni Reunion Weekend and Dean's Day to sit in on lectures by Columbia faculty members, to reconnect with their undergraduate experience and to learn from teachers who likely were not at Columbia during the years when they were current students.
Our faculty members are world-class scholars and leaders in their fields. They have won countless awards for their work, from Nobel Prizes, to Pulitzer Prizes, to MacArthur Foundation "Genius" Grants. Many are elected members of their discipline's learned academies. But they also are great teachers. They have fashioned the College's unique and uniquely valuable undergraduate education: the Core Curriculum and our 143 majors and concentrations. And they continually engage our students in lecture halls, laboratories, seminar rooms and libraries all around campus. The teaching awards given out each year — the Mark Van Doren Award for commitment to undergraduate instruction, the Great Teacher Award, the Distinguished Columbia Faculty Awards, endowed by Trustee Gerry Lenfest '58L, and the Presidential Teaching Awards — attest to the importance we place on teaching and the excellence of our faculty in providing it.
In this issue, we celebrate a number of our faculty members and celebrate in a special way those who have dedicated more than 50 years of their lives to educating our past and present students. Four of the faculty members spotlighted — Ronald Breslow, Wallace Broecker, David Sidorsky and Herbert Terrace — have been at Columbia longer than many of our alumni have been alive. To have been on the faculty for 50 years means these professors were all here when the Class of 1962 graduated. One of them — Broecker — came to the College as a transfer student in 1952 and has been at Columbia ever since. And in that time, these four have taught and mentored many thousands of undergraduate scholars and undoubtedly changed many of their lives. They also have made extraordinary strides within their fields: developing a cancer-killing drug, establishing a new field in chemistry, advancing the conversation about objectivity of ethics, teaching sign language to a chimpanzee and explaining instances of abrupt climate change. Theirs is a most exceptional contribution and a most remarkable sign of the enduring strength of the community of teachers and scholars — current and former — who make up the College.
These four faculty members — and the almost 600 others in the Faculty of Arts and Sciences, which is the faculty of Columbia College — dedicate their lives to their teaching, scholarship and mentoring. They are, and have always been, devoted to the education of the undergraduate scholars in our College. We honor them in this issue of Columbia College Today.