Obituaries
Barry Commoner '37, Environmental and Social Activist
Barry Commoner '37, a biologist, activist, politician and professor, died on September 30, 2012. He was 95 and lived in Brooklyn, N.Y.
Commoner was a crucial figure in the banning of nuclear weapons testing in the late '50s. His work sought to challenge the American system of production and its social conscience through relating all issues, from environmentalism to inequality, under the framework of social justice.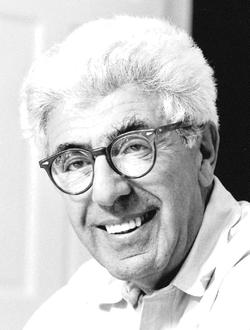 Photo: Gene Luttenberg PhotographyBorn on May 28, 1917, in Brooklyn, N.Y., to Russian immigrants, Commoner spent hours as a child in Prospect Park collecting specimens to examine under a microscope, which led him to discover his passion for biology at James Madison H.S. Working various jobs, Commoner put himself through the College, from which he graduated with honors in zoology. He was elected to Phi Beta Kappa and Sigma Xi and earned a doctorate in biology from Harvard in 1941.
Commoner served in the Naval Air Corps in WWII, rising to lieutenant. After his service, he was an associate editor for Science Illustrated. In 1947, Commoner joined the faculty at Washington University in St. Louis, where he taught for 34 years. There he worked on the team that discovered that abnormal free radical cells may be the earliest sign of cancer. He also founded the Center for Biology of Natural Systems in 1966 to promote research on ecological systems. In 2000, he stepped down as director to concentrate on new research projects of his own.
Commoner's environmental activism began in the 1950s. Alarmed by the increasing number of nuclear tests, he helped found the Committee for Nuclear Information, later called the Committee on Environmental Information, which conducted a nationwide study that found dangerous levels of strontium-90 in babies' teeth. Together, these findings and a global petition signed by thousands of scientists helped convince the Kennedy administration in 1963 to support the nuclear test ban treaty.
Commoner made the cover of Time magazine in early 1970. Throughout that decade, he continued his work on environmental issues, speaking against the view that overpopulation in the Third World was the root of the planet's ecological and resource problems. During this time, he published The Closing Circle (1971), introducing his famous four laws of ecology. Commoner later wrote the bestselling The Poverty of Power (1976), in which he focused on the relationship between environmental survival and energy usage in American industry.
Commoner's activist career included a brief period in American politics when he ran for president in 1980 under his own party, the Citizen's Party. Despite the campaign's lack of success, Commoner stayed a clear voice for social justice, advocating that such problems as pollution, war, poverty and inequality were all related parts of a larger issue. His radical approach to social justice won him praise from Stephen Jay Gould, a Harvard paleontologist and evolutionary biologist, who reviewed Commoner's book Making Peace With the Planet in 1990, saying, "Although he has been branded by many as a maverick, I regard him as right and compassionate on nearly every major issue."
Commoner married Lisa Feiner in 1980; she survives him as do his children, Lucy and Frederic, by his first wife, Gloria Gordon; and one granddaughter.
Karl Daum '15