Roar, Lion, Roar
Roar, Lion Roar
High Hopes for Hoops in 2012–13
A returning All-Ivy League point guard in Brian Barbour '13, more size and experience on the front line and the benefits reaped from a summer trip to Europe provided reason for optimism as Columbia's men's basketball team began the non-league part of its 2012-13 schedule in November with wins over Furman and Haverford.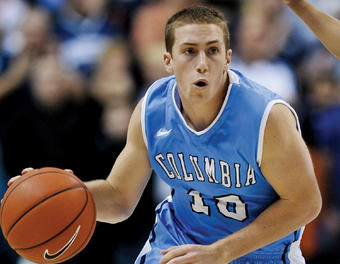 Point guard Brian Barbour '13 looks to repeat his All-Ivy season of a year ago. photo: Columbia Athletics/Geoffrey BolteColumbia was picked to finish third in the conference's preseason media poll, behind Princeton and defending champion Harvard. Third-year head coach Kyle Smith says that Columbia's strong play and team unity, developed in a 12-day trip to Spain and Italy, has him eager to see what the season has in store.
"We couldn't have asked for anything better as far as the way that the Europe trip turned out for us," says Smith. "We had 10 guys who went, saw all the sights and bonded really well. It allowed us to tweak some aspects of how we play and work on things that we normally wouldn't have the time to do."
One of those adjustments was putting 6-11 Cory Osetkowski '15 and 6-9 Mark Cisco '13 on the floor at the same time. With more teams playing smaller lineups, Smith hopes to use his team's height advantage to create mismatches on the offensive end of the floor.
"Mark has a chance to be an all-conference player," Smith says of the veteran who averaged 10.0 points and a team-high 7.2 rebounds per game last season. "It's just been a matter of him staying out of foul trouble, and he's improved in that area. With Cory, having him focus solely on basketball [he also played baseball last spring] will be huge for his development. He was always going to contribute for us, but now he has a chance to make an even bigger impact."
The Lions also have good depth in the frontcourt, boasting small forward Alex Rosenberg '15, who started 24 games last season and averaged 7.2 ppg; veteran John Daniels '13, the team's second-leading rebounder at 5.4 rpg a year ago; and an athletic 6-8 newcomer in Zach En'Wezoh '16, who excited the fans in Levien Gym with a trio of second-half dunks against Haverford. In addition, Smith expects to have 6-9 Skylar Scrivano '15, who missed the entire 2011–12 season, ready to step in by December after a preseason setback.
"I think size is a strength of this year's team," Smith says. "Right now everyone's trying to play small, and we're going to try the opposite. We're zigging when everyone else is zagging, so we'll see who has the advantage."
Vital to the Lions' success is Barbour, who averaged team highs of 15.5 points and 4.4 assists per game and will be called on to get the most from the big front line. "The thing about Brian is he's comfortable being a leader," says Smith. "As a coach, it gives you great ease when you can put the ball in the hands of an experienced point guard."
Barbour is joined in the backcourt by Steve Frankoski '15, who returned with 16 points in the season opener against Furman after missing last season with a foot injury. Depth comes from among Dean Kowalski '13, Noah Springwater '15 and a group of newcomers that includes Grant Mullins '16, Maodo Lo '16 and Isaac Cohen '16.
"This team reminds me a little bit of our Sweet 16 team at Saint Mary's," says Smith, referring to the 2009–10 team that went 28–6 with Smith as its top assistant coach. "That year we went 6–11, 6–11, 6–7, very similar to what we're trying to do here. That was a really skilled team with good guards as well. Right now, we look like them; we'll find out if we can play like them."
Columbia starts Ivy play at Cornell on Saturday, January 19.
Campbell Center Dedicated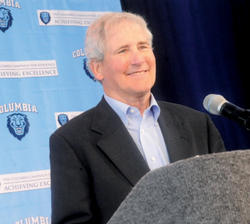 William V. Campbell '62, '64 TC at the dedication of The Campbell Sports Center. Photo: Columbia Athletics/Gene BoyarsAs part of Homecoming on October 20, Columbia marked the dedication of The Campbell Sports Center, the first full-time, year-round athletics building at the Baker Athletics Complex. Designed by Architecture School professor Steven Holl, the center rises at the corner of West 218th Street and Broadway and is the linchpin of the athletics facilities transformation at Columbia, made possible through the Campaign for Athletics.
The center features offices for coaches, conference rooms, a multimedia theatre-style classroom, a student-athlete strength and conditioning center, and communal spaces such as the Milstein Hospitality Pavilion, The FITZ Student-Athlete Lounge and the Lavine Student-Athlete Study Center. The center is named in honor of benefactor William V. Campbell '62, '64 TC, captain of Columbia's 1961 Ivy champion football team, former head football coach and current chair of the University Board of Trustees.
"There is nobody more deserving of this honor — the naming of The Campbell Sports Center — than Bill Campbell," says Athletics Director M. Dianne Murphy. "Bill always wants the best for Columbia, and we are so proud that The Campbell Sports Center will be an iconic landmark for generations of Columbians for years to come."
Fall Sports Highlights
Men's cross country, led by Mark Feigen '13, Leighton Spencer '13, Mike Murphy '13 and Jacob Sienko '14, finished second at the 2012 Ivy League Heptagonal Championships. The team then earned an automatic bid to the 2012 NCAA National Championships for the first time in program history by placing second at the NCAA Northeast Regionals. Columbia, which climbed as high as 10th in the USTFCCA national polls, its highest ranking ever, placed 17th of 31 teams at the NCAAs, its first top-20 finish ever.
Volleyball, which finished 14–9 overall and 9–5 in Ivy League action, tied for second in league play, its highest finish in school history. Megan Gaughn '13 finished her outstanding Columbia career with 1,284 kills, becoming the first Columbia player to reach 1,000 digs and 1,000 kills for her career.
Football posted a 3–7 record in its first season under coach Pete Mangurian. Season highlights included a 26–22 victory over Yale, Columbia's first win over the Bulldogs since 2001, and scoring 27 unanswered points to post a 34–17 triumph over Cornell and win the Empire State Bowl. Marcorus Garrett '14 rushed for 957 yards, the third-best season total in school history, and Sean Brackett '13 finished second on Columbia's career list for pass completions, touchdown passes and total offense.
Hall Welcomes Fourth Class
Photo: COLUMBIA ATHLETICS/MIKE McLAUGHLINColumbia Athletics honored its fourth Hall of Fame class at a Low Library gala on October 18. Robert K. Kraft '63 (above), cited in a special category for individual achievement, received his HOF plaque from Athletics Director M. Dianne Murphy, while Shannon Munoz '07, captain of Columbia's 2006 women's Ivy League soccer championship team, posed with Trustees Chair William V. Campbell '62, '64 TC (left) and President Lee C. Bollinger.
Photo: GENE BOYARS
Photo: Eileen Barroso and Chris Balmer '07
Homecoming 2012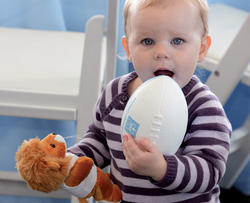 Photo: Eileen Barroso and Chris Balmer '07More than 1,200 alumni, students, parents and friends gathered on October 20 at the Baker Athletics Complex on West 218th Street for Homecoming 2012. The afternoon included a gourmet barbecue under the Big Tent, an adjacent carnival for kids, music, camaraderie and a football game against Dartmouth (won by the Big Green, 21–16). Attendees returned to the Big Tent at halftime for a dessert reception, sponsored for the third consecutive year by the Columbia Alumni Association.
A special event this year was the dedication of The Campbell Sports Center, the cornerstone of the revitalized Baker Athletics Complex named for benefactor William V. Campbell '62, '64 TC, captain of the 1961 Ivy League Champion football team, former Lions head football coach and chair of the University trustees.

Photos: Eileen Barroso and Chris Balmer '07