Alumni Corner
An American Journalist in Paris
By Gregory Viscusi '85, '91 SIPA
Although upon arriving at Columbia College I became an instant believer in the importance of the Core Curriculum, I just as quickly decided I didn't like Plato. I also didn't have the gall to begin my freshman year arguing with my professor that the founder of Western philosophy was pompous and pretentious. That was probably a good call for my future at Columbia but also a good lesson for my career.
In 25 years of journalism I've met some unsavory types, from Islamic radicals in Lebanon to creepy U.S. civilians running Iraq to deceitful corporate PR spinners to National Front politicians in France. But they've all had at least some valid point to make, and I've always told their side of the story. After, of course, double checking everything they say and seeking out opposing points of view. A reporter's job is to expose and explain, not to preach or mock.
Maybe it was growing up partly as an expat in France, in a family where we discussed politics from an early age, or our extensive travels in Europe and Africa where my father worked, but I knew since high school in the States that I wanted to be an overseas-based journalist. A tColumbia, professors dismissed many of my papers and exams for their "journalistic writing style;" I was never so satisfied with the resulting mediocre grades.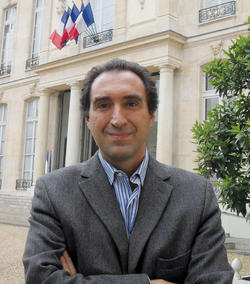 Bloomberg News reporter Gregory Viscusi '85, '91 SIPA in front of the Elysée, "the French White House," in October.
I joined WKCR's news department as soon as I arrived at Columbia and continued to file reports from my 1983–84 junior year abroad at the University of Edinburgh. Those were heady years in the United Kingdom, with the miners' strike, the invasion of Grenada and protest against the installation of U.S. Pershing missiles. After graduation, I presumed my career would involve covering those same issues of war and peace. It was a shock to discover every newspaper job on offer required a car. I was a city boy and didn't even have a driver's license. I don't know how I was so clueless but it probably didn't make much difference. Newspapers were already cutting back in 1985 and the jobs were in business news.
A year after joining Dow Jones in downtown Manhattan, I was sent to London to cover currency markets and banking. After two years there and then some personal travel in South America, I came back to New York for a degree at SIPA. A year at Forbes magazine followed before joining in 1992 what was at the time a start-up called Bloomberg News. I was hired to open its Milan office, becoming Bloomberg's fifth reporter on the continent. Now there are about 600 in Europe. We were about half that when I moved to the Paris bureau in 1997. Sometimes I miss those early chaotic days when we were starting a news service from scratch but the hours were insane, and obviously we weren't the influential media company we are now, even if along with size inevitably comes a certain bureaucracy and anonymity.
I have no regrets about a career in business journalism. When you come down to it, all stories are economic. Bloomberg takes a wide view, covering almost any subject where money is involved. There are plenty of days working the phone from the office or sitting through interminable press conferences.
But over the years, I've also reported from looted oil fields in Iraq, from the Vatican about its finances, from Olympic Games on their sponsors and from a Greek frigate searching for pirates in the Indian Ocean. I've visited a fair share of Italian and French cheesemakers. I've accompanied French presidents to African countries as they drum up business and to numerous European capitals for all-night negotiations to save the euro. Nicolas Sarkozy was exhausting and exciting to cover, full of energy and an initiative a day. He could also boycott us for weeks if he didn't like our questions. François Hollande is patience defined, never losing his cool and always pleasant with the press. But unlike Sarkozy, he refuses to play the game of "feeding the beast," and sometimes the Elysée press corps returns from his overseas trips without a story to tell.
While I'm often the only non-French reporter on these trips, I've never felt any hostility. And that's been true of living in Europe generally, even at the height of French bashing in the U.S. during the first Iraq war. Even in the Middle East, I've never hidden that I'm American, although to soften the blow I've sometimes said I'm from an Italian family, was born in New York and live in France, all of which is true, and ask them to decide what I am. Occasionally I have doubts myself. After 20 years abroad, some things in America seem very foreign (automatic transmission, air conditioning in homes, the government shutdown), but I don't feel French. My 9-year-old daughter is more confused. It helps having a wife who picks up languages quickly.
Journalism has certainly become more international since I started, when my co-workers were almost exclusively Yanks, Brits and Aussies. Now I have plenty of Lebanese, Italian, Russian or Korean colleagues who could do my job just as well, and might even have the same Columbia degree.
Technology has obviously changed as well. My first job was on an IBM typewriter. In London in the late '80s, I'd often hang out for the lunch after press conferences before ambling back to the office to write the story. Sadly, thanks to cost cuts, there are fewer free lunches now. It's a shame, because these days I've generally banged out the story from my laptop during the press conference and would be free to stick around sans guilt. Younger reporters for some publications just tweet from press conferences.
It's amazing how many young people still want to work in what's reputed to be a dying profession, and aspiring reporters frequently ask for advice. I haven't a clue what the business model is going to be. But what's clear is that reporters have to work fast, and across multiple platforms: print, video, graphics, podcasts, blogs, radio or whatever other media the folks at Apple and elsewhere come up with. There will always be a demand for content. Let the business owners figure out how to make money out of it.