Alumni Profiles
Stepping Out with "Dr. Banjo," Pete Wernick '66
By Michael R. Shea '10 Arts
From playing College Walk as part of the Morningside Mountain Boys in 1962, to performing live with Steve Martin on The Late Show with David Letterman, Pete Wernick '66, '73 GSAS has lived and breathed bluegrass music for more than 40 years.
The International Bluegrass Music Hall of Fame inductee formed his first real band at Columbia, rehearsing in Ferris Booth Hall, and soon after hosted a bluegrass show on WKCR — the only one of its kind in New York. "At 17 or 18 I became important, if you can call it that, as the guy who played bluegrass on the radio," he says.
Suddenly the kid who grew up near the Bronx's Van Cortlandt Park with a math teacher father and librarian mother — a kid who taught himself banjo by jamming with friends, and who was fast-tracked through junior high school and enrolled at Columbia at 16 — was backstage at music festivals in the South and the standard-bearer of bluegrass music for the New York metro area. He interviewed the Stanley Brothers, the Greenbriar Boys, and Bill Monroe and his Blue Grass Boys, names that would come to define the genre, and broadcast them all citywide.
"A friend calls me 'the Forrest Gump of bluegrass,' because I was able to get my face into so many situations," Wernick says. "Rather than a fan who just gets an autograph, I got an interview, and then it ended up on the radio or in a book."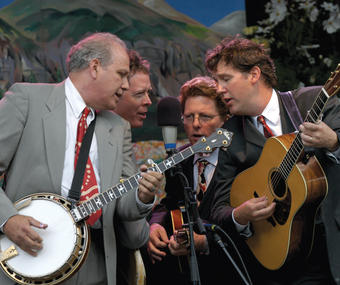 Pete Wernick '66, '73 GSAS (far left) performs with (left to right) Nick Forster, Tim O'Brien and Bryan Sutton at the Telluride Bluegrass Festival in Colorado. PHOTO: NATHAN RIST
After majoring in sociology at Columbia he stayed on, earning a Ph.D. in the same subject and soon after his moniker, "Dr. Banjo." In 1970 he moved upstate to take a research position at the International Population Program at Cornell, and on a trip to Boulder he met his wife, Joan Leonard. They've been together more than 40 years and have a 31-year-old son, Will, a filmmaker in Los Angeles.
In Ithaca, Wernick founded the band Country Cooking and started making music for the then-new label Rounder Records. Around the same time he wrote what became the second instructional book for bluegrass banjo. "I unlocked the mystery of the Scruggs style, and it sold well," he says, referring to the late, legendary Earl Scruggs and his revolutionary high-speed, three-fingered picking style. "I realized that with the royalties flowing, I could start a full-time music career without having to be dead broke."
With the banjo book selling,he and his wife moved to Colorado to do just that, settling down by a dirt road outside Boulder. Soon thereafter Wernick produced his first solo record, Dr. Banjo Steps Out, and put together a band named Hot Rize, after the secret ingredient in Martha White Self-Rising Flour, an iconic sponsor of Nashville's Grand Ole Opry.
With Tim O'Brien on lead vocals, mandolin and fiddle, Wernick on banjo and harmony vocals, Charles Sawtelle on guitar and vocals and Nick Forster — who went on to host the nationally syndicated radio show eTown — on bass, Hot Rize climbed to the top of the bluegrass mountain. Through the 1980s they regularly appeared on NPR's A Prairie Home Companion and The Nashville Network's Ralph Emery Show, and often appeared on the television show Austin City Limits. Hot Rize produced nine albums and became a hit international band, playing 47 states and 15 foreign countries and becoming one of the best-selling bluegrass acts of all time.
"The thing about Pete," Forster says, "Pete is an organizer; he's an instigator. He has a long history of making things happen. He did all the bookings in the early years back when it was a loose commitment for the rest of us. The only reason we stayed together was Pete kept booking gigs."
He also authored books and produced DVDs on bluegrass and continued to teach, eventually developing the Wernick Method for bluegrass, which emphasizes group jam sessions rather than solo practice. Today the Wernick Method makes up the bulk of his business, drbanjo.com. He struck up a friendship with Martin, a longtime banjo player, after the success of Hot Rize.
"I stumbled across Hot Rize when I got Sirius Bluegrass radio. Pete's playing was superbly clear and melodic. Always interesting and attractive to the ear," Martin says. "Pete is a great teacher and opinionator. I have consulted with him many times on songs I was writing and playing technique on stage. He's a good adviser."
Wernick helped Martin with his banjo playing, and Hot Rize played the actor's wedding to Anne Stringfield. In spring 2005, Martin asked Wernick if he wanted to join him and Scruggs (who died in 2012) at The New Yorker Festival for a talk on bluegrass and banjos. As a sort of last-minute bonus, the Letterman people called — having read of the festival talk — and asked them to play the show.
"When I think back to my Columbia days," Wernick says, "if I thought in my late 50s I'd be on the equivalent of Johnny Carson's show playing the banjo with Earl Scruggs, the greatest banjo player in the history of the planet, I'd say, 'What else? Am I also going to be the king of the world?'"
Hear Pete "Dr. Banjo" Wernick '66, '73 GSAS perform..
Michael R. Shea '10 Arts is a freelance writer in New York City.