Alumni Profiles
In Croatia, Lisa Stublić '06 Runs Down a Dream
By Kim Martineau '97J
When the elite women marathoners finished the NYC Half last spring, newscasters announced the names of the Africans in first and second place but struggled to identify the 98-lb. Croat on their heels.
Lisa Stublić '06 is used to surprising people. She holds Croatia's marathon record and last year became the first marathoner — man or woman — to compete in the Olympics on Croatia's behalf. In March, Stublić achieved world-class status with her third-place finish at the NYC Half, followed by first-place at the Zurich Marathon just three weeks later.
At Columbia, Stubli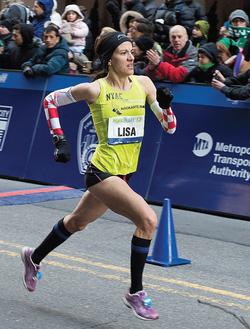 With a time of 1:09:18, marathoner Lisa Stublić '06 finished third at the 2013 NYC Half. PHOTO: COURTESY NEW YORK ROAD RUNNERSć was a strong runner but no one expected her to make a living at it. Her unlikely success started with a gamble: the decision after graduating to move to her father's native Croatia to learn the language. There, she discovered a knack for endurance running.
The intense yet flexible life of a pro athlete can sometimes feel to Stublić like a continuation of her days at Columbia. She rises early, trains hard in the morning and spends the rest of the day reading, eating and napping, with a light workout in the afternoon. In the typical week, she logs 110 miles. "It's fun for me," she says. "I feel like I'm in college without the classes."
Pushing her body to its physical limit did not come naturally. Stublić had to be prodded by a gym teacher at Crosby H.S. in Waterbury, Conn., where she grew up, to pick a sport. She went out for the swim team but found swimming laps so tiring that she quit after the warm-up. Next she tried cross country. "I told myself I'd do one race," she says. She won it and steadily grew faster. As a junior and senior, she was selected All New England in cross country and both seasons of track and field, setting several league records.
With offers from two Division I schools, American and Iona, Stublić chose Columbia for its political science program but after two semesters realized she was too "quiet and shy" for politics. Running, by contrast, allowed her feet to do the talking. As a junior, she came in second at the NCAA northeast regional in cross country and a year later finished 10th at the national championship in steeplechase. She credits her first coach at Columbia, Craig Anne Lake, for teaching her winning habits like eating well and getting enough sleep.
"I used to tell them [the students], the dorkier they could be, the better," says Lake, who now sells real estate in Boston. "Lisa seemed to listen. It is a hard concept to grasp because most people see it as a sacrifice."
Academically, Stublić gravitated toward the arts. Her major in music theory, it turns out, set her on the path to becoming an Olympic athlete. The summer of her junior year, she went to Croatia on a music-exchange program led by Jane McMahan, a Barnard associate in music. For three weeks, she played flute with a group of musicians performing in tiny medieval villages across the Grožnjan region.
The experience stayed with Stublić. While pouring lattes at Chokolat Patisserie, the coffee shop near Columbia where she worked, Stublić kept coming back to that "magical" summer. In January 2008, she flew to Croatia on a one-way ticket and went to live with her aunt. Eight months later, armed with a basic command of Croatian, she moved to Zagreb to teach English.
There, she found a coach with an unusual training regimen that involved running at five pace ranges set by how much lactic acid is in the body. The five paces, from slow-recovery to super-fast, are determined from blood samples taken after running at different speeds. Over time, Stublić's coach became convinced that her competitive advantage lay in the marathon, not steeplechase.
Once again Stublić took a leap. Confident in her training but with no actual marathon experience, she quit her day job as an English instructor, aiming to qualify for the Olympics and simultaneously earn the backing of the Croatian Olympic Committee. She ran the 2010 BMW Berlin Marathon in 2:33:42, several minutes under the qualifying time she needed. In 2012, she went to London expecting to finish in the top 20 but a back cramp near the 15-mile point foiled her plan and she finished 52nd, in 2:34:03.
The failure taught Stublić a lesson. She needed to strengthen her back and core, so she added weight-lifting to her regimen. That may have led to her breakout performances at the NYC Half, where she won $5,500 and set a Croatian national record at 1:09:18, followed by her first-place finish at Zurich, where she set a Croatian marathon record of 2:25:44 (also her personal best).
Stublić credits a birth defect with helping her to run faster and farther. Born two months premature, her nostrils failed to fully develop, leaving her without a sense of smell or taste. A surgery at 19 largely restored both senses, allowing her to experience foods by their flavors rather than colors corresponding to their saltiness, sourness or bitterness. In addition to giving her a taste for dark chocolate, the surgery had another bonus: She immediately shaved a full minute off her best cross country time.
The Olympics are three years away but Stublić already has eyes on Rio, with plans to fly there with her team to train on the city's steamy streets. The humid weather makes the prospect of record times unlikely, but the demanding climate will give experienced marathoners a distinct edge. By 2016, Stublić expects to have it, with at least nine marathons under her belt.
View a video of Lisa Stublić '06 talking prior to the 2013 ING New York City Marathon.
Kim Martineau '97J writes about earth and environmental science at Lamont-Doherty Earth Observatory.