Around the Quads
Sound Savior Carl Haber '80 Wins MacArthur Fellowship
By Alex Sachare '71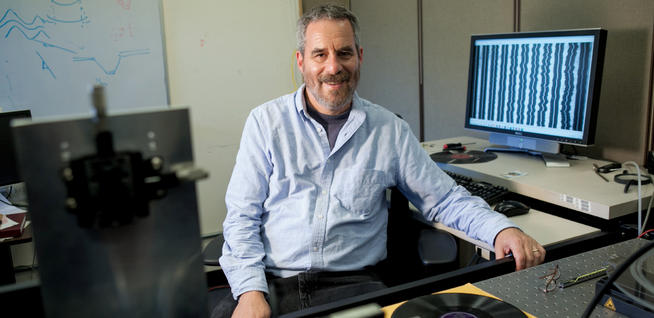 Carl Haber '80, '85 GSAS says it took only one hour to restore the recording of Alexander Graham Bell's voice but 10 years to develop the process that enabled him to do so. COURTESY JOHN D. AND CATHERINE T. MacARTHUR FOUNDATION
Carl Haber '80, '85 GSAS, an experimental physicist at the Lawrence Berkeley National Laboratory in Berkeley, Calif., was among 13 men and 11 women named 2013 MacArthur Fellows in September. Known informally as "genius grants," the fellowships from the John D.and Catherine T. MacArthur Foundationcome with a stipend of $625,000 paid across five years.
Haber was cited for developing technologiesfor the preservation and recapturing of deteriorating sound recordings, technologies that arose from his work on instruments for use with high-energy colliders. Recordings made on wax cylinders, lacquer discs and other materials have been retrieved by Haber and his colleagues, who use a technique that transforms visual data into a digital sound file.
"About 10 years ago, I happened to hear a report on NPR about the Library of Congress and their large collections of historic sound recordings, which described them in some cases as being delicate, damaged, deteriorating and so forth," Haber explained in a video released by the MacArthur Foundation. "I intrinsically appreciated when I heard this that this was an important thing — it's part of our culture and part of our history — and I had an idea that you might be able to use some of the same very detailed techniques that we were using to restore the sound without ever touching them."
As anyone who ever owned a vinyl record knows, every time you play one, the contact of the stylus or needle wears down the grooves. Add in the scratches that come with use and general wear and tear, and gradually the sound quality ofthe record deteriorates. The same holds true with other materials used for earlier recordings, including lacquer, wax and aluminum.
"Our approach is in part based on photography," said Haber. "We take a picture of a phonograph record. This photograph is taken with great magnification; we're talking about gigapixels. There are techniques which are called image processing, which can take an image and mathematically digest the information in it and can extract in detail the motion of the groove and calculate what sound would be played if you indeed played it with a needle. If the record is broken, scratched, damaged in some way, we can still apply this process. It's all done as a mathematical algorithm on a digital computer.
"We actually got to hear, last year, Alexander Graham Bell's voice for the first time. You can hear the man speaking — that was amazing."
The method also has been used to successfully play an 1860 phonautogram, the oldest known sound recording of a human voice, as well as a 100-year-old recording of the voice of author Jack London.
The end product of Haber's efforts is digital audio, which can be played on most electronic devices. "This isn't some exotic laboratory sound that can only be heard in these labs," noted Carlene Stephens, a curator at the Smithsonian National Museum of American History. "We can hear these voices that have been lost anywhere in the world, and that's thrilling. A door has been opened, and on the other side are people, places, things and ideas we didn't have the imagination to know existed."
Haber has been affiliated since 1986 with the Berkeley Lab, where he is a senior scientist in the Physics Division. Since beginning research on the preservation and restoration of recorded sound in 2002, he has worked with archivists at the Library of Congress, the Thomas Edison National Historic Park, the Phoebe A. Hearst Museum of Anthropology and the Smithsonian Institution, among others.
Winning a MacArthur Fellowship left Haber speechless. "If you're in research, in academia, people know about the MacArthur Fellowship," he said. "But it's so unlikely that anyone would ever get a MacArthur award, I just didn't know what to say. The whole thing is a bit of a shock."
Haber said the grant would allow him to continue his research and to travel globally to restore recordings from remote parts of the world.
"I continue to be excited by any scientific or technical challenge where we can learn things and find elegant solutions to problems that matter to people, be they scientists, historians, ethnographers, anthropologists. It's a privilege and a pleasure to do that."
Listen to Carl Haber '80, '85 GSAS talk about his groundbreaking sound work.