Around the Quads
Madigan Named Arts and Sciences EVP
David Madigan, who joined Columbia's faculty in 2007 and the following year became chair of the Department of Statistics, was named e.v.p. and dean of the faculty of Arts and Sciences in September. Madigan, who had held that role on an interim basis since March, succeeds Nicholas Dirks, who left to become chancellor of UC Berkeley.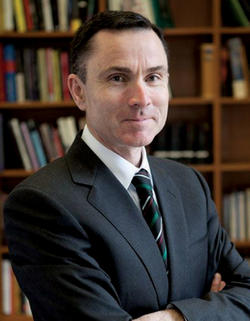 Photo: Martyn Gallina-JonesThe Faculty of Arts and Sciences consists of 29 departments in the social sciences, humanities and natural sciences; five schools: Columbia College, the School of General Studies, the Graduate School of Arts and Sciences, the School of the Arts and the School of Continuing Education; as well as numerous institutes and centers.
Under a recent restructuring, Arts and Sciences is led by a three-person executive committee consisting of Madigan, College Dean James J. Valentini and GSAS Dean Carlos J. Alonso, a structure Madigan endorses. "This is a very complex organization and having an explicit leadership team that comprises representatives from the core arts and sciences is great, and it works extremely well," he told Spectator.
Asked about the relationship between Arts and Sciences and the College, which had been contentious but improved under the leadership of Dirks and former College dean Austin E. Quigley, Madigan told Spec, "First and foremost, we attract amazing students and we have amazing faculty, and with that comes a huge responsibility. We have a huge responsibility to prepare them well and to give them an education that's relevant to today's global, interconnected world. In the past, there's been some tension between Columbia College and Arts and Sciences and these tensions are utter nonsense. We are a group of faculty and students, and so we either all win or we all lose. We are absolutely in this together."
Madigan mentioned improving faculty diversity as one of his priorities. "We have a wonderfully diverse student body. We have an appallingly un-diverse faculty, and this is not an easy problem to solve," he said. "From the trustees down, there is a strong institutional commitment to try to help with this. This is a major issue for us right now."