Around the Quads
Five Minutes with ... Edward Mendelson
Edward Mendelson Ph.D., the Lionel Trilling Professor in the Humanities, is a professor of English and comparative literature specializing in 19th-century British literature and 20th-century British and American literature. He earned a B.A. from Rochester and a Ph.D. from Johns Hopkins, and has taught at Columbia since 1981. He is the literary executor of the Estate of W.H. Auden, and his books include Early Auden (1981), Later Auden (1999) and The Things That Matter: What Seven Classic Novels Have to Say About the Stages of Life (2006).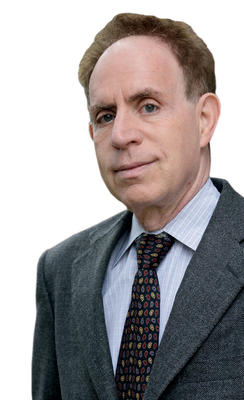 Photo: Lynn Saville
Tell me about your background and how you came to be a professor.
In graduate school I started reading W.H. Auden's poems and I discovered, here's someone who knew more about reality than I do. That was striking because an awful lot of literature thinks about human beings as myths. But if I see someone as the embodiment of beauty or wisdom or something like that, it gets in the way of perceiving him or her as an individual. Virginia Woolf, Auden, all of the writers I admire most, are tempted by myths because they make great poems and great stories — but then they draw back and say, but I realize that the myth gets in the way of seeing who the real person is.
What drew you to your field of study?
I grew up in New York and went to Stuyvesant H.S. I thought I was going to be a biologist and follow in the family tradition of doctors, and then I discovered I enjoyed thinking about books more than I enjoyed thinking in the lab. One thing that affected me a lot in college happened at a dinner with a professor at the end of a course, when someone asked him, "Well, you taught the standard canonical list of authors — but who do you like most?" He said, "I don't like any of those canonical ones the most; I like so-and-so more." And I thought, it's possible actually to have a personal point of view rather than to accept what was told. That gave me a sense of personal engagement with the material that's stuck with me ever since.
What do you teach?
Generally Lit Hum — I love teaching the Core — and an undergraduate seminar in Yeats, Eliot and Auden, which has become a class in how to read poems. People often come into class thinking of poetry as an instrument for generating moods. Someone will say, "This poem reminds me of my grandmother"; and another person says, "No, it reminds me of a spring day." So in this seminar, without having planned to, we'll spend two hours on a 12-line poem by Yeats and seeing how you can read it as having a discourse, as having something to say where you can make sense of the words.
Can you describe your approach to teaching Lit Hum?
I try to get students excited by the books. I like to focus on the text as a way of thinking about things that are also happening now. For example, in The Eumenides, the old divinities and the new divinities are in a battle and finally Athena establishes a law court to settle the question because that's the only way to deal with these tribal disputes. And after the law court rules that neither side is guilty, the old divinities say we don't like this decision; we're going to send a plague. Do you recognize that in today's headlines? "We don't like the laws so we're going to destroy everything." So I don't care whether years later they can remember the details of the books, but if they can think about reality more clearly because they've read these books, that's the point.
What are your current projects?
I wrote a batch of reviews for The New York Review of Books about American writers in the 20th century, and I realized they were all about how these writers thought about politics and the inner life, and the conflict between those. So my job right now is to turn those essays into a book. Then I want to start a book that comes out of thinking for many years about the kinds of books I teach in Lit Hum, about what it means to be an individual person in the great epics, from The Odyssey up through Moby Dick.
What's your favorite place to be?
I can't answer a question like that. It suggests human beings are in a steady state rather than people with a history. I like to be one place at 9 in the morning and one place at 10 in the morning. One reason I admire Woolf is that she, more than any other novelist, recognizes how people can think completely different things from one minute to the next. At the beginning of the dinner party [in To the Lighthouse], Mrs. Ramsay looks at her husband and wonders, how could I have ever cared anything for him? An hour later, she's thinking he is the most wonderful man she had ever met.
What about a talent you would like to have?
I'm not going to answer that either.
I guess it would depend on when I ask you?
That's right. I'm sorry; I realize that you're asking a standard question for this kind of interview, but it goes against the grain to describe oneself as a simple cartoon figure.
Is it a variation on that question to ask, if you weren't a professor, what would you be?
Yes. A life is … everyone has too many choices to talk about life in this either-or way. I can't do it. I'm always amazed at people who can.
Interview: Alexis Tonti '11 Arts