Around the Quads
Campus News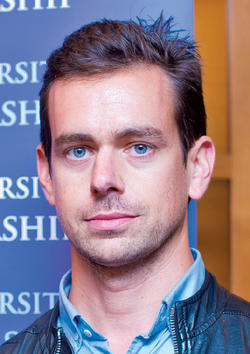 Jack Dorsey ATWITTER: Jack Dorsey, chair of Twitter and CEO of Square, offered advice and inspiration to an audience of entrepreneurs and would-be entrepreneurs in Roone Arledge Auditorium on September 16. The event was organized by the Center for Career Education and the Columbia Entrepreneurs Organization and opened Startup Weekend, presented by the Columbia Organization of Rising Entrepreneurs. Dorsey noted that much of Twitter's popularity was due not to its creators but to its users, pointing to #, @ and the retweet as examples. "All these systems weren't created or invented by us but by people using the system," he said. Asked about balancing schoolwork and entrepreneurship, Dorsey, a dropout from three universities, said there is no right answer. "Everyone learns differently. Some people thrive in a university atmosphere and some people don't. I was learning more outside of my university than inside it. It's the type of person that you are."
WE'RE NO. 4 (AGAIN): Columbia was ranked fourth for the fourth consecutive year in U.S. News & World Report's annual rankings of national universities, announced in September. Princeton headed the list and Harvard, which had been tied with Princeton atop the 2013 rankings, dropped to second, with Yale retaining the third spot. Chicago, which had been tied with Columbia for fourth a year ago, dropped into a tie for fifth with Stanford. Duke, MIT and Penn tied for seventh and CalTech and Dartmouth tied for 10th. Schools were ranked on 16 factors, including graduation and retention rates, class sizes and alumni giving. Columbia's ranking is based on data from three undergraduate schools: the College, Engineering and General Studies.
ARTS & SCIENCES: Six Columbia professors have been elected members of the American Academy of Arts & Sciences: John Stratton Howley, professor of religion at Barnard; Donald C. Hood, the James F. Bender Professor in Psychology and professor of ophthalmic science; John D. Huber, professor of political science and departmental chair; Hervé Jacquet, professor emeritus of mathematics; Duong H. Phong, professor of mathematics; and Barbara G. Tversky, professor of psychology and education at Teachers College. They are among 198 new members of the academy, which was founded in 1790 and includes more than 250 Nobel laureates, who were inducted on October 12.
TEACH: Columbia ranked sixth among medium-sized schools sending graduating seniors to Teach For America's 2013 teaching corps, with 35 of its newest alumni joining the nonprofit— up eight places from a year ago. Columbia has ranked among the top 20 schools for its size for the past six years, and 358 alumni have signed on with TFA in its 23-year history. TFA, which recruits students from all disciplines who are willing to commit two years to teach in high-need schools, had 11,000 members teaching in 48 urban and rural regions across the country this fall.
ENDOWED: Columbia's endowment portfolio produced a return of 11.5 percent for the fiscal year ending June 30, 2013, raising the total value of the endowment at that point to $8.2 billion. Columbia's endowment returns over the past five and 10 years are the highest among peer endowments larger than $1 billion, according to the University. "A key part of our success in maintaining Columbia's solid financial position has been the consistent success of our endowment investment managers year after year," said University President Lee C. Bollinger. "Over the past decade, our investment performance has consistently outpaced both the market and our peers, helping Columbia compete academically with other great universities that have far larger endowments."
GRANTED: The interdisciplinary team of Virginia Cornish '91, the Helena Rubinstein Professor of Chemistry, Lars Dietrich, assistant professor of biological sciences, and Kenneth Shepard, professor of electrical engineering and biomedical engineering, won a three-year, $1 million grant from the W.M. Keck Foundation to further their research in combining biological components and solid-state electronics.
LIBRARIES: The Rare Book & Manuscript Library (RBML) has acquired two collections, one from the foundation of Russian composer Sergei Prokofiev and the other from Mad Magazine illustrator Al Jaffee. The Serge Prokofiev Foundation chose Columbia as the repository for archival material from Prokofiev's 18 years in the West, 1919–36, while Jaffee, 92, and his wife, Joyce, donated the archives from his 70-year career, including 58 years with Mad. In addition, RBML has received a $175,000 grant from the National Endowment for the Humanities to support the publication of volumes 4 through 6 of the Selected Papers of John Jay, a scholarly edition of the papers of the first chief justice of the United States, a member of the Class of 1764. In addition, the Libraries' Center for Human Rights Documentation & Research has acquired the papers of Amnesty International activist Joshua Rubenstein '71. Rubenstein worked for Amnesty International 1975–2012 and was its Northeast regional director for three decades.
GIVING DAY 2013: WE DID IT AGAIN! Columbia College raised the most funds among the University's schools and programs on the second annual Columbia Giving Day, held on October 23 worldwide. The College secured the top spot last year as well. By the numbers, the results are:
More than 1,500 Columbia College alumni, students, parents and friends donated in excess of $2.4 million for the College.
More than $7.8 million was raised overall from 9,759 gifts in 50 states and 53 countries.
By securing the top spot on the leaderboards, the College earned an additional $75,398 in matching funds for the Columbia College Fund.
The College was awarded an extra $15,000 for having high alumni involvement.
Young Alumni participation between 8 and 9 p.m. won the College another $5,000.
For stats and more information, go to givingday.columbia.edu.
DINNER & DISCUSSION: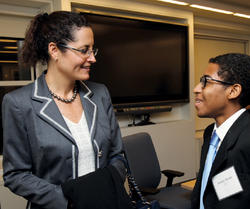 Photo: Bruce Gilbert Lisa Carnoy '89, a University trustee and head of global capital markets for Bank of America Merrill Lynch, spoke with students about her profession at the fall semester's first Columbia College Dinner & Discussion program, sponsored by the Center for Career Education, on September 17.