Around the Quads
Student Spotlight: Ben Hirschfeld '16 Gives the Gift of Clean Light
By Nathalie Alonsnso '08
Ben Hirschfeld '16's impetus to start Lit! Solar, a program that has distributed sun-powered lanterns to more than 10,000 people in the developing world, emerged from a simple question: How do schoolchildren who lack electricity study after dark?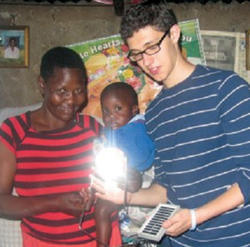 Lit! Solar founder Ben Hirschfeld '16 with lantern recipient Doreen Acheing in her home in Kibera in the Kenyan capital of Nairobi. Photo: Jeff OkothHirschfeld was a high school freshman when he posed this question to his neighbor, Pam Allyn '88 TC, founder and executive director of the international literacy nonprofit LitWorld. Allyn explained that in places like Kibera, Kenya, where LitWorld works and where Lit! Solar's main program now operates, many people lack electricity and rely on kerosene lamps for light. Not only does kerosene pose a fire hazard, Hirschfeld learned, but it is also expensive, provides only dim light and, because of its smoke, can cause respiratory diseases, including lung cancer. Having suffered from respiratory ailments growing up, he was spurred to action by the findings. "Because of my own struggle with learning while not feeling well because of respiratory issues, I could empathize and understand how hard it must be," says Hirschfeld, who after further research determined that solar lanterns charged by daylight were a solution.
Under the auspices of LitWorld, Lit! Solar began as a pilot program in 2009. Hirschfeld set up a booth at a farmers market in his hometown of Hastings-on-Hudson, N.Y., and raised funds to send lanterns to 20 students at the Red Rose School in Kibera, the biggest slum in the Kenyan capital of Nairobi, through LitWorld's local partner organizations. After a second round of distribution, he sent questionnaires to assess the effectiveness of the solar lanterns. "It turned out that the kids were studying a lot more, that they felt more confident in school and that [the families] were saving a lot of money on kerosene," says Hirschfeld.
It was in July 2011, however, when he met people like Doreen Acheing during a three-week stint as a teaching assistant at the Red Rose School, that he truly realized his project's potential to improve a family's health and finances. Acheing, a mother of two, reported her children's chronic pneumonia disappeared when the family abandoned its kerosene lamp in favor of a solar lantern. The $8 lantern, says Hirschfeld, also enabled Acheing to work after sundown, which allowed her to expand her business of sewing school uniforms and raise money to purchase a second lantern for relatives.
"Being there and putting a human face on all of these issues really brought it all home for me — both the huge difference we could make in people's lives with this tiny piece of technology and the humbleness that comes from knowing how many people are still dealing with the same problems," says Hirschfeld.
In Kibera, Lit! Solar promotes the lanterns on the radio, at parent meetings at schools, and at festivals. Recipients do not have any upfront costs for the lanterns; instead, they are asked to donate, over time, part of the money they save on kerosene to help provide lanterns for others. "The families get all the health benefits, studying benefits and also economic benefits, because the parents can work at night," says Hirschfeld.
Lit! Solar has also donated solar lanterns to participants of LitWorld's LitClubs, which focus on empowering and educating girls in places like the Philippines and Haiti, and has expanded its scope to include Fiji and a Native American reservation in Arizona.
During the academic year, Hirschfeld oversees the overall operation of Lit! Solar and pursues opportunities to extend the program's reach, whether it means networking or giving his input on a contract agreement with a new partner organization in Kenya. (He also performs with the Columbia University Kingsmen.) Allyn praises Hirschfeld's ability to break down an ambitious project into manageable tasks. "He has great ideas, has created excellent protocols for the work and carries things through," she says. "He thinks big but also understands that each of the successes comes from step-by-step work, which needs to be meticulously done."
Hirschfeld, who is pondering majors in sociology and sustainable development, has garnered financial support for his project in the form of several prizes, including a $36,000 Diller Teen Tikkun Olam Award from the Helen Diller Family Foundation, which recognizes Jewish teen leaders. He also has received a Gloria Barron Prize for Young Heroes, which carries a $2,500 cash award, and a $2,000 BIC 4 Good Grant from DoSomething.org.
In September, Hirschfeld was invited by the Clinton Global Initiative to attend the CGI Annual Meeting, a gathering of global leaders from businesses, nonprofits, NGOs and governments, at the Sheraton New York Times Square Hotel. There he met President Bill Clinton, of whose nonprofit work Hirschfeld has long been a fan. "What [Clinton] does is connect people, and the other attendees I met there will, I'm sure, help take Lit! Solar to the next level," he says.
Nathalie Alonso '08, from Queens, is a freelance journalist and an editorial producer for LasMayores.com, Major League Baseball's official Spanish language website.