Around the Quads
In Memoriam
Arthur C. Danto '53 GSAS, the Johnsonian Professor Emeritus of Philosophy, an art critic and a philosopher, died on October 25, 2013, in Manhattan. He was 89.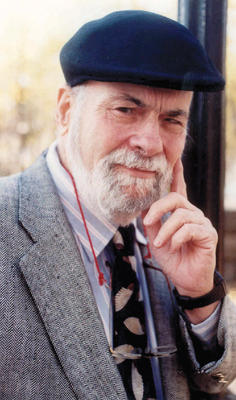 Arthur C. Danto, '53 GSAS Photo: Eileen BarrosoDanto was one of the most prominent art critics of the Postmodern era. He was famously influenced by a 1964 New York Stable Gallery show that featured one of Andy Warhol's iconic reproductions of the Brillo box. Frustrated that the sculpture was indistinguishable from an ordinary object, Danto wondered what made it "art." In his 1964 essay "The Artworld," published in The Journal of Philosophy, he proposed that art became "art" because it was deemed meaningful by an artistically literate community — the "artworld."
Danto became a champion of avant-garde artists and the pop-art movement and was fascinated by how artists such as Warhol and Roy Lichtenstein could transform ordinary objects into art. His essay "The End of Art" radically proposed that art history had come to an end; that art was a medium of individuals and that in the contemporary world, a plurality of approaches would prevent any single style from dominating. In his book What Art Is, published this past March, Danto concluded that art was "the embodiment of an idea," forgoing the aesthetic and instead conveying "the power of meaning and possibility of truth."
Born in Ann Arbor, Mich., on January 1, 1924, Danto was raised in Detroit. He served for two years in the Army during WWII and was stationed in Italy and in North Africa. Danto studied art and art history at Wayne State, graduating in 1948. He aspired to become an artist specializing in woodcuts but took advantage of the GI Bill to study philosophy and earned a Ph.D. from GSAS. Danto began teaching philosophy at Columbia in 1951 and chaired the department for several years. He was named the Johnsonian Professor Emeritus of Philosophy after his 1992 retirement.
Following such famous art critics as Russell Sturgis, Henry James and Clement Greenberg, Danto became The Nation's art critic in 1984; he held this post until 2009 and was the longest-serving art critic in the magazine's history. Danto's critical style was influenced by his education, specifically the theories of 19th-century German philosopher Georg Wilhelm Friedrich Hegel. In The Nation's article "Remembering Arthur Danto," Peter G. Meyer wrote that what distinguished Danto from other critics was "his ability to discuss the actual meaning of a particular work of art, and even where it was exhibited, something that few critics dared to, or cared to, do on a regular basis."
Danto published some 30 books including Encounters & Reflections: Art in the Historical Present, which won the National Book Critics Circle Award in 1990; Beyond the Brillo Box: The Visual Arts in Post-Historical Perspective; and Unnatural Wonders: Essays from the Gap Between Art & Life, a collection of his essays and reviews.
Danto is survived by his second wife, Barbara Westman Danto, whom he married in 1980; and daughters, Ginger and Elizabeth. His first wife, Shirley Rovetch, died in 1978.
Karl Daum '15